A big part of Oman economy relies on oil. It makes gas very cheap and that's why the main means of transportation in Oman is the car, making the country designed for cars.
Visiting Muscat without a car is tough but doable.
Walking
---
Your first option is to walk. Overall, the sidewalks are good enough and the traffic not too crazy. Your biggest enemy there will be the sun. Use sunscreen, protect your head, bring water and avoid the 11am-4pm window.
There are some multiple-lanes roads in Muscat, don't cross them on foot! You can usually find underground passages or pedestrian bridges for that.
Taking a taxi
---
The best would be to get advice from your hotel or your host, always ask and possibly haggle the price before committing.
Taking the bus
---
There is one public bus company deserving Muscat, and getting information online is quite hard. Their website is not really helpful.
Buses in Muscat are mostly used by the Indian expats, they are quite modern and comfortable. The AC tends to be very powerful making the bus quite cold.
For most lines, buses depart every 15 to 30 minutes. This can vary on weekend and holidays, but the timetable is displayed in English at every stop.
Fares vary from 0.2 to 0.5 OMR depending on the line and the distance. They can be found on the
Mwasalat website.
Line 1 goes from Al Maabela (or Al Mabela) to Ruwi, along the Seeb Street and Sultan Qaboos Street. This bus stops at the Muscat International Airport. The stops can be easily found on Google Maps.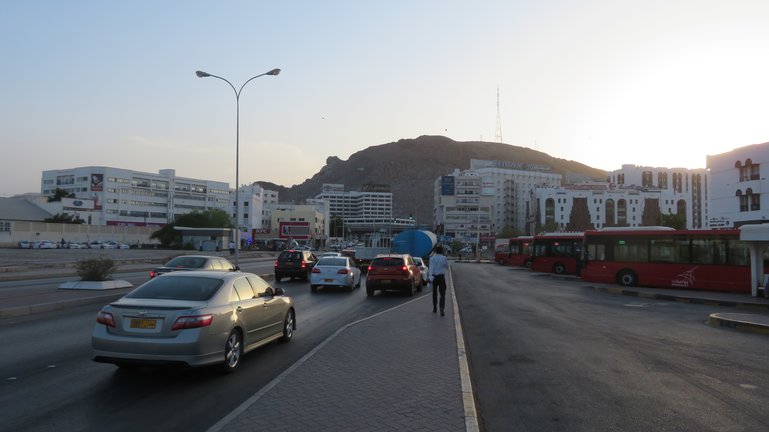 Ruwi bus station
A few other buses start from Ruwi and deserve the Eastern parts of Muscat. From there, it is possible to change to Mutrah or to Old Muscat. There is an office at the Ruwi station where you can ask for help, some of the staff speaks English. To change, you'll need to buy another ticket.