This trip from the United Arab Emirates (UAE) to Oman is operated by an Omani bus company called Mwasalat, also known as ONTC (Oman National Transport Company).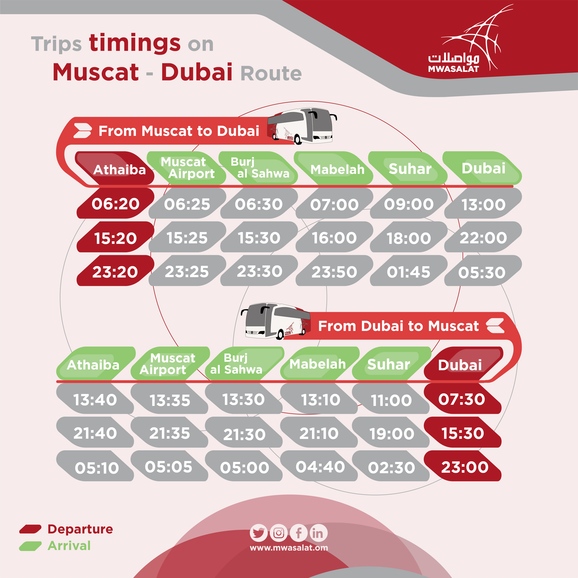 Mwasalat Muscat - Dubai bus schedule
The schedule is also directly available on the Mwasalat website (click on the number on the "TIMING & No. OF TRIPS" column).
Departure
---
The departure point from Dubai is in front of the Mwasalat offices in Deira (Northern Dubai), metro Al Rigga.
Buy your ticket(s) at the counter, cash only (OMR or AED), a one-way ticket should be OMR5. There is an ATM in front of the office, but you would be in trouble if it was out of order, especially close to the departure time.
Around 2 hours after departure (depending on traffic in Dubai), the bus will arrive at the border (UAE side). You'll have to pay an AED35 exit fee before getting your exit stamp. Once everyone is done, the bus will go back and reach the Omani side of the border a few minutes later.
The border
---
On the Omani side, everyone will be asked to exit the bus with their luggage. All the luggage will get inspected (more or less quickly) and then sniffed by a dog looking for drugs.
After that, you'll be led to the Customs Office. Officially, it seems that arriving from the United Arab Emirates gives most nationalities a visa-free entry in Oman. However, once at the border, most people will get asked to pay OMR20 for a visa, and sometimes OMR40 for US citizens. It is rather hard to get actual information on the subject and once in the Customs Office in the middle of the desert, you're not really in a position to negotiate, so be prepared to pay. Note that there is an ATM in the office where you can withdraw OMRs. Feel free to use the bathroom, this stop should be around an hour long.
Remember that taking pictures is not allowed while crossing the border.
Arrival
---
Around 3 and half hours after leaving the border, the bus will reach the Al Athaiba station in Muscat. The station is equipped with a bathroom.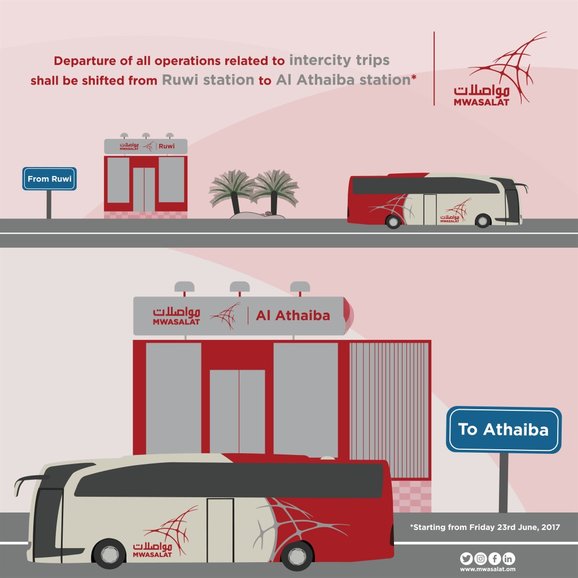 Note that the bus used to arrive to the Ruwi station, it has changed since June 2017
From the Athaiba station, you can also transfer by bus to most cities in Oman, the schedules can be found on the Mwasalat website. You can only pay by cash and there is no ATM within walking distance.
Muscat
UPDATE BY THE MODERATION:
On June 7 2019 a Mwasalat bus arriving from Muscat was involved in an accident in Dubai, killing 17 passengers. Mwasalat announced that the Dubai-Muscat route was suspend in both direction until further notice. You can read their official press releases in English here, here and here.
More information about this tragic event: BBC, CBC, Metro.
As of June 9 2019, normal service has been resumed.