The Necrópolis de Colon, known as Colon Cemetery, is the most important one in Cuba. The popular legend of La Milagrosa attracts many visitors among locals and foreigners who visit the tomb of Amelia Goyri de la Hoz. Visitors pray and wish for a healthy life for their beloved ones, inspired by a story of love and faith. Her tomb is the most visited at the Colon Cemetery.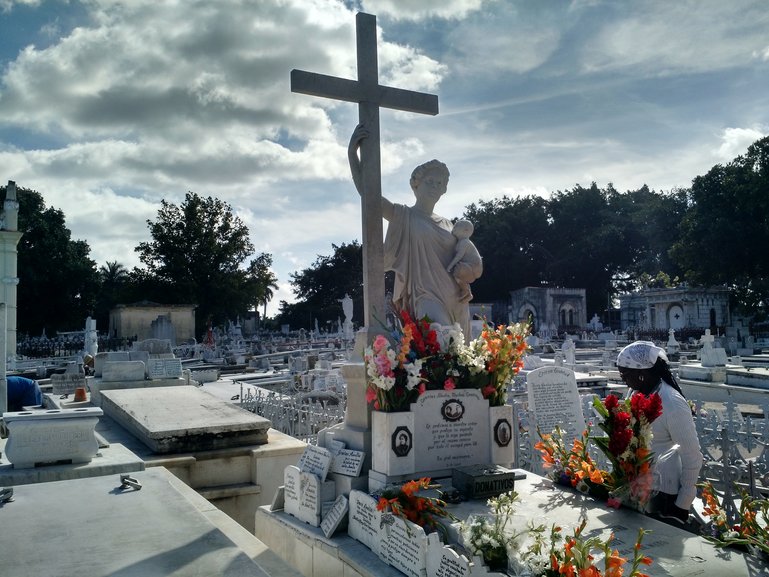 La Milagrosa
Amelia used to be a high society woman, lived in Havana at the Palace of the Marquises. In her childhood, she used to play with her cousin José Vicente Adot y Rahel, who would be later her love and husband. Amelia's family used to oppose their engagement because José used to belong to the middle class. He leaves Havana for a while joining the war for the Cuban Independence.
However, Amelia's sister who was marrying a count intervenes for making possible Amelia marrying José Vicente on the same day. So her family authorized her marriage with José, which happened on June 25th, 1900.
Amelia Goyri passed away in May 3rd, 1901. She died of preeclampsia while extracting her child who had died still during the pregnancy, there was no C-section at that time. As a tradition, she was buried together with the baby, put in the middle of her legs, in a tomb of José's friends. The sculpture over the tomb was a gift of another friend of him, the Cuban sculptor José Vilalta de Saavedra.
The sculpture of Amelia is life-size, sculpted in Italy on a Carrara white marble, transported to Havana in 1909. Her image holds the baby in one hand and a Latin cross in the other referring to the day of her death, May 3rd, which is the Day of the Holy Cross.
Her husband José Vicent Adot y Rahell used to visit her tomb every day for 40 years until his death. In a ritual, he used to knock her grave 3 times to wake her, talking to her while keeping his hand over the grave.
When his father died in 1914, José decided to bury him with Amelia, and when exhumed her tomb, he was surprised seeing her body and the baby's mummified after 13 years claiming loudly to be a miracle, and the baby was found on her breast instead of in the middle of her legs.
Amelia's tomb has become a place of peregrination since this occasion, one of the most revered sites in Cuba. From this moment on, the tomb started to be visited daily by people praying for their wishes. José's visiting her tomb every day and his rituals to talk with her, in addition to the miracle, made this story become a popular legend all over the country.
You can visit Amelia's tomb and ask her to concede your wishes to come true.