The Colon Cemetery is the biggest cemetery in the Americas and offers travelers and art lovers in Havana numerous possibilities to appreciate art, especially sculpture and statues. More than a mere cemetery, Colon is a huge outdoor museum with more than 56.000 tombs.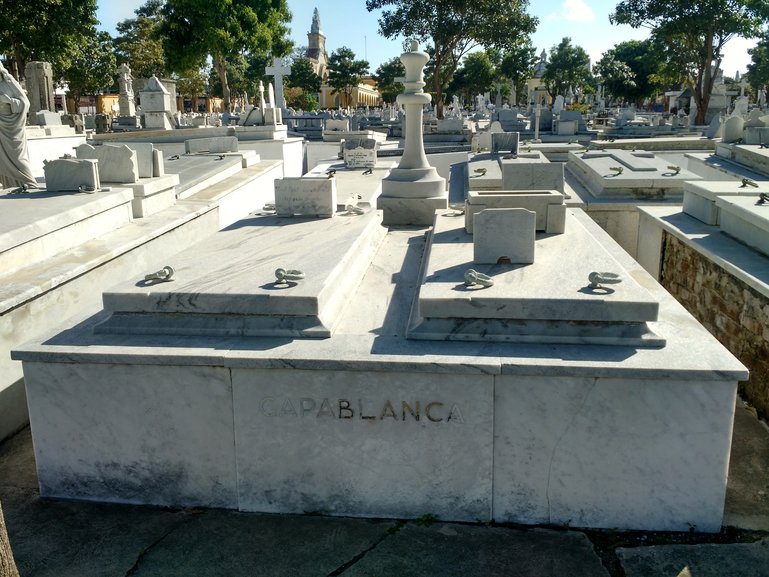 Capablanca´s tomb
However, what is most impressive at Colon Cemetery is the artistic value of hundreds of pantheons, a sample of Cuban architectural history. The feeling of devotion that inspired the creations regardless the origin and social condition of the buried citizens. Behind each one of the representations that safeguard the last rest, famous architects and sculptors from Cuba and all over the world have intervened with their art with their different motivations and styles.
We recommend For chess players and fans traveling to Havana, a smart travel itinerary must consider the legendary Capablanca. His tomb is located at the Colon Cemetery, the biggest one in the Americas known for its architectural beauty, located near our hostel in Nuevo Vedado.
José Raúl Capablanca y Graupera (1888-1942) was born in Havana and passed away in New York, one of the most important chess players in the history who was world champion from 1921 to 1927. Capablanca has accumulated more than 600 chess official matches and only 38 defeats. He won 22 out of 37 championships he competed to, and his first title was on thirteen years old. His career remains as one of the most impressive in the professional chess game.
Capablanca's tomb at the Colon Cemetery draws the attention for a majestic statue of a king in marble sculpted by Florencio Gelabert. Havana also hosts an annual chess championship honoring Capablanca: Torneo Internacional de Ajedrez Capablanca.