You may reach Exhibition Centre of Hong Kong Housing Authority by taking KMB Bus No. 7 (Lok Fu direction) and land off Bus Stop (Metropark Hotel Kowloon, Waterloo Road). When heading back to Tsim Sha Tsui Ferry Pier, take the ride at Bus Stop (Man Kee Mansion, Waterloo Road) at the opposite side.
To reach the exhibition centre, walk toward the direction to Kowloon Public Library and Pui Ching Primary School on Pui Ching Road. If you are on Argyle Road, it is a wrong direction. However, a sweet for you walking into a wrong direction. A historic building called "CLP Tower" is situated on Agryle Road (not far from where you are).
Let's head back to the right direction. So, you can see a gasoline station opposite to Pui Ching Primary School where you are. Cross the road and walk alongside Pui Ching Primary School (the old one). The name of the main road you are walking on will be changed from Pui Ching Road to Fat Kwong Street (Buddha Light Street). We do not need to worry about the name change because it is the same road we are walking. After a long straight road (about 15 min. uphill), you will see a red sculpture of Hong Kong Housing Authority standing at the doorstep.
Look at the opposite side of Fat Kwong Street. Then, you will see Ho Man Tin Plaza (a shopping mall). After reaching the mall, you may turn right against Sheung Foo Street and then you will see a staircase leading up to the entrance. The photo of the entrance is as shown below. Go to the reception and register your visit. The security guard will lead you to the exhibition centre.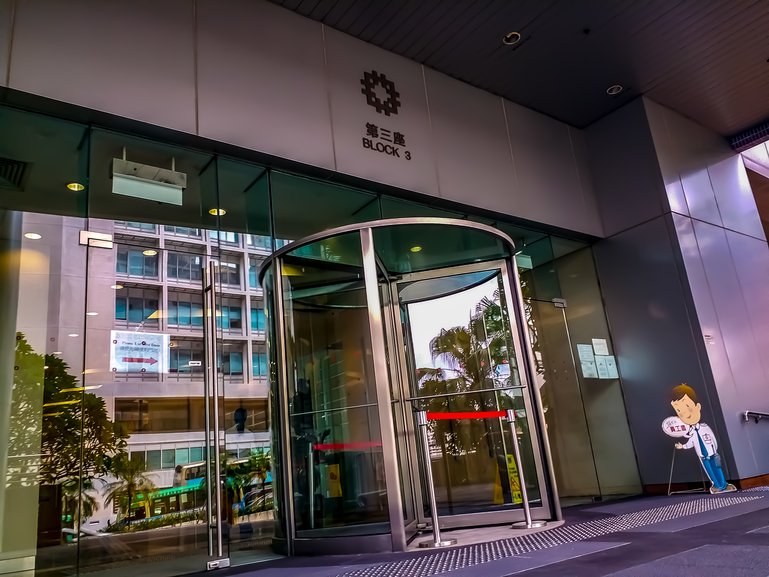 The Hong Kong Housing Authority Exhibition Centre