Jardine Noonday Gun is located at the coastline of Causeway Bay. There is an interesting story behind this gun. You can find out the interesting story on the brochure provided on site. How can we reach to Jardine Noonday Gun? People would be confused by some websites on how to get there!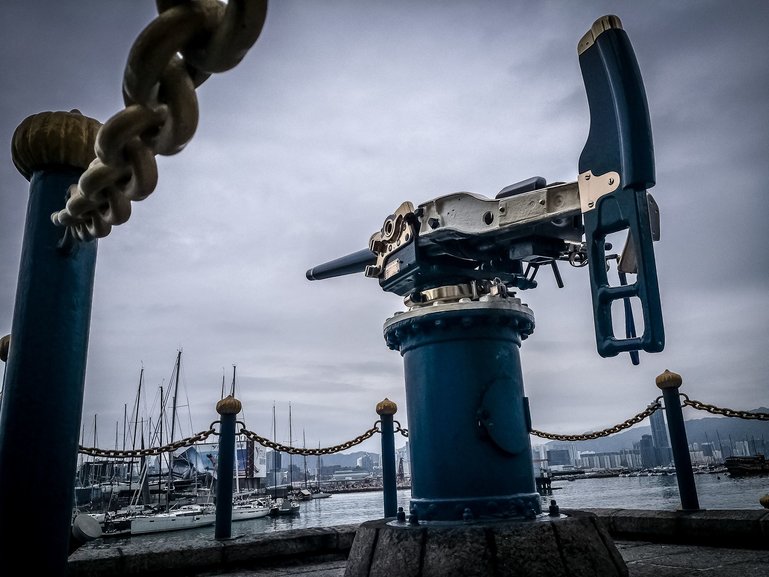 Noonday Gun, Hong Kong
I found a direct way to go there! The way leading up to the coastline where Jardine Noon Day Gun sits. No offense! But road signs provided are somehow misleading or insufficient.
The single way to Jardine Noonday Gun will take you approximately 15 - 20 minutes. The gunshot show will be on every single day at 12:00 p.m sharply. The situation is that the amount of people will stack up when the clock closes to 12:00 p.m. It is better to wait up there 15-30 minutes earlier to gain a great spot!
Grab a map at MTR Station in Causeway Bay after your ride from MTR trains. The map is available in every Customer Service Center at MTR stations. So, you won't get lost. Exit E is our first checkpoint. Our next checkpoint is Great George Street. Our next goal is Paterson Street. If we head to Yee Woo Street, we know it is a wrong direction! We can continue our journey to Jardine Noonday Gun our ultimate target! At the very end, we can see Gloucester Road. The main road where we are going to crossover to find our hidden gem in Causeway Bay. Do we crossover from left or right? Left is the answer. Well, there is a pub along Gloucester Road, it is better to leave the temptation and move on. The next checkpoint is Excelsior Hotel. When you see this hotel, this is a good sign that you are at the right spot. After 10 seconds walk, we will find World Trade Center (WTC More). Another temptation again because it is a shopping mall! Can you see an alley besides World Trade Center? On the left hand side of the dirty alley, there is a silver door besides the mall. Yeah! We are at the right spot finally. We have not seen the gun yet but we have achievements! Walk into the subway and we can see a carpark on the right. Ignore it and walk straight. Passing through the tunnel, we will reach the coastline and Jardine Noonday Gun is on your left! Congrats! We are all set!