Barbados was a really good time!
We went for a 3 nights. We could feel our spirits lift when we got there and engaged with the locals. They have a lot of pride in their culture. We went during their Independence day weekend which is November 30th so it was definitely buzzing for the weekend. It was really easy to communicate and every place we went took American money. We stayed at Silver
Point hotel and booked through Cheapcarribean. The hotel was nice but we were a little taken back by the fact that there was no internet in the rooms at first but we quickly got over it since there was wifi in the restaurant area. We decided we needed to disconnect sometimes and the view of the ocean from our balcony was amazing. The food was bajan style and was really good and fresh. This hotel happens to be a kite surfing spot so there were people surfing all day on the beach in front of the hotel which was really an amazing sight. The staff were friendly and helpful.
We booked a day trip to snorkel with turtles and it was so much fun! The day trip was suggested by the staff at the hotel and came with lunch on the boat. That night we went to the famous Oistin's Friday night Fish fry. It was lively with Caribbean music, dancing, and so many little restaurants to choose from. The food was bomb! The next day we wanted to go to Bridgetown (which was about a hour away) to do some shopping but we got rain in the morning so we stayed close to the hotel and relaxed on the beach. Overall we had a really good time. Snorkeling with the sea turtles was the highlight of the trip! Next time we'll check out Bridgetown so sad we didn't make it this time around.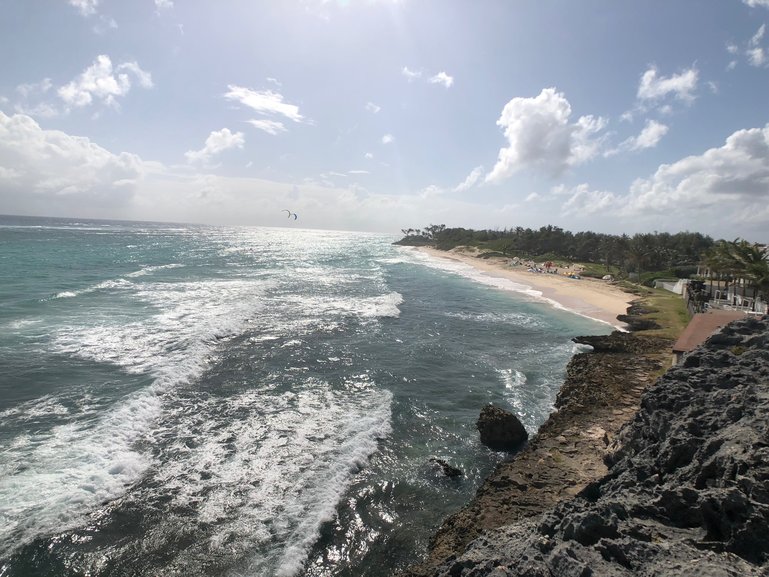 The view from the top of our hotel