Hi! Hope you all are doing well. This is a dark and historical period in human history through which we are all going. It has put a break in our lives. We don't know how many people are suffering either from covid-19 or from the poverty that this disease and this poor system has brought. I don't know what is going to happen in the upcoming days, no one knows.
Still, we have hope that it will culminate soon. We have fought through the worst conditions in history and we have survived. Everything will be back to normal and we will start to live our life again with the same energy or even more. Anyhow, we will commence travelling too, because being stuck at one place has made us realise how important travelling is!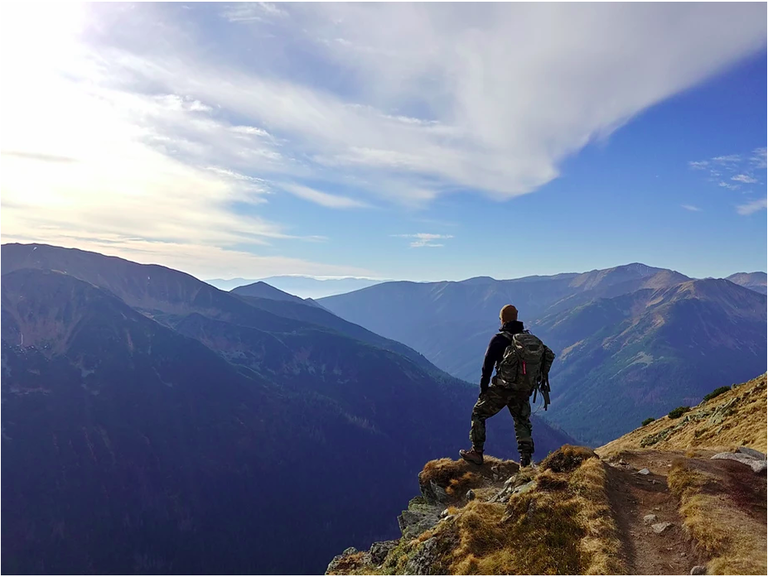 Travelling adventurously adds a new color to it. Everyone wants to be around nature, observe and feel it closely. The sound of wind blowing, water flowing, listening to the singing of birds, it all gives such a pleasure that you can not feel in the middle of a city.
But how can you start this journey? Is this really arduous? Can you survive with nature?
Of course you can! Humans have learned to survive in all kinds of situations, so can you. You don't have to do something that a primitive human used to do, but with the latest ken and technologies, you can be anywhere you want. And it is clear that you won't be expert in anything if you have not tried it.
"You can't become a decent horseman until you fall off and get up again, a good number of times."
- Bear Grylls
I will tell you some basic things from my experiences that you need to do to start your adventure. I won't be sharing specifically about the places (like forest or hills), but general things that you have to know.
The first thing you need is to be mentally prepared that you can go and survive. For starters, don't travel alone. Pick a partner who thinks like you (It is not mandatory, but is good for mental support). Having a partner in your journey makes the journey more pleasant and supportive. You won't be alone to think in times of need.
It is important to have great stamina. The more stamina you have, the easier will be the journey for you. You will have more chances to live with nature. If you are physically fit then it is like icing on the cake. It is obviously recommended to be physically fit for such a journey. You can increase your stamina by running every morning (and google for more) .
Now what are the things that you need to carry with yourself to start your journey? The thing that you have to keep in mind is that travel with minimum accessories. Carrying extra things will make you tired only and will reduce your stamina. Keep only what you really need. The things that I recommend are -
A bag
A water bottle
A knife
A mobile with downloaded offline map of that location
Some packaged food (mandatory for starters)
A lighter or a matchbox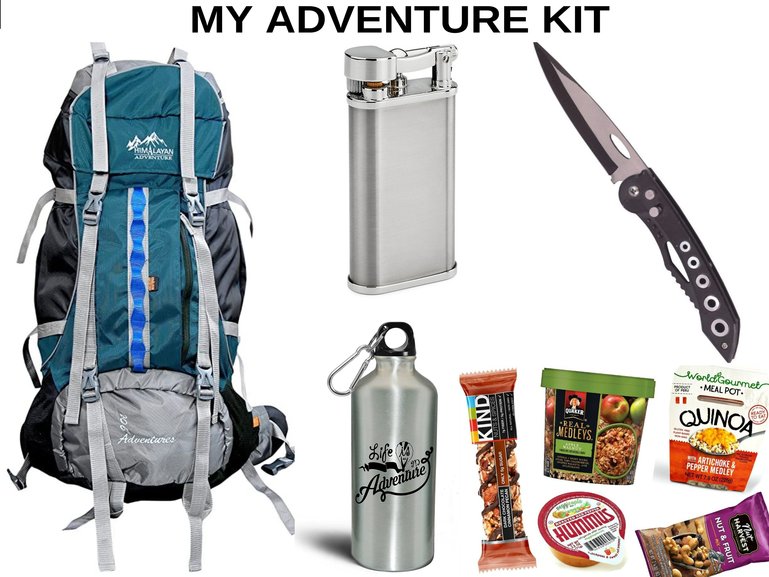 My Adventure Kit
There are few more things that you can carry with you (not mandatory) and it will not add much weight:
A towel
A power-bank
Small amount of Raisin (Kishmish)
An extra t-shirt
Some money
A mosquito repellent (like odomos)
A medical kit
A big plastic (That you can easily find at any railway station) or A camping tent
I strongly recommend that you keep extra money for emergencies. Moreover a power-bank will give your mobile more life. Always keep your phone in air-plane mode with your location turned on. Location works even without your mobile network. Taking a single piece of raisin at a time and sucking it rather than chewing it makes you feel energised all the time. So I suggest that it's better if you keep even a small amount of raisins with you. Last but not the least, if you have a camping tent then you don't have to worry much for camping.
Where to start?
---
It is always the biggest question. Where can you start so that it will not be much risky? Well, the place to start can be near you. You should look for any nearest place like any small mountain, or any forest which is not more risky (the measurement of risk depends upon you). Probably, the least parameter is that minimum number of wild animals are found there.
You should have a complete research about that place. Give as much time as you can in research. Try to know the place, like have a rough idea about the map. Decide a rough route that you are going to take. At first plan a trip to stay a single night in the jungle. If staying in the jungle seems too far you can stay in nearby hotels.
Spending the night i.e. camping in the jungle is one step ahead. You will need to have more skills for camping. Either finding a shelter or making it, both the tasks require a different skill. What you need to do if want to spend the night during an adventurous trip -
Avoid starting your first trip in the winter season.
Finding a shelter is possible and easy if you are there in a moderate climate. Look for an open place so that you can light the fire easily. If you can find rock rather than soil, go for it.
If it is soil, make sure to make your own bed using piles of dry grasses.
Always light fire. You will find enough fuel to burn if it is not a rainy season. If it is, the task can be difficult but still it is not impossible.
Pick as much fuel as you can (more than enough for the night) before starting the fire.
Finalise the place to stay before the dawn.
Making the shelter is not very tough but still keep it as a last option.
If you want to make a shelter, be prepared a bit earlier. You can watch several videos about making shelters.
Keeping a big plastic can help in making shelters.
Do not stay under the tree if you are not making a shelter. It might be risky.
Try to be near the water.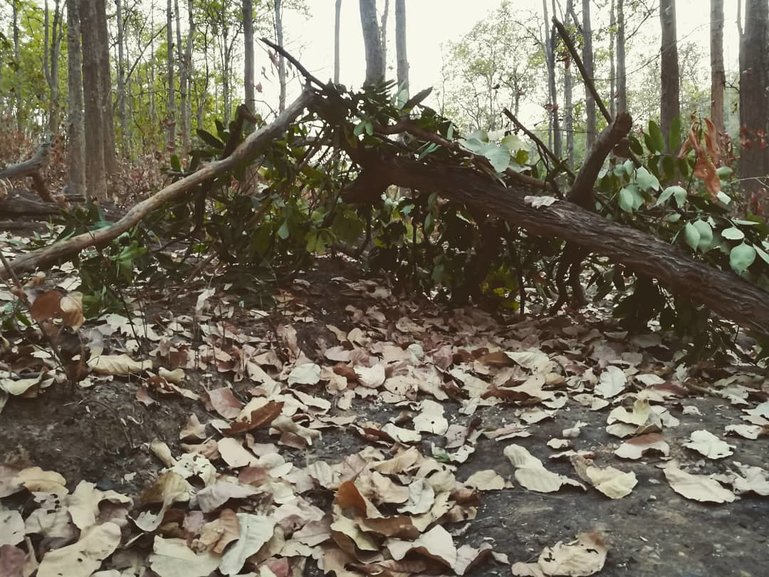 My camp getting prepared at Saranda valley
Always remember -
"Wilderness has a way of measuring you, it provides everything we could possibly need."
- Someone
There are some additional things that might help you. As for example, always look for food, consider your packaged as emergency stock. You can find several fruits in the jungle. You can find out by researching which types of trees are found there. Avoid wearing jeans, instead you can use track pants. It will be more comfortable. Do not eat anything suspicious. You can not be Bear Grylls in your first trip, so be practical.
So, these are few things that you should keep in mind before starting an adventure. There may be few things that have been missed, but believe me, with these instructions and your confidence, you can start your own adventure. You can tell me if you want to add something to these suggestions. I will definitely add them if they seem relevant.
Moreover, you can ask me for suggestions about the places to visit. I can help you in the research. You are most welcome for your queries and suggestions. Wish you good health, maintain social distancing and stay away from corona.
Be Safe Be Adventurous
THANKS