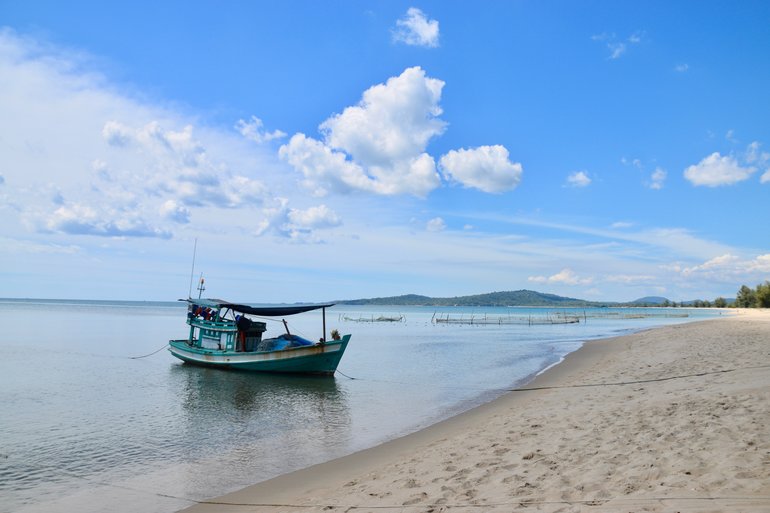 Gulf of Thailand, South East Asia - © Nomadic Existence 2020
Diving to replant coral reefs in Borneo
---
Borneo is an eco-tourism paradise! This tropical island is made up of two ecosystems: untouched coastline consisting of pristine, white sandy beaches and clear turquoise water, sprawling with exotic marine life and the other a dense rainforest, which is said to be one of the most superabundant spheres of flora and fauna in the world as well as being home to some of the most diverse wildlife on the planet.
In spite of this, it remains a rather off-the-beaten-track destination in comparison to places like Indonesia, Thailand and parts of Central America. With so much to explore including; temples, lagoons, waterfalls, caves, mud volcanoes, mountains, island hopping, canopy walks, hikes along suspension bridges dangling over ragging rivers and jungle boat cruises…
I'm not done yet…exotic wildlife trekking to view animals such as Sumatran Rhinos, elusive Clouded Leopards, Pygmy Elephants, Sun Bears, Orangutans and Proboscis Monkeys. Not to mention experiencing the indigenous cultures that live in "water villages"; where homes balancing on stilts seem to float above the sea and whose mystifying occupants, known as "sea gypsies", have an ancient connection to the waters they inhabit, which has allowed them to develop superhuman diving abilities and causes them to suffer from "landsickness".
And even with all of these unbelievable adventures to be had, the best encounter in Borneo lies beneath the calm seawaters, where venturing into a technicoloured underwater wonderland is an unparalleled experience. Borneo is one of, if not the best place in the world for diving and snorkelling - some areas have more than 20 diving spots, many remain relatively unexplored, a few even include shipwrecks. With 600 species of coral, these reefs attract an enormous variety of marine-life; five species of sea turtles, 20 species of sea snakes, manatees, four species of sharks, manta rays, 1200 species of fish (including barracuda, parrotfish and scorpionfish) and 11 species of marine mammals.
However, this utopia is quickly becoming threatened and damaged by fish bombing and climate change. To help fight this destruction the Tropical Research And Conservation Centre (TRACC) was established. This marine conservation organization has made it their mission to restore coral reefs and protect sea turtles. Hard-working, dedicated volunteers from all over the world come to replant coral. The centre has created a community of staff and volunteers, who also aims to teach each other how to reduce their daily environmental impact as well as respect nature.
Volunteers' stay in basic, sturdy tents with a mattress, bedding and power sockets, there are shared toilet and shower facilities. From 9 am on Tuesday to Saturday volunteers participate in 2-4 daily dives, usually three of these are spent working and one is a leisure dive. Sundays are spent diving for pleasure and visiting attractions and Mondays are "Dry Days", allowing your body to take a much-needed rest from being underwater. And if your body doesn't allow you to do four dives a day, there is always plenty of work to be done on land and a turtle conservation project to participate in.
Tips:
---
There are many incredible Eco-Friendly resorts in Borneo to enjoy before or after your stay at TRACC.
If you're looking for other eco-activities to participate in; Trash Hero Borneo spends most of their time and is extremely successful at huge, weekly beach and ocean clean-ups and there are several Orangutan rehabilitation centres to volunteer at – due to palm-oil plantations, these animals and their habitat are highly threatened and many are either orphaned or hurt due to deforestation by fire.
*Palm Oil is responsible for almost 40% of deforestation in Borneo. Sadly, Palm Oil is found in almost all of our daily products from fuel, crisps, frozen meals, body lotion and cleaning products. Try to reduce the amount of palm oil you use to help save Bornean forests: Read labels to make responsible choices. Make more home-cooked meals. Find stores that sell bio, eco-friendly body and home cleaning products. Find sustainable sources of palm oil production and support them.
*Plastic, litter and global warming are damaging our oceans. Make changes in your daily life to help reduce these effects: Reduce, Reuse, Recycle. Find a zero-waste store and support them. Don't litter (cigarette buds are litter too). Participate in beach clean-ups, frequently. Reduce your carbon footprint.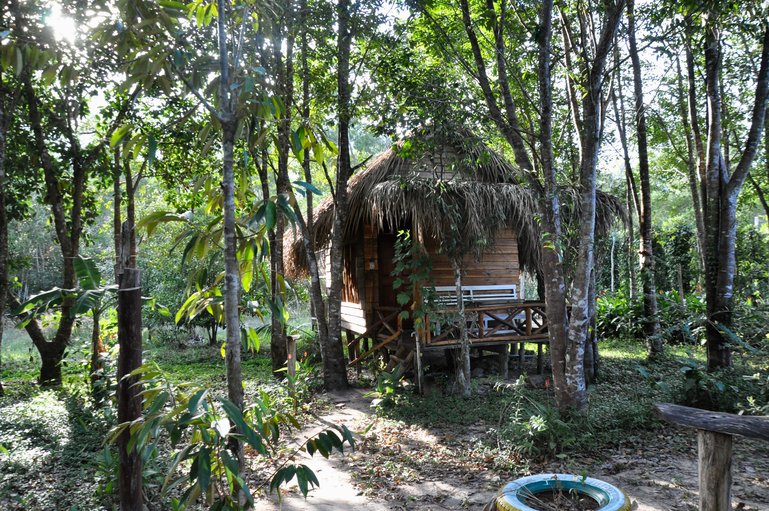 Pepper Farm - © Nomadic Existence 2020
Immersing in nature at an Eco-lodge deep in the Amazon Basin
---
When talking about the Amazon Rain-forest it evokes ideas straight from a National Geographic documentary. Walking through a sea of dead leaves and as you lift your gaze it transforms into an evergreen dreamland. Large fern leaves, wet with dew, brash up against your knees, while millions of vines twist and creep upward, wrapping around massive trees that reach towards the heavens, branching out into a network of vein-like canopies that only allow soft rays of sunlight to penetrate through to the jungle floor below. Bright red Macaws perch on high branches, a belly of a boa curls on a tree and a faint glimmer of the golden spots of a jaguar disappear into the thick brush. The high-pitched sounds of hundreds of insect, frogs, bird and monkeys, echo through the vastness of the forest. Here it's bursting with life – this is the last bastion of true undisturbed and untouched wilderness.
And although this sentiment holds truth – the amazon is unlike no other location on earth, it is the most biodiverse place on this blue planet of ours. It holds the record for both the largest rainforest and river system in the world, and is home to over 350 indigenous groups of people, some who have never had contact with the outside world. It is also the last haven for one in ten known species on earth, it pumps 7 trillion tons of water into the atmosphere annually and recycles up to 140 billion metric tons of carbon each year.
But the hard truth is that this magical world has been under constant attack throughout the 20th and 21st centuries. It has suffered through illegal exotic animal trade, illegal hunting for wild animal skins and fur, deforestation due to farming, logging, mining, expansion of infrastructure, the building of hydroelectric dams and fires (200,000 acres burns down every day), and of course climate change (rainfall has declined with 69% throughout the rainforest). The exploitation of all species, habitat and indigenous people amount to a loss of 75 million acres of forest each year.
So, the reality is that it's a bit more difficult finding that idealistic Amazonian experience than you might think. Here are two options to consider when looking for a truly immersive adventure in the Amazon Basin; one is in Peru and the other in Bolivia. Even though the largest percentage of rainforest is in Brazil, Peru and Bolivia are in second and third place, the remainder is divided between Ecuador, Colombia, Venezuela, Suriname, Guyana and French Guyana
The Tambopata Research Center lodge is inside Tambopata National Reserve, which is a large area of protected rainforest. Tambopata is one of the lodges, which is placed deepest within the rain forest compared to many other jungle lodges in South America as well as being located near one of the largest clay licks in the Amazon. This perfect placement means that not only are you guaranteed to see several species of macaw parrots but that this area is rich with wildlife. The birds, monkeys and other herbivores that visit this food source, in turn, attract predators, making this one of the best places to (possibly) spot jaguars.
The lodge itself has all the luxuries; rooms come in three different options, all with comfortable beds, mosquito nets, private bathrooms, hot showers, eco-friendly and biodegradable toiletries and a hammock. The lodge has a spa, a lobby bar and a restaurant as well as expert guides, who speak multiple languages and also offer private tours. Activities include forest trails, jungle walks, guided tours, wildlife watching, birding, boat cruises, island exploration, butterfly viewing, a treetop viewpoint, mountain biking, night lectures, Piranha fishing, jungle survival skills, tours especially for children and educational conversations with researches working at the centre. Tambopata works very hard at always reducing both the lodge and the guests' carbon footprint and as a guest, you are contributing positively to the research centre.
The second option is for those who wish to shed all the comforts of home, head into the wilds and live more like a real local. Located in Madidi National Park in Bolivia and one of the few lodges which are allowed to be inside this park, Chalalan Ecolodge is situated next to Lake Chalalan in the indigenous territory of San Jose de Uchupiamanas. This Ecolodge is managed and run by the indigenous Quechua-Tacana people, making it a fully community-run project with a percentage of the profits being allocated to community health funds and educational centres. They aim to provide a truly authentic "jungle experience", by allowing you to live as closely to how indigenous people live. The journey to the lodge is a five-hour boat ride on the Beni and Tuichi rivers through incredible nature. Hidden between a lake and the forest is Chalalan Ecolodge, consisting of very basic, traditional, wooden, Tacanas cabins equipped with a bed, mosquito nets, hammocks on the front porch and both private and shared bathroom facilities (don't always expect hot water). Staff and guides are well-trained and knowledgeable, especially in regards to the medicinal qualities of the flora.
There are observational platforms to view wildlife and other activities include: jungle hikes (day & night), nature trails to walk, boat rides on the lake, canoeing, wildlife watching and traditional performances by the Quechua-Tacan community that give you an insight into their culture.
Tips:
---
A mid-way between these two options is the low-impact Manu Tented camp that must be done in combination with the Manu Wildlife centre. This is located in the Manu National Park, said to have one of the highest biodiversity of life in the Peruvian Amazon as well as having clay licks; this means a great chance of spotting a large variety of Amazonian animal and bird and a good possibility of spotting jaguars.
Expect insects, bugs, humidity and heat – bring: Insect repellent (lots!!), Binoculars, Camera gear (bring your long lens), Thin clothing - light colour, long cotton pants, Tight-weave - light-coloured cotton shirt, Ankle-high hiking boots and sneakers, Flashlight (headlamp) with batteries, Sunblock lotion, Sunglasses, Broad-brimmed hat, Rain suit or poncho, Small-denomination bills and a small daypack
The best time to visit is during the dry months from May to October
If you are planning to bring a 25kg wheelie bag, are freaked out about bugs and expect the luxuries of home in the middle of the Amazon – rather book into a resort in one of the large cities – this adventure may not be for you, especially not Chalalan Ecolodge.
Come with realistic expectations; this is nature, not a zoo – neither you nor the guides can control how many animals or which kind you will encounter! Instead of arriving with a list of animals, you feel you have to see, rather come to enjoy being in nature, in this spectacular setting and allow anything else you see or experience to be a bonus.
Flora & fauna in the Amazon: 40,000 plant species, 3,000 freshwater fish species, more than 370 types of reptiles – including poison dart frogs, Butterflies, Bats, Monkeys – including Black Howler Monkey, Black Spider Monkey, Emperor Tamarin, Brown Capuchin Monkey, Pygmy Marmoset, Squirrel Monkey, Woolly Monkey and a monkey that purrs like a cat, More than a thousand different species of birds like hummingbirds, harpy eagles, Channel-billed toucans, hoatzins and famous macaws, Sloths, Armadillos, Anteater, Capybara, Tapir, Giant Otters, Caimans, Piranha, Anacondas, Electric Eels, Tarantulas, Jaguars, Puma, Ocelots, Pink river dolphins.
*Help reduce the destruction of the rainforest in your daily life: Consume less meat and dairy. Avoid Soya. Avoid or reduce buying products with Palm Oil. Use less and buy responsibly sourced paper, and wooden products. Support fair trade and ethically sourced products. Reduce your Carbon footprint. Vote for the right officials making responsible choices.