Kayaking with seals in Namibia's Skeleton Coast
---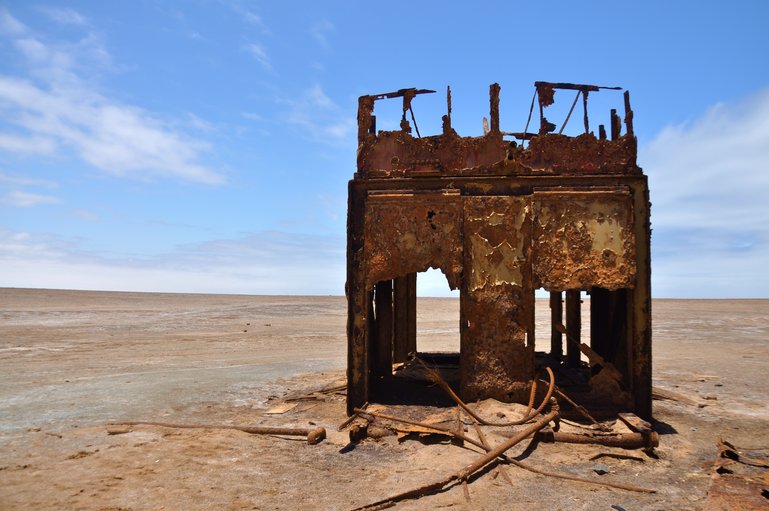 Namibia, Skeleton Coast - © Nomadic Existence 2020
With its wide and sparse open spaces, an abundance of wildlife, eco-lodges and the oldest desert in the world, which seems to seamlessly flow into the South Atlantic Ocean, Namibia should be a top priority when travelling to Africa.
And no trip to Namibia is complete without visiting the quaint coastal town of Swakopmund. This once Germanic town situated right beneath the wild Skeleton Coast is a hub of adventure activities and natural wonders. About 40kms south of Swakopmund is the sleepy, harbour town of Walvis Bay, famous for its pink saltpans, flamingo dotted lagoon, marine-rich ocean and bird abundant wetlands. It is here you will find an eco-marine adventure that offers a combination of nature, marine-life, views and a great upper body workout.
At the end of a long stretch of desert sand protruding out into the Atlantic called Pelican Point, sits a lonely lighthouse surrounded only by sand and sea – where you will gear up (for the cold ocean water), slip into your kayak, launch into the waves and allow your expert and extremely knowledgeable guide to take you on one of the most intimate marine experiences.
As your paddles cut through the salty water furry heads will be bobbing up around your kayak, flippers and tails will be jumping over you, and soon you will be surrounded by the very playful and extremely curious Cape Fur Seals, who call these waters home. These social sea dwellers are happy to hop on for a free ride or a quick nap before diving back into the water.
Your guide will share stories and teach you about this remote corner of Africa, while you pass by schools of bottlenose dolphins and an array of bird species including pelicans, flamingos and cormorants. This silent and non-invasive way of exploring the ocean may even allow you the opportunity to spot a Humpback Whale or two, on their migratory route towards the Cape Of Good Hope.
Tips:
A paradise for bird-lovers.
Bring extra dry clothes AND a waterproof camera.
Best done with a guide – Eco-Marine Kayak Tours.
Spend at least 3-5 days in Swakopmund when visiting, as there is a lot to see and do.
Learning to Kite-surf in Cape Town while helping to save Penguins
---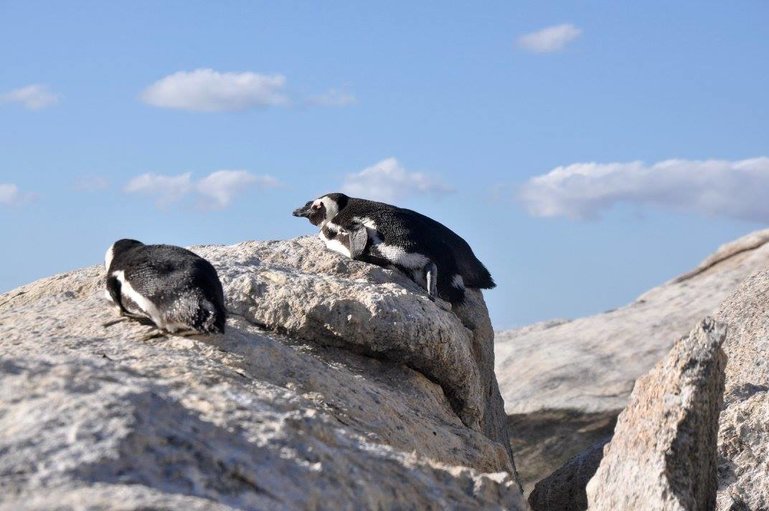 Cape Town, Boulders Penguin Colony - © Nomadic Existence 2020
Cape Town is a city at the southern tip of the continent with the comforts and ease of Europe, but the flare and culture of Africa – it is the perfect gateway into Africa for anyone who hasn't visited before.
The city of Cape Town is nestled between the awe-inspiring and magnificent Table Mountain and the long-stretches of sandy beaches and aquamarine waters of the Atlantic. With so much to experience: ample, diverse nature, hiking trails, a non-stop list of adventure activities, markets, coastal views, epic road trips, famous wines, culinary fusion delights, rich history and a buzzing social scene – this city has been rated one of the top ten in the world more than once.
But among surfers all around the world, it's the legendary waves and strong winds that attract hundreds of tanned-skinned, board clutching travellers to these shores each year. Situated about 17kms from the city centre is the aptly named, beach suburb of Table View, which offers the best views of the city bowl and towering mountain. But this area is also known as one of the best Kitesurfing spots in the world. Annually the best of the best in the Kitesurfing world travel here to compete in the "Red Bull King of the Air" competition.
But you don't have to be a pro to enjoy this thrilling sport; Table View has a multitude of Kitesurfing schools where you can spend a day or even three months learning the basics required to fly through the air, strapped to a kite and a board with waves beneath your feet.
One of these schools – Coastline tm| Kitesurfing lessons Cape Town; donates a percentage of each Kitesurfing lesson to SANCCOB, a coastal conservation foundation that rescues, saves and rehabilitates sick and injured seabirds. All donations are given to SANCCOB's Oiled Wildlife & Response Project (Save A Penguin Project), which saves penguins and other seabirds from oil spills.
Tips:
The best season for Kitesurfing in Cape Town is November – February.
There are many hostels (Cape Surf Hostel, Surf Kite Sleep, SaltyCrax), delis and bars (All In The Kitchen Deli, Bootlegger Coffee, Pakalolo) set up around Table View to specially accommodate Kitesurfers and their needs.
The MyCiti Bus transportation system is a great way to get around in Cape Town.
Summer is abundant with outdoor music festivals and markets.
Hiking through Slovenia's Julian Alps
---
Considering the abundance of nature: lakes, rivers, forests, mountains and waterfalls, combined with all the Eco-Friendly activities such as hiking, kayaking, rafting, cycling and a capital city filled with "pedestrian only" avenues as well as the fact that nearly 40% of the country is protected area; Slovenia is very fast becoming one of the most famous Eco-destinations in the world.
Of all the corners to explore in this country, the Julian Alps is by far the most popular and allows a traveller to experience a small bit of each highlight Slovenia has to offer.
The amount of time you choose to take hiking through this breathtaking area depends on which trails you want to take (there are so many options) and how much time you want to spend enjoying each area – so it could take you anywhere from 5 days to over two weeks. For a first time visitor, there are two great options, one for the more avid, adventure hikers and one for those that prefer a gentler pace.
For the former the hike starts in the alpine town of Kranjska Gora, nearby to Triglav National Park, from here the route takes you through vast flowery meadows to the base of Mt Triglav. Where you can either choose to continue to your next destination or you can make your way up this ragged mountain scape, reaching the highest peak of the Julian Alps at an elevation of 2,864m.
*To summit you require a high level of fitness and some alpine hiking experience - there are three routes to the top, the Bamberg is for the experts among us and the Krma Valley or Pokljuka routes are the easier approach.
From here the hike continues to Lake Bohinj, where in a valley surrounded by forests and mountaintops, the crystal clear waters of Lake Bohinj offers a refreshing break for your weary feet as relaxing days are either spent floating on your back with a blue sky overhead and the outside world fading away or canoeing around the lake with a packed picnic of Slovenian red wine and fresh bread. The route then weaves through thick, green forests with treetop canopies and over wooden bridges with icy blue rivers underneath, all the way to the village of Kobarid in the extraordinary Soca Valley, where traditional food and culture is everywhere to be found. Nights will be spent sleeping in wooden cabins on the tops of mountains and breakfast on benched tables overlooking the valleys below.
For those less enthusiastic to conquer mountaintops and blistered feet the route from Kranjska Gora moves down the evergreen, grass-covered, hilly meadows of the Trenta Valley. This tranquil trail passes through wooden-hut villages, Shepard's herding their flock and the weaving, and transparent waters of the Soca River, where a quick swim is a cooling break from a long trek. Exploring caves with hidden waterfalls and river rafting through gorges with moss-covered mountain rock is what makes this route truly magical. The route continues through quiet, untouched forests to reach the Soca Valley Lookout point, which is the final stop. Nights will be spent sleeping in tents with the stars dancing above and breakfast among flowerbeds looking up at the tips of mountaintops.
Tips:
July, August and September are the best months for hiking (September has much fewer crowds).
Read the Slovenian Mount Triglav Hiking Guide before you attempt a summit.
Don't miss out on Slovenian red wine and schnapps.
A great start to any trip to Slovenia is a visit to the picturesque Lake Bled, kayaking around the reflective waters at sunrise or sunset is a must.
For animal lovers - spend some time in a "hide" deep in the forest observing bears, wolves, foxes, red deer and lynx.