The Capital city, New Delhi is a big heart of India and a special one for the people who live here and also who want to explore this city. A dream place to visit.
The city has so much to explore, living here for almost 20 years and I am still figuring out new things.
Let's get started :
10 things you need to know before traveling to New Delhi
---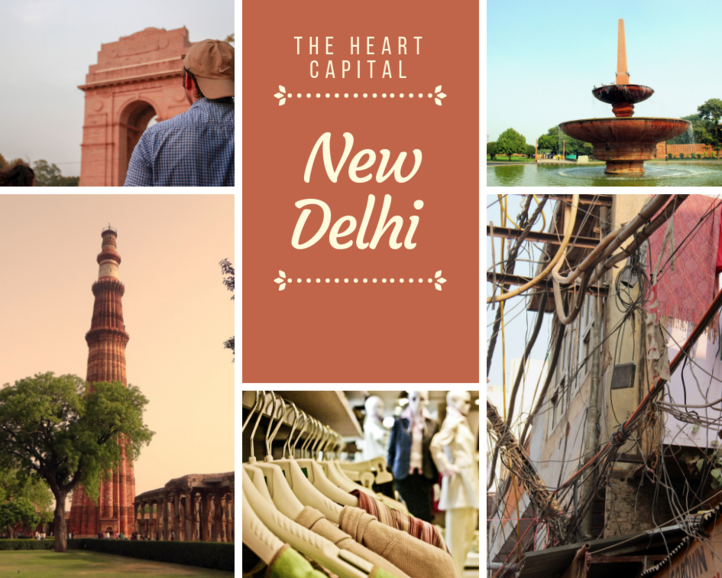 New Delhi
1. Connectivity
---
The most important thing many people ask is, "How is the connectivity there?" or "How do we travel from one place to another in New Delhi?" and the answer is through "Metro", "Bus" or "Cab". It totally depends on you.
If you travel through Metro -
* You will save time and will travel comfortably and in ease.
* The prices are low. ( Keep yourself ready for the Delhi Metro crowd ) - Tip.
If you travel through Bus -
* If you are in no hurry and want to see what's going on outside through the windows.
* Prices are slightly less than Metro.
If you travel through cab -
* You will travel comfortably, and if you have luggage with you.
* Will drop you at your exact location.
Totally depends upon one's need.
2. Food
---
If you are visiting New Delhi and the Delhi food is not in your list, please make the list again. Specially Parantha's.
Consider yourself very lucky if you are getting to taste home made food. Don't be sad if you are not that lucky.
There are places you can go , not just parantha's but lots of other things also-
* Moolchand Parantha, Moolchand
* Babu Ram Parantha, Chandni Chowk.
* Hauz Khas Social, Hauz Khas Village. (Also for clubbing and amazing youth crowd) - Tip.
3. Climate
---
Check the climate before arriving.
Summer -
* May - October (June , July remains very hot touching consistently 40°C)
Monsoon-
* In between summers, monsoon throws some relief. Around August end till sept, end.
Winters -
* Winters are not that much cold, but still. Around November - April.
4. Language
---
English is widely spoken but if you learn a bit of Hindi that will be great, so the people really want to connect with you.
* People seem to be cute when they don't know the language but at least tried.
* Learn a bit of phrases like Nhi = No , Aap kha se ho = Where are u from? Something like that!
5. Don't commit yourself
---
Don't commit yourself of seeing the New Delhi in a one or two day.
Rather start like -
* Visit places which are closer to your hotel on Day 1 and Day 2.
* Day - 3,4,5 are to be left for places which are important to see and are far away and like that.
* It will definitely help you in planning and saving time.
6. Choose Hotel wisely
---
Don't be that person who chooses the very first hotel at first sight.
* Try to search for more options.
* I would say look for Karol Bagh, it is a best option, you will go to anywhere easier.
7. Bargain wholeheartedly
---
* While shopping , people will demand for more money because they somehow came to know that you are a foreigner.
* Bargain wholeheartedly, that's what Dillihites people are in best at.
8. Be cautious
---
* Be cautious of whatever you are carrying with you.
* There are people who are ready to steal your things and then sell them at a high price.
9. Nightlife
---
* The nightlife in New Delhi is not the high talk of the town.
* But, you can visit these places like Hauz khas, GK, khan market etc. to have a good time.
10. Make and Take Memories
---
* Make memories with your family, friends and enjoy New Delhi.
* Take memories back with you and visit again for refreshing them.
I hope I will have helped you in guiding you before arriving in New Delhi.