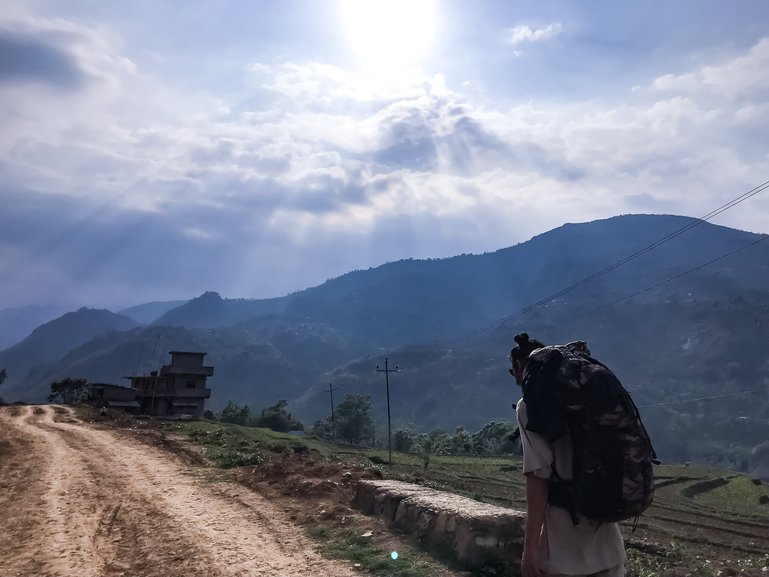 backpacking through the mountains of Nepal
Your first big backpacking trip is going to be life changing yet daunting, especially if you are heading off into the world alone. Here are my top 10 things you need to know before you go on your first backpacking adventure!
1.You get what you pay for
---
When it comes to choosing a hostel to stay in as a rule you get what you pay for. If you go for the cheapest option you may find yourself in a place with little comforts, limited privacy, and facilities that aren't really up to standard.
That being said the vibe of a hostel is generally much more important than the facilities when it comes to your experience. Check reviews for what people say about the staff and activities and the people staying.
I always recommend booking in advance just one or two nights and decide once you are there whether you want to extend or find somewhere different to stay.
2. Pack half of what you think you need
---
This is a big one, especially for the ladies. My first backpacking trip I was up all night before stressing and even crying at how much stuff I couldn't fit in my backpack! Take only the essentials.
Forget fancy shoes, make-up, and toiletries and really think about what you feel most comfortable in every day. Always wear your bulkiest items while you are traveling.
Also when you're packing don't stress about taking EVERYTHING because 9 times out of 10 whatever place you are going to you will be able to buy whatever you couldn't fit in your luggage. You will also want to leave space for shopping obviously!
3. Let go of set plans and embrace the flow
---
For some, this will be easy and others this will be hard. Backpacking is all about embracing the present moment and crossing paths with new people and places. Not having a set plan gives you the freedom to change your plans, tag along with new people and visit amazing places that you may not of eve heard of before you arrive.
This is where the true beauty of travel happens, when you open yourself up to be spontaneous you have the opportunity to make incredible life long friends and have experiences of a lifetime, which come to you completely unexpectedly.
4. Don't have expectations
---
Peace begins when expectation ends. Try and let go of expectations you may have about a certain place or people. Don't build a place up in your mind, I would even say don't do too much research on certain places.
This way your expectations will always be exceeded and you'll end up seeing things you never planned to. My best travel experiences have come from following friend's advice to little unknown places that completely blew me away.
5. Be smart with your cash
---
You're a backpacker so you're on a budget. Don't waste hundred's of dollars in bank and ATM fees. At the same time don't put yourself at risk by carrying large amounts of cash from your home country. Do some research on online banks in your country that which cater to travellers and people spending money in multiple currencies.
I use an online bank called Revolut, based in the UK. They give free ATM withdrawals up to £200 per month, the exchange rates they give are the same as the market rate and I can load and transfer funds internationally for free. I've saved a fortune!
6. Remember to pack unexpected backpacking essentials
---
Packing a few items you may not have thought of can really make your trip so easy and save you a lot of money. My favourite unexpected items to take with me are a knife (only if you have checked baggage!), spoon, a plate and a jar.
When I have all of these I can basically make all my own food from anywhere without a kitchen. Also, a sewing kit, scissors, and dental floss can come in handy for a multitude of things.
7. Learn to be present
---
My favourite thing about traveling is that it forces you to live in the present moment. Each day you get to decide what you want to do in the moment. This will result in an immense feeling of liberation and freedom which you will get addicted to. The mundane everyday tasks and worries of your old life become the last thing on your mind.
Fully engage with your surroundings and see the magic happen before your eyes. Enjoy the moment, take it all in. When you learn to do this you will feel so intensely grateful for the amazing place you are in and you will be able to slow down time to really enjoy every moment.
8. Don't be afraid of the unknown
---
One of the scariest things about backpacking for a long time is the thought of the unknown people, places, and events ahead. It takes guts to leave home and venture out into the world to new places with different cultures.
You may be concerned about your safety, your health or if you will make any friends. This list goes on. The challenges that come with travel push you out of your comfort zone and help you grow so much as a person.
Remember that no matter where you are in the world everyone you meet is a human just like you with a big heart. You will find help and support around every corner so there is no need to be afraid, everyone has your back.
9. Prepare yourself for midnight munchies!
---
Always have some fruits, oats or instant noodles on hand in case you find yourself hungry with no access to open cafes.
Having some food on hand will prevent any hunger emergencies. Better yet you can share your food with the other hungry souls, nothing connects you more to others than sharing food from your plate.
10. You will probably get sick
---
Accept the fact before you leave that you will probably get sick at some point on your trip. Whether it is food poisoning or you get homesick.
If you do fall sick make sure you tell people around you and they will 100% take the best care of you. Eating the way locals eat with help your stomach and immune system get stronger.
Homesickness is real and it can feel debilitating. Get a SIM card with plenty of data and call home every day or whenever you feel down. The longer you go on your travels the less you will miss home. Home will always be there, it will never change and worst-case scenario you go home!
There you have it, my top 10 things you need to know before you set off on your first backpacking adventure. So give your mum a call, pick yourself back up and get out there in the world!