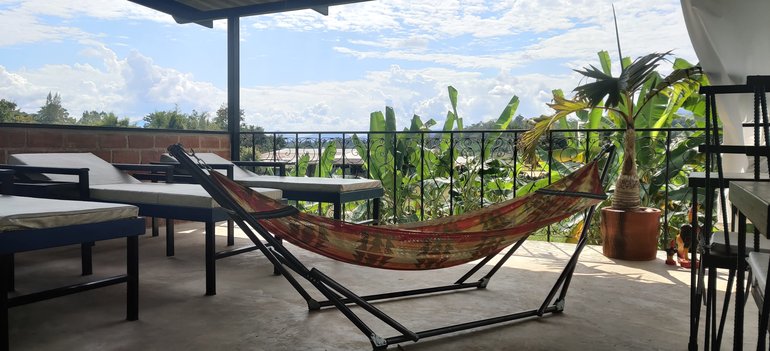 Hostel in Pai
There were two things I wanted to do in the North. First one was the Yee Peng-festival: been there, done that. The second one was doing a loop in Thailand with a scooter. There are several loops you can do with the scooter: Mae Hong Son-loop or the Golden Triangle-loop (To Chiang Rai). These are the two most famous loops which can be done with the scooter, but you can always make your own route to see the most beautiful landscapes and locations. We were also doubting doing the Tuk Tuk adventure for 11 days, which you do with the Tuk Tuk's (obviously), for people who are scared of driving scooters. But we didn't want to stick to a scheme and decide where we wanted to go, day by day.
Pai
---
Two days after the Yee Peng Festival we left Chiang Mai to make the Mae Hong Son-loop. We rented scooters for 150 bath per day and hit the road. Our first route was Chiang Mai- Pai. The direct route says 2 hours and 50 minutes, but 1) We are not with a car 2) We want to have stops 3) We were hungover. We started driving at 14:00 and arrived in Pai around 20:00. Yes, we took our time. The route was 145.2 km and is famous for the amount of curves the route has: 762 curves. The trip to Pai is most of the time on Route 1095.
We stayed in Pai for 3 nights and did not have enough time to see everything we wanted to see. We went to the viewpoint: Pai Canyon for a nice sunset. We visited the Sai Ngam Hot spring, which we did not really like because it was not a natural hot spring. Later that day we visited another viewpoint (too many viewpoints to visit…). The Yun Lai Viewpoint is a panorama viewpoint and the best viewpoint of Pai. Only 15 minutes' drive from Pai and has an entrance fee of 20 bath. Trust me this 50 cents is worth it. Our last day in Pai was most importantly school and work, but in our break we visited the Kho Kuu So Bamboo Bridge. This is one of the most popular attractions in the area and is an 800-meter long bridge that stretches over a field of lush rice fields. It is 11km away from Pai and should take a 25 to 30 minutes' drive. This is also the most special location I've followed class from! I did not expect the bridge to be so long, so I estimated an hour of visits so I could follow class in my hostel again. Did not really work out, because we were gone for 3 hours. The Bridge was free for us, but on some other days you have to pay a fee of 30 bath.
Changwat Mae Hong Son
---
The next part of the trip was to Changwat Mae Hong Son. This beautiful route through the mountains and past beautiful viewpoints is definitely worth it. The route takes 2 hours and 15 minutes. But we used the whole day to drive the route. It is 107km in total. We left around 15:00 and arrived at our hostel at 20:30. We had one b-route along the way, which was the Nam Lod Cave. With a guide and a lantern we had a little tour through the cave for 150 bath in total. We didn't see the whole cave, because of the rise of the tide. We heard that the cave has 3 higher level caverns, which takes 2 hours to see all of them. We were inside for 30 minutes. We stayed in Changwat Mae Hong Son for two nights, we wanted to stay one night, but because I had class all day we stayed for 1 extra night. One of the most beautiful temples I've visited was in this city. Be sure to visit Wat Phrathat Doi Kongmu for a view over the whole city.
Doi Inthanon
---
The next stop: Doi Inthanon, highest point of Thailand, and definitely the coldest one. We left at 9:00, because it was a looonggggg route. Four hours of sitting on the scooter and 190km to do, before arriving at our next beds. But before we were setting sail for the camping, we had to stop by at the Thung Bua Tong Fields at Doi Mae U Kho. Most beautiful place I have been on this loop. The unending flowerfields, combined with the unending view makes this a very magical place. The best time to visit this place it around November till begin of December. The area is around 1.6 million square meters large. For us it was on the way to Doi Inthanon, after 25 minutes on the other intersection you should arrive at the flowerfields.
It was still 3 hours of driving, so we put some pace in there. But too many beautiful locations. We left the flowerfields around 12:30 and arrived at 20:00. The best thing still had to come. Sleeping in a tent for the night, with three people… amazing. Just what we needed after 190km. Next morning we woke up at 8, because we had to drive back to the highest point and needed to buy some warm clothes. In The Netherlands I could walk around in a shirt and a jacket with 15 degrees. On this last day on the scooter I wore 2 shirts, a thermo-shirt, which were my own. During this trip I bought 'hippie-pants', a sweater, a woven jacket and a shawl. And of course, I was still cold.
The National Park Doi Inthanon (named in honor after King Inthawichayanon) covers an area of 482 square kilometer and is known as "*The Roof Of Thailand*". The highest point is 2.565 meters. Of course we visited the highest point, because we are still tourists. After the highest point we went for a hike nearby: Kew Mar Pan Trail. We were unlucky with not having a viewpoint, there was a lot of mist when we arrived there. Which made the trail not worth the money. You 'need' to have a guide for this trail, 100 bath. But just find some people to share a guide, which was what we did as well.
Back in Chiang Mai
---
After the Trail we had our focus on Chiang Mai. Two hours drive with 110km. "Not that much". Most of the time it was very cold along the way. But it was the easiest way of the whole tour, because the road was mainly highway. When we stopped for gas, 30 minutes before arriving in Chiang Mai I took of my warm clothes. Had three stops, one for gas, a stop at Sirithan Waterfall and one at another Big Buddha next to the highway. We left the Doi Inthanon Summit around 14:30 and arrived in Chiang Mai around 18:00.
This loop was one of the best things I have done in Thailand. There are different varieties on the loop with other stops along the way, including or excluding mine. You should decide for yourself which stops and touristic attractions you want to visit. The loop is doable in three days, but I would suggest taking at least a week to do the loop. Because of school I could not see and do everything, for example Rafting the Mae Taeng River in Chiang Mai, which some of my friends did when they returned. Of course, they told me I missed so much fun...
This makes me want to do the loop again and visit all the places I wanted to visit. But most importantly, be sure that you are capable of driving. If you don't feel like driving on some day, please don't. I've met a lot of people who got injured during this loop, and that is not what you and I want.