1. Steak Of The Day
---
Located at the heart of Mae Rim District sits a simple restaurant which offers dishes that is beyond anyone's expectations. The menu includes fresh salmon, tender lamb chops, imported steaks, pork, dolly fish fillets, and many other scrumptious delights. What makes Steak of the Day stand out is the presentation of fresh ingredients with quality produce. The menu is amended daily to accommodate the availability of fresh local ingredients which are not always easily sourced. Having a flexible menu keeps Chef Ray's creativity juices running by marrying the freshest local ingredients with imported produce. The quality dishes plated with artful mastery makes this restaurant a true gem of Chiang Mai.
The restaurant's steak is an absolute 'must-try' for anyone taking the trek up to Mae Rim. Always grilled to perfection according to your preference, Chef Ray's plating is a true display of someone who lives and breathes the culinary arts.
As the former Head Chef and Manager, Ray and Nui, were part of the team at The Four Seasons – Mae Rim. Their extensive experience in the industry is now on display with their very own restaurant. With Ray calling the shots in the kitchen and Nui charming guests in the dining room, a meal at Steak of the Day is an experience that cannot be missed when in town.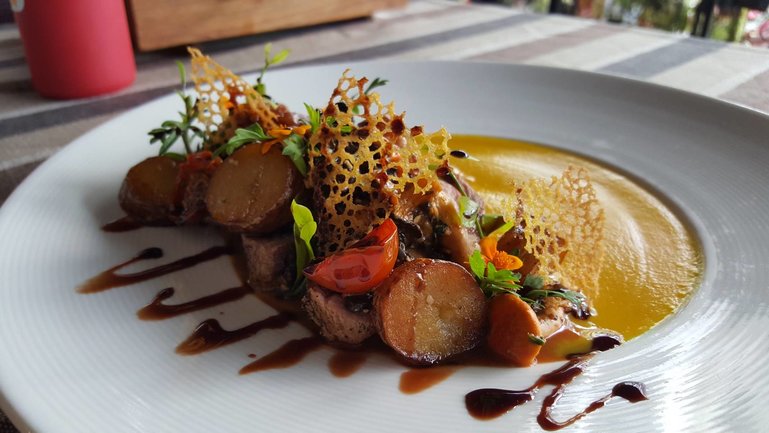 Steak Of The Day
2. Nakara Jardin
---
Nakara Jardin or Nakara's garden is a gorgous little spot tucked away from everything and everyone. The unique garden setting is of French Tropical style, which compliments the dishes served. Popular to both local and foreign guests, its scenic view along the Ping River is nothing short of magnificent; the greenery perfectly matches the well-presented French cuisine by Chef Pomme.
A pleasant, peaceful, and relaxing environment with good food is what customers will experience when dining here. If you are lover of nature, or love sharing photos on social media, or simply like having a quiet place to enjoy some tea, then this is the right place for you.
Nakara Jardin offers casual French dining, with a selection of pasta and bread, salad, savoury dishes such as racks of lamb with jus sauce and wagyu tenderloin with red wine sauce. They also offer a wide range of imported teas, crafted coffees, and delectable patisseries. All at very reasonable prices. The staff are very nice, cheerful and attentive. Overall service is impeccable.
3. Da Antonio
---
Da Antonio is a famous Italian restaurant in Chiang Mai. The dining room is open to sunshine, giving a natural glow to the area. You can choose to dine inside or to enjoy the outdoor setting. Tables outside are sheltered with hanging umbrellas, soft lighting adding glimmer and radiance to the night. Parking is also very convenient in this busy part of town which is always bonus.
An established player in the competitive Chiang Mai restaurant scence, Da Antonio has a menu that boasts a taste of Italy that you would crave for. It consists of home-made bread, spaghetti, fettuccine, tagliatelle, linguine, penne, ravioli, lasagna, rice and fish dishes, main course specials, authentic Italian pizza, mouth-watering desserts, and superior wine and beverages. Their bestsellers are the thin-crust original style Italian pizza, ravioli stuffed with crab, shallots and ricotta cheese, queen scallops, and ossobuco.
Delicious food served genourously. You will definitely leave the restaurant full! Look out for George, the owner, as he is known to wonder around and greet his guests from time to time. And don't forget to ask his recommendations on the wine you could pair with your meal.
If you are seeking for a true Italian fix with an ambience that matches, then put Da Antonio on your 'to-visit' list!