When people ask me to choose between mountains and beaches, I ask them back, "what about deserts?". Yes, deserts can be beautiful too, especially when they are as diverse and culturally rich as Kutch is. Though Kutch is not a typical desert with sandy landscapes, it is unique in many ways. Kutch, located in Gujarat state, is the largest district of India, offers an enriching experience. But first time visitors may see nothing except miles and miles of barren land with bits of shrubs here and there! Sweltering heat (above 450 C) and dusty environment. No shelter in sight for long distances, not a single habitation for tens of kilometers! No big trees.
There are five major things to experience in the Kutch.
1. Salt flats
---
There is one famous salt flat in Bolivia- 'Salar de Uyuni' that everyone knows. It's one of the natural wonders of the world. But there is one salt flat in India that not everyone knew.
A wide landscape of snow-white barren desert located near the Arabian Sea in the Indian state of Gujarat creates extraordinary salt flats that extend north towards the Pakistan border. The tortoise-shaped land, which covers approximately 5000 square kilometres, disappears completely during the summer months due to monsoon floods and transforms into an inland sea. It is world's largest salt deserts.
The sunset over the plain white salt-flat landscape is breathtaking. The contrasting orange colour of the sunset over the white colour of the salt flats is a photographer's delight. Moreover, the sky remains cloud-free all the time as it's a desert.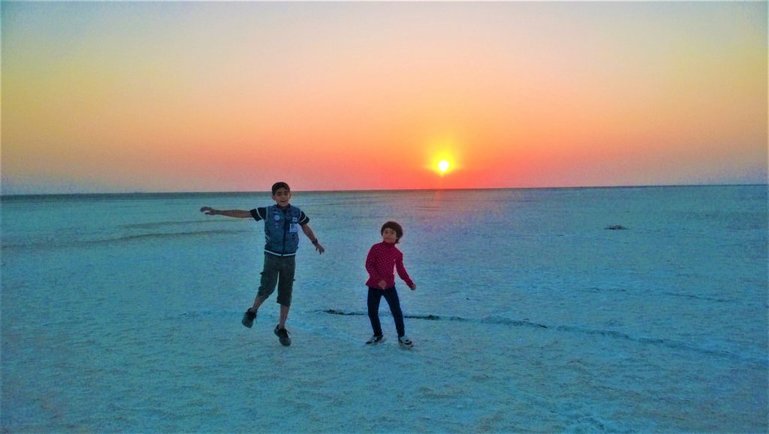 Starting in 2005, the Rann Utsav (Desert Festival) organized by the government has brought the salt flats and Kutch in general to the tourism map of India. At about 80 kms from Bhuj (Capital of Kutch district), village Dhordo is base for the Rann Utsav. Every year during Nov-Feb, a temporary tent township is established here by the government for the visitors. During rest of the year, the salt flats remain under sea water. The festival offers the best of Gujarat's art, music, food and culture. It costs between Rs. 3000- Rs. 10,000 per head for a night. One can book a tent for a night on their website (www.rannutsav.com).
The sunset point is a few kilometers away from the tent city at Dhordo village. The organizers arrange vehicles for visitors staying therein to go to the sunset point. Or, if you are driving from Bhuj, you can directly visit the sunset point to witness the sunset and comeback to Bhuj.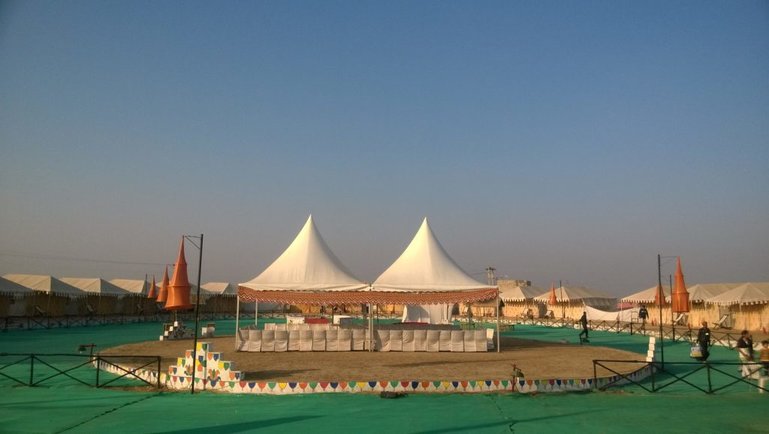 In Dhordo village itself you can see the traditional thatched Kutchi houses (called Bhunga). And you can explore some Kutchi crafts like the mud craft in the village. Besides, an art & craft fair is also organized at the Rann Utsav site.
2. Cradle of civilization, Dholavira
---
If you are a history or archeology enthusiast, Dholavira is a must for you. It's located 210 kms north of Bhuj in the 'Kutch Desert Wildlife Sanctuary' in the 'Great Rann of Kutch'. It was one of the prominent sites of the Indus valley civilization, inhabited between 3500 BC and 1450 BC! Discovered first by the archeologist J.P. Joshi in 1967-68, it has been declared as a UNESCO World Heritage Site in 2021. It will need a day-trip to explore the ancient site.
3. The lovely Vijay Vilas Palace
---
It is a major tourist attraction built as a summer palace in early 1920s. Just 7 kms from Mandvi, it has its own private beach and houses a museum too. The design of the palace are inspired by the Rajput-Orchha style of architecture. Though the royal family now resides in the palace, part of it is open for tourists. The heritage building, and its lush green environment are good enough to spend half a day.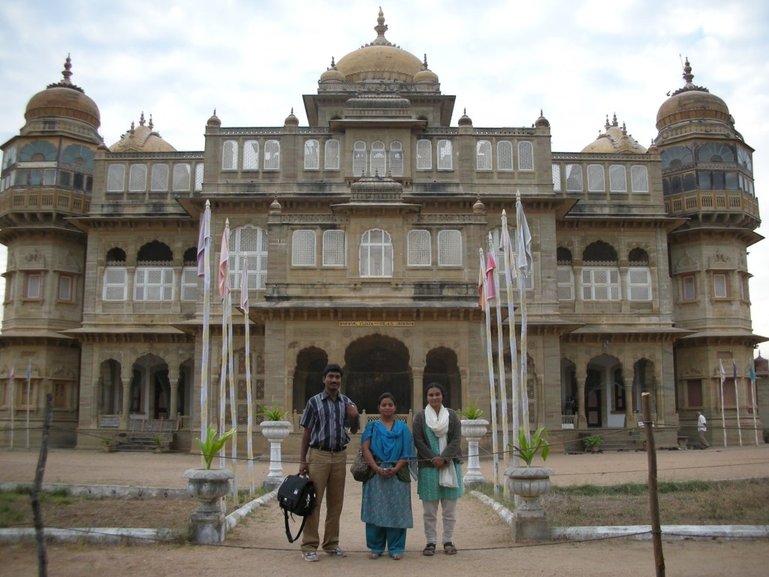 4. The beach town, Mandvi
---
Mandvi, a small town in south Kutch, 60 kms from Bhuj, has a pristine beach. It's good to visit both in the morning and in the evening. I would suggest to spend at least one day here. The beach is clean and mostly peaceful in the morning. Take a stroll during the tranquil hours and enjoy the cool breeze flowing from the Arabian sea. The beach brims with activities and street food in the evening. Take a camel ride if you like, have some street food (try the local popular delicacy dabeli). Huge windmills lining the beach are an interesting sight. And of course, not to forget the sunset over the horizon.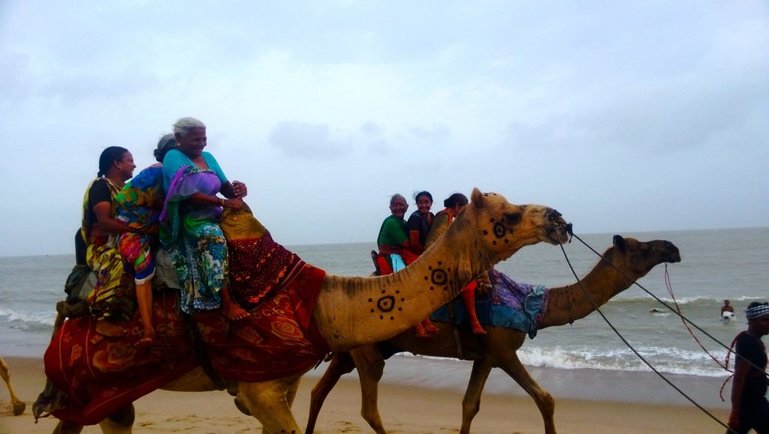 There is a small lake in Mandvi where thousands of seagulls converge every morning to have their food offered by the generous local people. If you wake up early, you can enjoy watching them, or feed them if you like. Even though I am not a morning person, I would happily accompany my colleague Jalpesh just to see the seagulls.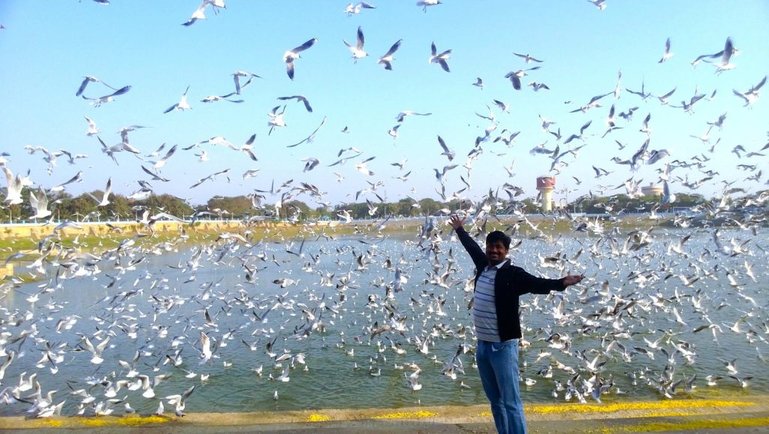 A few kilometers away, the 72-Jinalay, a Jain temple complex is worth visiting. It's actually easy to visit because it comes on the way from Bhuj to Mandvi.
5. People, craft and culture of Kutch
---
Last but not the least, Kutch's rich craft & culture, and loving people. I love Kutch not only because of the things to do there, but also because of its warm people and diverse cultural heritage. Thousands of years ago, when the northern Kutch region had small rivers, it was part of the great Indus civilization. You can still see the remains of that great civilization in Dholavira.
There are many prominent communities in Kutch and each of these communities have very distinct traditions and cultures. They wear different dresses, have different cuisines, and importantly, each one has a different rich craft (needs a separate blog post). Have a look at the pictures below to get a sense of how different they are!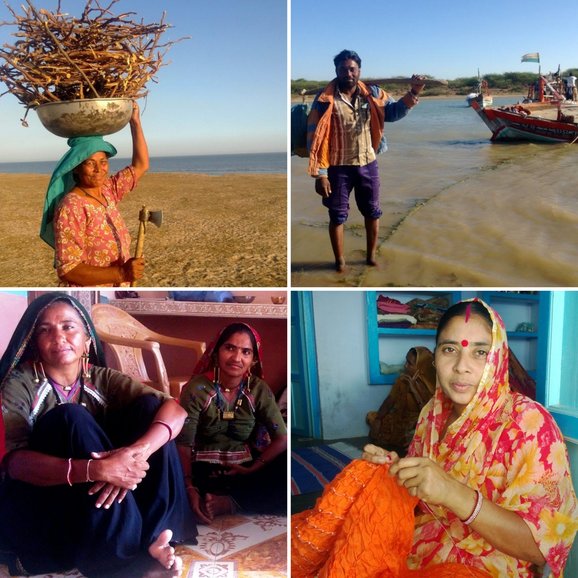 For craft hunters: If you are an art & craft lover, Kutch is heaven for you; look at the list below to explore.
Ajrakhpur (near Bhuj): Ajrakh block printing design with natural dyes
Bhujodi (near Bhuj): Kutchi textile handicraft (Shrujan organization)
Kamdar colony, Bhuj: Tie-and-dye (Bandhni)
Nirona (40 kms from Bhuj, in Nakhtrana): Copper bells, Rogan art and lacquer art
Jura (near Nirona): Copper bells
Sanyara (50 kms from Bhuj towards Nakhatrana): Mud art (lippan) by Mutvas
Dhordo (80 kms from Bhuj): Mutwa embroidery with mirror
Hodka (60 kms from Bhuj towards Dhordo): Leather craft and Kutchi embroidery
Sumrasar Sheikh (27 kms from Bhuj towards Dhordo): Rabari, Garasia, Jat embroidery (famous for Kala Raksha organization)
Khavda (70 kms from bhuj): Clay pottery painting
Lodai (near Khavda): Pottery
Ludiya (Gandhi nu gam, near Khavda): Sustainable lifestyle; bead work, embroidery, wooden work
Bhirandiyara (50 kms from Bhuj towards Khavda): Meghwal embroidery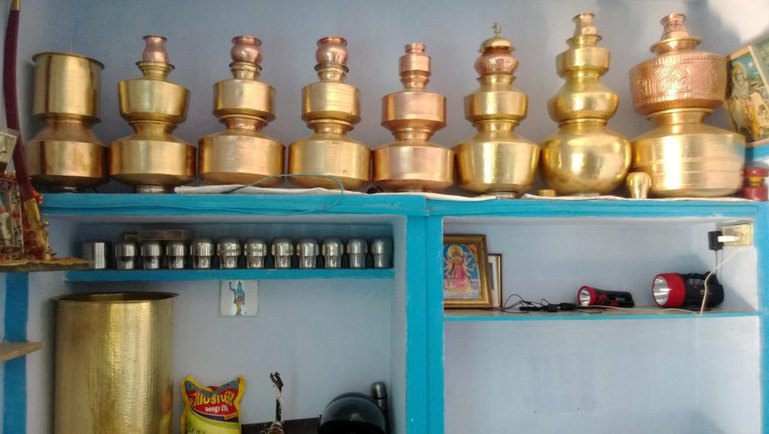 Other notable things to do : Apart from the above most important things to see/ do in Kutch, there are a few other things to do as well. But I think they are more for people who are particularly interested in off-beat natural sites or, religious sites. Here is a list of those sites to choose from.
For nature/ wild life enthusiasts:
1. Kalo dungar (Black hill); 90 kms from Bhuj, after Khavda
2. Indian Wild Ass sanctuary in the little Rann of Kutch
3. Kutch Bustard Sanctuary, Naliya (famous for Great Indian Bustard)
4. Kutch Desert Wildlife Sanctuary, Khavda (famous for flamingos)
For religious seekers:
1. Koteshwar Mahadev temple (170 kms from Bhuj in Lakhpat)
2. Bhadreswar Jain temple (65 kms from Bhuj; towards Mundra port)
3. 72 Jinalay, Kodai (60 kms from Bhuj; near Mandvi)
4. Mata no madh (120 kms from Bhuj; in Lakhpat)
Kutch Travel Tips
---
Best time to visit: Being a desert, it's really difficult to visit Kutch in the summer- from March to September, quite a long summer! High temperatures hovering around 35 to 40 degree C plus dusty conditions make it a very difficult proposition. It becomes nice in the autumn-winters from November to March (temperature below 20 degree C).
A suggested itinerary: At the minimum, keep 3-4 days to do justice to the trip. If you have 5-6 days, it's even better to explore the cultural aspects of Kutch.
Day 0: Reach Bhuj in the evening; have some Gujarati food, and visit the lake in Bhuj after dinner.
Day 1: Explore local Bhuj during the day. Visit Dhordo (Rann Utsav) in the evening to witness the sunset over the salt flats, and come back to Bhuj. Or, stay there if you have booked for the night.
Day 2: A day-trip to Mandvi: First, stopover at 72- Jinalay (on the way to Mandvi); then Vijay Vilas Palace; and then the beach in the evening. Come back to Bhuj.
Day 3: A day trip to Dholavira; explore some craft villages on the way (depending on the route you take; look out for the suggested villages in google maps).
How to reach
Airport/ Railway station: Bhuj (district HQ), well connected with Delhi, Mumbai and Ahmedabad. Regular luxury bus services from all the major cities of Gujarat