Don't let the cold weather stop you from going on an adventure. Many hikers like to explore the great outdoors in the midst of winter. But, going on a winter hike requires some serious preparation. Hiking in winter carries some risk. When you're preparing for a winter hike, here's what you need to know.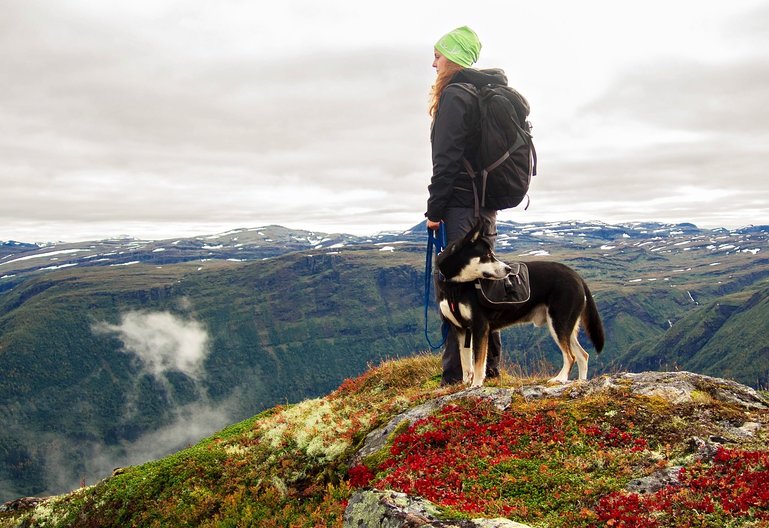 female winter hiking
Check the Weather
---
If there's a storm somewhere on the radar, take a rain check. Make sure to check the forecast as often as you can. You'll be at the mercy of Mother Nature when you're up in the mountains, so be aware and be smart. Prepare for any unexpected changes.
Stay Dry
---
When hiking in cold weather, it's very important to stay dry. In cold conditions, moisture can potentially lead to hypothermia. To prevent that from happening to you, don't wear jeans or cotton. These fabrics retain moisture.
Always go with moisture-wicking and quick-dry materials like polyester and merino wool. Make sure to wear quality hiking socks as well. It's best to go with socks made of wool. They will keep your feet dry, warm, and comfortable.
Think in Layers
---
In order to meet a wide range of activities and conditions, layering is essential to winter hiking. It's also important to pack extra clothing.
When you begin to sweat, it's important to replace next-to-skin layers. If you don't do that, damp clothes will start to cool you when you stop moving. Summits are often windy, so make sure to have windproof and waterproof outer layers.
Blowing snow can make you very cold very quickly, so you'll need a thick "shell." You'll need to have three layers of clothing: a base layer, a mid-layer, and a "shell."
The base layer helps dry off the sweat and wicks away moisture. The mid-layer insulates you from the cold. Depending on the weather conditions, the third layer can be hard or soft. But, since it's supposed to protect you from precipitation and wind, chances are you'll need a hard shell.
---
No matter the trail or the season, traction aids and proper footwear are critical pieces of hiking gear. However, this especially goes for winter hikes. Without proper footwear, you may lose the ability to walk.
Your hike won't be so enjoyable if you get exhausted from having to post-hole through heaps of snow. Post-holing causes you to lose more energy, increases the risks of sudden falls and injuries, and ruins a trail.
In some regions, snowshoes are required by law when there's a certain amount of snow. In order to prevent post-holing, snowshoes are designed to have a bigger "footprint." They also have teeth for traction.
In icy conditions, make sure to wear micro spikes. Micro spikes have teeth for traction. They slip over boots. Bringing them along shouldn't be a problem as they are very convenient. They are small and light as well, so have them just in case.
In places where the incline is steep and the ice is very hard, you may need crampons. They can help you ascend trails in extreme conditions.
Navigation
---
When you're hiking in the snow, you can easily become disoriented. To prevent that, you need the right tools and the right skills. When it comes to navigation, there are two types of tools you need—old-school and contemporary.
What that means basically is that you shouldn't rely too much on your smartphone. Electronic devices are fragile and they can be too risky. For starters, you need a topographic map. Reading a topo map requires some skills, so make sure you learn how to do it.
You need a compass and a GPS device as well. Even though your phone can work as both of these things, it's not enough. Get a separate GPS device and a base plate compass. Having a base plate compass is great as it doesn't require batteries. GPS devices are usually weatherproof and durable, unlike your average smartphone.
It would also be wise to bring a PLB (Personal Locator Beacon). In case of an emergency, you can use this device to alert rescue services. When activated, it determines your location using GPS and alerts emergency personnel via satellite.
Tell Someone You're Going Hiking
---
When it comes to hiking, there's always some level of risk involved. Just to be safe, it's best to tell someone you're going hiking. In case you don't get back to them for some reason, they'll know where you went and what steps to take. When you're planning a winter hike, always inform someone of your plans. Tell them:
When you will be leaving
Where you are going
Where your trail starts and where it ends
When you plan on returning
Don't Hike Alone
---
You should never hike alone in the winter, especially if you are not an experienced hiker. Your hiking partner will be your safety net. If one of you falls and gets injured, the other will be there to help.