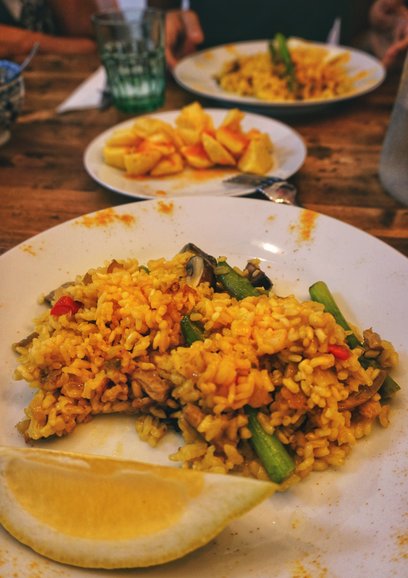 You will taste the best selection of plant-based tapas of Madrid!
Guests keep saying this is a food life-changing experience, the best food they have tried in Spain ever! :)
You will also discover Malasaña, this trendy neighborhood that never sleeps, and enjoy 4 restaurants in 1 day, saving your time and making sure you won't miss the really good stuff.
I only have a few guests on each tour, so you'll feel the exclusivity of this Experience (the only one in Madrid).
You'll have my expertise, as a vegan local guide and a foodie, so I know all the secret little places for amazing food in my city.
I love History, so I´ll be glad to point you out those historical and meaningful places we'll see through our walk, Malasaña is full of amazing stories and legends.
Feel free to ask about what is like to be a vegan in Spain, environmentalism, or any other curiosities you may have.
You will feel that this Experience is like having a vegan friend in Madrid to ask all those things that cannot be responded in a "normal" tour.
Any conscious traveler is welcome, no need to be vegan or veggie at all!
If you can't find the availability you need here, please, write us a message or an email through "Madrid Vegan Tours" and we will be in contact to create an amazing trip to Madrid!
We will walk deep into the heart of Malasaña, the prime example of a nightlife and vegan area, which perfectly fit the trendy, open and rebellious mentality of the neighbourhood. It is a benchmark for Madrid's trends, a mix of traditional and experimental, old and new. Thanks to this fusion, Veganism has strongly settled in a neighbourhood that already enjoyed being different and groundbreaking. A perfect combination!