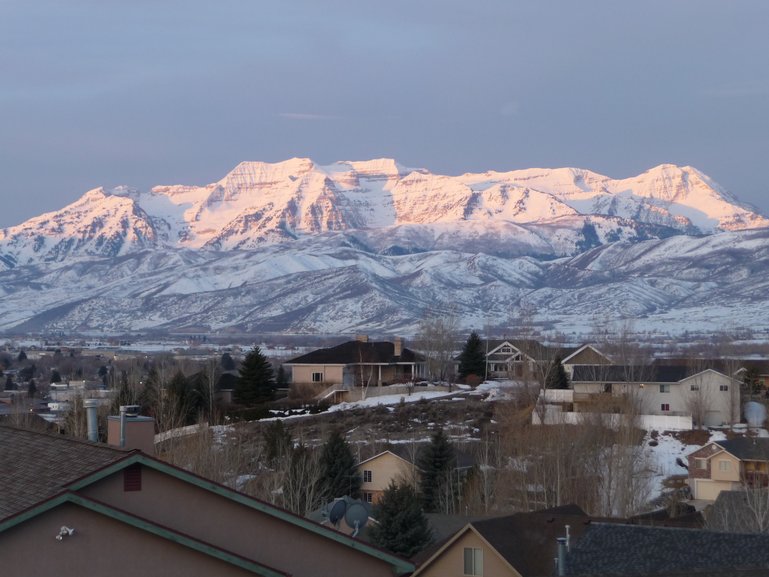 6,000 vertical ft near Park City
Mountain sightseeing
---
At 3,396 feet above sea level, the town of Chamonix, France, sits at the base of Mont Blanc which tops out at 15,777 ft above sea level. Should it be a clear day in the Alps, when you look up at Mont Blanc from Chamonix, you see a mountain rising more than 12,000 ft above you. This is the vertical drop of Mont Blanc -- how much change in altitude a tourist can actually see when looking at a mountain. Generally speaking, the more the better (the view of Mont Blanc from the mountain on the other side of the valley where sits Chamonix may be even more impressive, as you look both up and down at Mont Blanc).
The mountains at Park City, UT, North America's largest ski resort, top out around 9,400 ft. The town of Park City is 7,200 ft, leaving a pitiful, when compared to Mont Blanc, view of a mere 2,000 ft vertical drop.
Skiing
---
Vertical drop is important to skiers in another way. Skiers want to ski, not ride ski lifts. Vertical drop is the best measure of how much fun a ski runs is between lift rides. The ski area on Mont Blanc has a vertical drop of more than 9,000 ft, topping out about 3,000 ft below the summit (some sources say the vertical is 7,300 ft. ). All 9,000 vertical feet can be skied in one run down the mountain. Compare that experience to Ski Liberty ski area in the Appalachians. Unlike Mont Blanc where skiers can not get to the top of the mountain, Ski Liberty skiers start out at the very top of the mountain. The bottom is only 600 vertical feet down hill, requiring 15 trips up and down the mountain to equal one Mont Blanc run.
Park City, UT, North America's largest ski area falsely boasts a 3,000 ft vertical drop. Since the town at the bottom of the ski resort is 7,200 ft and the highest mountain in the resort is 9,500 ft, a 3,000 ft vertical drop is impossible, but not in the Fake News way ski resorts try to mislead potential customers. Here's how it works at Park City's Deer Valley Ski Resort. DV says, "The base altitude of Deer Valley is 6,570 feet (2,003 meters). The altitude in the mid-mountain area is 8,100 feet (2,469 meters). The altitude at the Empire summit is 9,570 feet (2,917 meters). "
The lift whose bottom altitude is 6,570 ft. is not at the resort base. There is no public transportation to this lift's base, and only a very small parking lot. To get from this "base" to the 9,570 ft summit requires riding five lifts, and the route is not obvious. Once at the 9,500 ft summit, I can get back to the 6,500 ft base-- the so-called 3,000 vertical ft. -- by riding three lifts because I have skied more than 2,000 days at DV and I know the terrain, but unless you can map every run at DV in your head, you can't do it. If you try to figure it out from the trial map, you will never return. If you ask one of DV's very friendly Ski Hosts for help, They will route you on a trip that requires riding 4-6 lifts because you don't have DV's terrain in your head. You have to go the obvious way.
If you are planning a ski trip and you are concerned about vertical drop, as you should be, don't look at the resort's total vertical feet. Find the lift with the greatest vertical ft. , because that is the maximum vertical you can ski in one run. At DV, it is 1,800 vertical ft., a far cry from the claimed 3,000 vertical ft. Jackson Hole Ski Resort is an exception. Jackson's 4,139 total vertical ft. can be skied in one run from the tram, but not many people do it more than once.