Dec. 26, 2013 – It had been dumping snow in west Michigan the last several days so I assumed much the same was happening in the mountains of Colorado. Packing my ski bag, I imagined being picked up by a CME shuttle driver, who pronounced, "It's been pukin' snow at Breck bra…you're gonna have some great ridin." He spoke it all in a slow, mountain, dead-head drawl. I think Colorado's new marijuana laws in the news may have played a role in my daydream.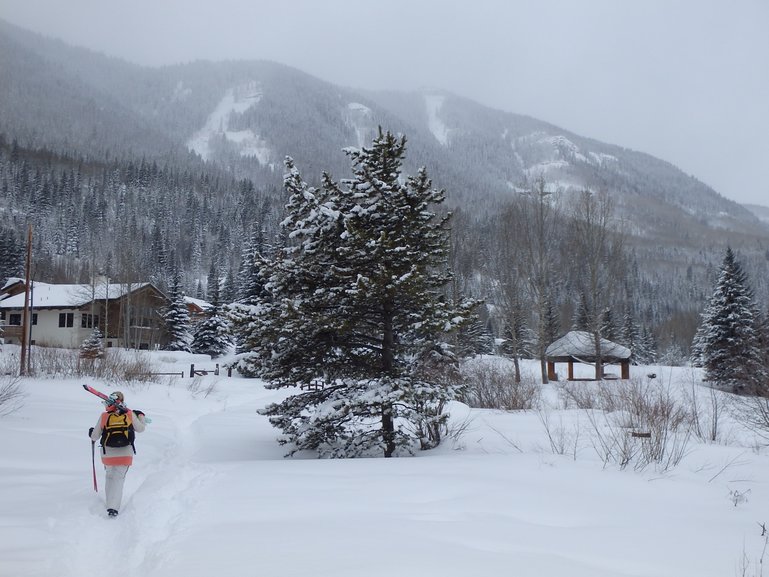 My friend Ginger's fiftieth birthday was the catalyst to spend five days in Breck after the Christmas holiday. This trip would be the culmination of her 50 days of fabulous 50. The only pre-trip drama (besides the weather) was Ginger's new ski coat that arrived the previous night. She approached Theresa and I, at our Delta gate, wearing her new coat. She extended her arms to reveal three inches of exposed wrist. "It fits great," she offered, "all except for this!" pointing to the short-armed jacket. All three of us laughed and dubbed her wrist area, the frostbite-zone. I suggested we find a set of tennis wristbands to remedy the problem area. We continued the discussion that led to written review for Nils, who made jackets for people with Hypochondroplasia (short-limbed dwarfism). In our summary, its ¾ sleeves were the only negative. It was stylish (faux fur lined hood), waterproof, toasty-warm, high-tech all in a sliming black fabric. The three of us boarded the plane headed west, to the mountains.
Early Season Snow
---
We skied on packed powder and a 45" base, not typical at that time of year. Lucky again, we managed first tracks on a Sunday, after 6-8" fell the night before. I absolutely love the make you grin feeling of floating down a run atop fluffy snow that billows up behind skis after each turn. And, just as quickly as new snow fell, the brilliant blue of a Colorado sky dominated our time on Breck runs. Snow-tipped evergreens flanked each run, framing above-average views of surrounding peaks. The new Peak 6 area debuted during our stay, adding more terrain for Theresa to tackle.
Bloody Theresa
---
Our first day, (Friday) the three of us skied together on Peak 9, warming up our legs on some rolling blue runs. Ginger and I found our favorite run off the top of the Mercury Lift, called Briar Rose. Theresa, in need of more challenging terrain, headed off to ski the double-black diamond bowls above Peak 8 and 9 after lunch. We reunited with her that afternoon at Ten Mile Station. Ginger and I were seated in the green chairs outside the lodge, with our faces tilted to the sun. Theresa approached and we noticed splotches of blood on her white pants and matching neck warmer. A worrisome story ensued. Theresa admitted, she was going a bit too fast, heading down the bowl, when the crusty-topped powder caught her tip, launching her face forward and out of both skis. She "kicked both shoes" and smashed nose-first into the snow (with some rocks underneath) in radically swift motion. While dusting off and searching for her skis, her nostrils unexpectedly spewed blood down her chin, to her pants then dripped on skis. To curb the flow, she shoved snow up her nose and tilted her head back. No one else was nearby. After she got her wits about her, she skied down to the warming hut to inspect any damages. In her estimation, the nose looked ok and she swapped away the blood-stains from her face. For good measure, she stuffed some tissue up both nostrils to be sure the nose-bleed was curbed, before traversing back over to meet her less-adventurous companions. With brows raised, Ginger and I listened, worried and hoped next time she fell, the helmet would get in the way, instead of her face.
Holiday prices and the masses
---
Are you sitting down? Adult lift tickets at the window, without any discounts during the holiday week, were $136 per day. A half-day pass was $102. Thankfully, Theresa has purchased an Epic local pass that had a friends/family discount built in. She saved Ginger and I $30 a day on lift tickets. However, if I were to average out a cost, I still paid about $8-12 per run. Considering the snow conditions, blue skies and mountain vistas I realized the value in my investment. A word of caution for skiers during the holiday season: Everyone else is on vacation too and you'll need to be patient. Lines are longer, you'll wait an hour at most restaurants and be careful at crowded base areas, where shouldered skis can take your head off if not on your guard.
Cash Cab Commutes and Ski Butlers
---
We opted out of renting a car and using CME shuttle service. Summit County is only an hour and a half ride up the mountain on I-70 (in good conditions). Snow wasn't the problem. Instead, reckless rig drivers mucked up the commute for 1000's. The day after Christmas, an overturned semi- truck exploded on the eastbound lanes after losing control, on a very busy travel day. Another rig flipped sideways blocking both westbound lanes on New Year's Eve – also the day of our return trip. However, our experienced and upbeat drivers detoured us around the melees without significant delays. Julius, our driver on our return trip, kept things lively with a Cash Cab style trivia game. Correct answers were rewarded with valuable and unique Breck stickers. I discovered the word Colorado is a Spanish derivation, for the color red. And, Colorado is home to 54 mountain peaks over 14,000 feet.
We received more stellar service from a Breck company called The Ski Butlers. Ginger ordered their grocery service; they delivered breakfast for a crew and all the fixings for a spaghetti dinner, to our condo. Who really wants to go to the grocery store on the night you arrive for a ski vacation? And, on Friday morning, Ginger's personal ski butler knocked on our door, bearing a performance ski package, complete with boots, skis and a helmet. No battling the lines at the rental shops slope side. Including ourselves, everything we needed was delivered to our door.
The Asgard Haus
---
Our home away was a comfortable and cozy condo, a short walk away from the base at Peak 9. It's only negative was four flights of stairs that led to our door. I don't mind stairs but Breckenridge village elevation is just under 10,000 feet. High-altitude creates shortness of breath, even for the fit types. Each time I tromped up the steps, I was breathing like an overweight man on a treadmill, in the midst of failing resolution.
Taco-Up
---
The French were incredibly savvy to invent the tradition of warming up after skiing, by the fire with a drink to celebrate. The après ski hours, from four to six are filled with festive recollections of a day spent out of doors. In Breck, we celebrated at an iconic après ski hot-spot, Mi Casa. The place was jammed, but we pushed our way to the bar and landed a very attentive bartender. She served up margaritas and pointed to the happy hour tacos on the menu. Ginger suggested that we taco-up for our evening meal and save the spaghetti for another night. The $1 taco special was clearly not a secret as we watched the dinner line grow ever longer. Rosy cheeked, I sipped my rocks margarita and shared bites of three tacos with the girls. We also ordered a plate of cheesy nachos to round out our Mexican themed celebration of our first day in the mountains. Happy and full, we returned to Asgard Haus to collapse on the couch.
Breckenridge The Village
---
For a ski town, the vibe was friendly and approachable. The walkable downtown on Main Street featured an Ice Palace, a Crepe Kiosk (try the Nutella version if you are willing to wait in line) and a variety of pubs and boutiques that I could actually afford. Breck is the younger, charming and more practical cousin to Vail or Aspen. Conveniently, Main Street après ski establishments, restaurants and the Breckenridge Brewery were a quick walk from Maggie's at Peak 9 base. Walking was our only mode of transport when we were not cutting in turns on groomed powder. Thankfully, everything was close. I was glad we skipped the rental car and the cost. The Brewery served up local brews like the Avalanche Amber along with ribeyes and a signature bow-tie mac/cheese, that met with my trio's culinary approval. The wait for dinner was a solid hour but par for the hordes of Denver dwellers and gapers that had descended on a village of only 5,000 annual residents. Growing up in a small tourist town in northern Michigan (Traverse City), I understood the conundrum of tourist season expansion. Even so, Breck's casual mountain charm won me over in the end, even after battling a few lines.
My trio returned home on NYE just as a rocky-top storm began brewing. John Denver was playing on the shuttle's CD player, fittingly, Leaving on a Jet Plane. With my torched legs and sore lower-back, it was time. Time to usher in a new year. Ginger, Theresa and I would have toasted to 2014 on the flight, except we weren't seated together, dispersed through the cabin, sardined with strangers. When we touched down in GR, I looked out my window, and it was no surprise to see, it was pukin' snow.