Families evolve and go through changes.
I have an ex husband. I didn't keep the last name but thankfully kept the sisters. Though we do not see each other very often, the sister-in-law relationship has remained in tact. I recently reunited with two of the Orr sisters, Kim and Lynne, both live in Summit County, Colorado. During my stay, we decided to drop the ex portion (of ex-sis-in law) and to just refer to one another as family.
Besides skiing in the Rocky Mountains, my favorite activity on this trip was reconnecting with Kim and Lynne. A lot changes in 20 years and it's difficult to stay up to date via Facebook or over a dinner every four years. This trip, I asked if I could bunk in with them, with the thought of having more time to catch up and to save some green. "Of course you can stay with us." Kim messaged me pre-trip. Kim and her wife Sonia have a contemporary cozy two-story about a half mile from Frisco's main street, conveniently with a spare bedroom. And, Lynne booked me on an Epic Mountain Express shuttle ride from the airport with a stellar family discount.
My Michigan travel pals (Steve and Kim) who are a lot like family were already in town with a rental 4-wheel drive. They were staying with friends, Garry and Robert a mere half mile away from my pad. It made for convenient pick-ups during the four days of ski resort hopping.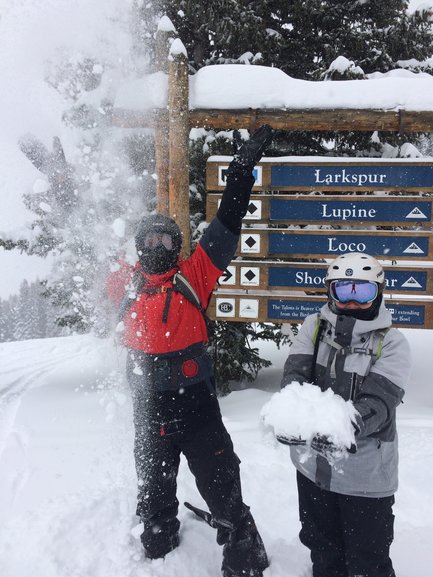 Beaver Creek powder day
Beaver Creek Resort
The snow dump began precisely at 8 AM (as we drove west on I-70) and it continued all day. We skied and boarded on 10 inches of the fluffy stuff. Steve, a classic powder seeker, was ecstatic. "I dare you to try and wipe the smile off my face!" he quipped. The weather only caused minor traffic delays and a near miss with a parking ramp arm in the Elk lot. Back in Frisco later, Lynne and I chatted over flatbreads and Vienna lagers at Highside Brewing Co.
Keystone
The polar vortex made a visit to Colorado along with some very brisk winds. It was -1 when we awoke. A flurry of texts confirmed a delay in hopes the temperatures would warm. It never did, we bundled and braced for the wind and whiteouts, making several pit stops for tea and hot chocolate. We lingered at the top of the gondola with Garry and Rob and did more unthawing than skiing. The ski runs were not the highlight that day rather the homemade taco bar and dinner conversations. We toasted to warmth and full bellies over bottles of Argentinian Malbec. Sister Kim joined this time, my Colorado family and friends morphing into a cohesive unit.
Breckenridge and Brownouts!
With rolling blackouts affecting most resorts in the area, I sipped coffee and relaxed with sister Kim. She had the day off too as Colorado Mountain College was without power. After lunch, my ski trio eventually made it to the slopes and tried to get in as many runs as possible. Kim and I were successful riding the Beaver Run chair area but Steve got stuck for an hour on Quicksilver Chairlift that essentially ruined his afternoon. Thankfully, the hot tub helped followed by a night out on quaint main street Frisco. Ein Prosit hosted my entire Colorado family, six of us squeezed in on the rustic benches for German beers and a plate of sausages with a variety of dipping mustards. Lynne, Kim, Sonia along with my ski trio raised our oversized steins for a toast to family, connections and to Colorado and her mountains.
Copper Mountain Comps
As sister Kim summarized the day, "The snow was great after we got off the lift." The main chair malfunctioned and left us hanging (literally) for 35 minutes in the cold late morning. To appease, Copper ski patrollers handed us all one-day lift ticket comps for our suffering. That was certainly an above average customer service move! We applauded the bonus over hot chocolate and chili, all of us needing time to warm fingers and toes. The rest of the day was spent chasing Kim down the blue runs and waiting in weekend-style lift lines.
Later that evening, I had to leave my Colorado family and new friends behind… the long descent into Denver was a little like coming off a vacation high.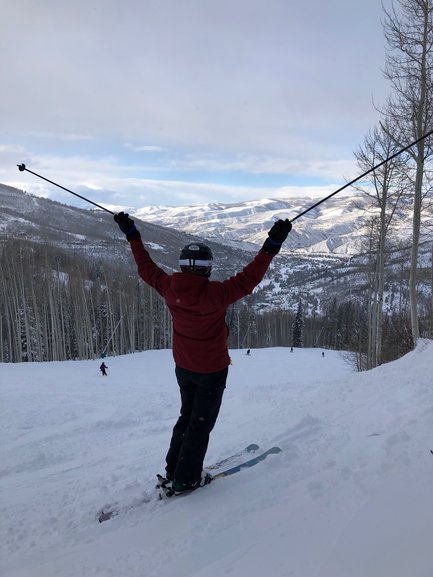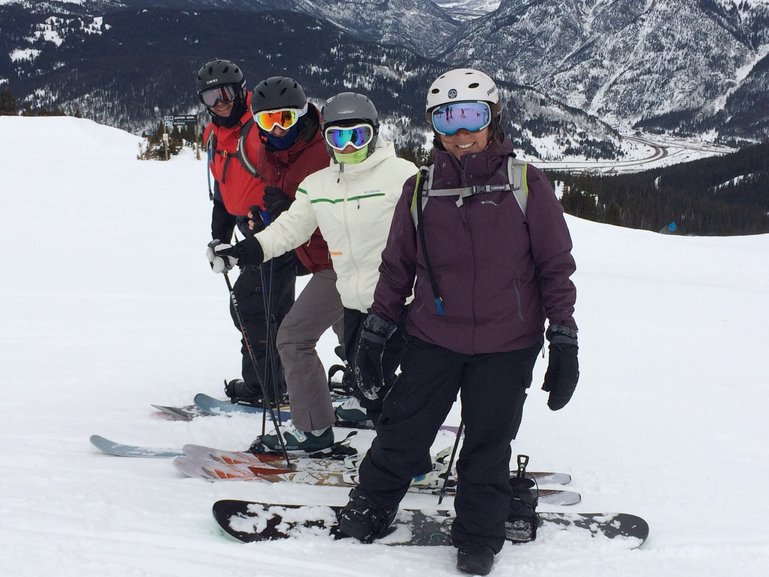 Copper Mountain Resort: Steve, Laura, Kim and Kim