We started our road trip to Steamboat Springs at around 8 PM on Friday. The plan was to be in Denver till morning so that we can be at our destination before noon. We took a small sleep break at a rest area and drove almost the whole night. We didn't have a plan for Saturday and reached Denver at around 7 AM. We decided to just take a rest for the day after a full night of driving.
But the plan changed, it would be absurd to waste a whole day resting. I asked Harmit to look for some good hiking trails near the Denver area. She researched and found the Mt. Sanitas trail which was actually on our list in last year's Colorado trip but we couldn't complete it. So it was decided, Harmit downloaded the trail map in the AllTrails app. We halted at a Walmart in Denver, brushed our teeth there, and finished breakfast at a Mexican restaurant.
Now we were ready for the next 40 min drive from there to Mt. Sanitas. It was already 10 AM when we reached there and parking was full in the area. Parking is very limited so we have to circle around for a while and then to our luck someone left and we got that place for parking.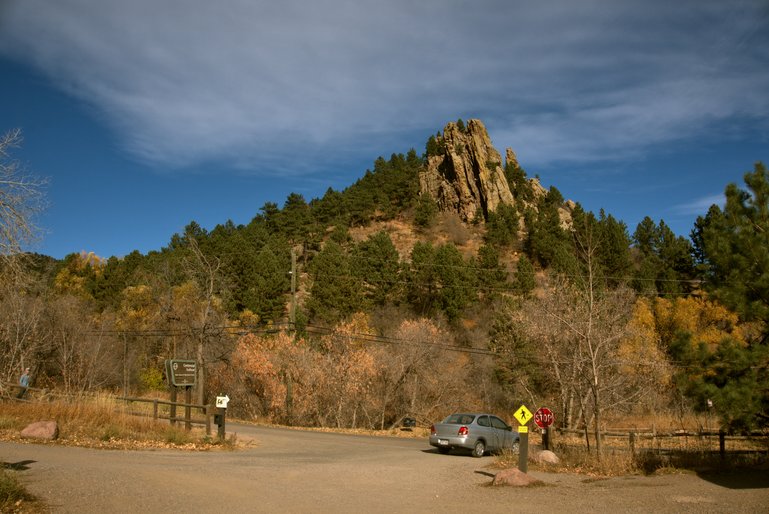 Mt. Sanitas
Sanitas is a Latin word that means "health". This trail is near Boulder, Colorado, and is considered to be a medium-difficult trail. The total distance of this loop trail is nearly 3.2 miles with elevation gain up to 1257 ft, which means you should be in good physical condition.
We packed water bottles, binocular, protein bars and started our hike. Nearly 20mins later I realized that I forgot the extra batteries for my camera. I got troubled and decided to go back to the car. Harmit and my sister waited till my return. Once I showed them my now glowing face, we took some selfies and started again.
The trail was crowded, its popularity was quite evident. Being a pet-friendly trail, it was full of all sorts of dog breeds who were outperforming their owners in the difficult ascend. There was one dog who was running on that climb and after a certain point was waiting for his masters with an expression of frustration and pity on them 🙂
The parking lot was now visible from the trail, we were already feeling the burn and we haven't even covered 1/4th of the trail.
It was a sunny day and soon we started feeling hot due to the weather and our physical activity. Keeping 6-8 water bottles was our best decision. I put Harmit's and my jacket in the backpack to beat the heat. Soon we all were sweating and I was the only one with a cap which was much needed for the hike.
We tried not to rest too much, we just took small water breaks. The trail is well marked, but one has to be cautious since it's rocky and steep at certain points. After nearly 1 hour into the trail, we noticed a tower on the top. We confused it to the pinnacle of the mountain and started celebrating. But when Harmit checked in the AllTrails app, there were still 15-20 mins ascending to the point.
When we were near the peak, there was a lookout point from where the whole city was visible. The views were just awesome and the place was perfect for pictures. We took multiple pictures there, rested a bit, and continued.
After a while, we finally reached the top. Trust me, that feeling was most amazing. There were already many couples/friends sitting there, we made some room for three of us and enjoyed the beautiful vista. We took a water break, had protein bars, and after resting for 15-20 mins started descending.
Descending was easy, we just had to be careful not to fall down as the slope was sharp at some places and rocks were almost everywhere.
Soon gravel part of the trail was visible and we were excited to finish this course. Now the goal was too near and once we were on the gravel trail, we hurried as that area was too exposed and the heat was unbearable. We met one cute tired dog, who resisted going forward. His owners waited for him, tried to lure him, but he just wanted to rest under a big tree's shadow. Harmit patted him for a while and then we moved.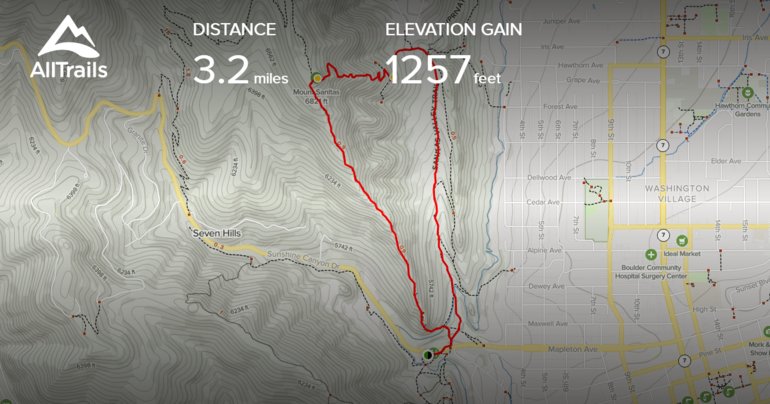 All Trails Map
It took us nearly 2 hours on that trail and it was rewarding. It was lunchtime now, we had our lunch at a Nepalese restaurant and headed to our destination- Steamboat Springs.
Few Useful Tips:-
1. Bring plenty of water with you.
2. Wear a cap and good hiking shoes.
3. It's a pet-friendly trail. You can enjoy either gravel or loop trail with your pet on a leash.
4. Parking is very limited. Go early in the morning.
5. For moderate trail, go clockwise. Anti-clockwise is difficult.
6. It's a popular trail, so be ready for the crowd.
Happy Reading! Keep Traveling !!!