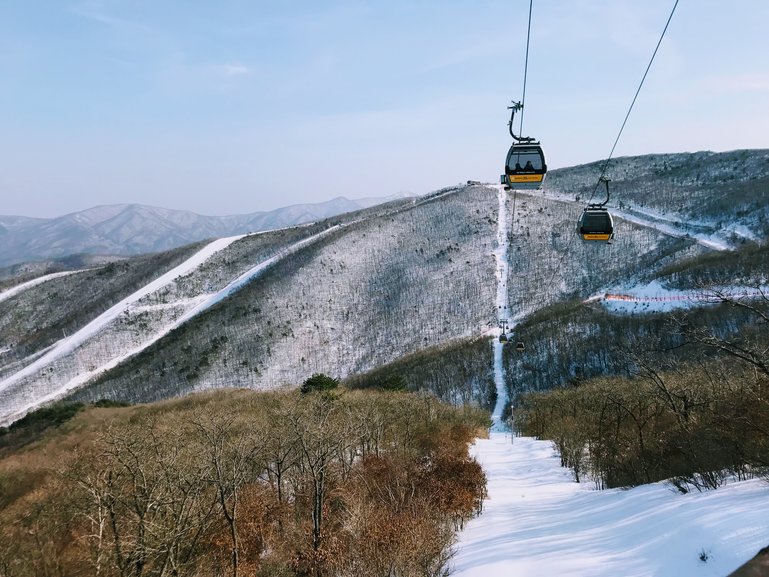 As most of the world is aware, the 2018 Winter Olympics was held in Pyeongchang, South Korea. What people don't know is, in comparison to quality and experience, South Korea is also the cheapest ski destination! So, fellow shredders and snow-bunnies take notes, cause the new winter hot spot isn't up the most secluded mountains of Europe and won't cost you quarter of a year's salary.
When Julian and I discovered that South Korea had over 12 legitimate ski resorts, we were eager to do do the research. Fortunate to have attended the Winter Olympics in Korea, we understood quickly why Pyeongchang was chosen. Four of some of best ski resorts in the country are found in the area: YongPyong, Phoenix Park, Jeongseon and Alpensia. They are all relatively close to one another, with the longest distance, being a 30 minute bus ride.
Pricing: $30 to $90 USD a day depending on season time, half/ full day pass and what you need to rent. This price usually includes lift tickets, skis/ board, boots, helmet, googles, jacket and ski pants
To get a feel of the best aspects of each one of these resorts, here is a brief break down.
YongPyong Ski Resort
---
Known for: The main venue of the 2018 Winter Olympics, The largest ski resort in South Korea, Awarded the "Best Ski Resort in South Korea" 4 years consecutively and A handful of Korean Drama were filmed here.
Slopes & Lifts: 13 ski lifts, 1 gondola (Asia's longest 7.4km) and 28 slopes of varying levels.
Highly Recommended for: Due to it's narrower slopes, it's a skiers of all levels paradise.
Olympic Event: The slalom and giant slalom events were held here.
Phoenix Park
---
Known for: Being the newest resort that opened in 2018, Extreme Park including a table top, round quarter and half pipe and 12 of the slopes are approved for international competitions which include expert ariel and mogul.
Slopes & Lifts: 8 lifts, 6 sun-kid lifts, 1 gondola and 21 slopes.
Highly Recommended for: Snowboarders due to the access of the Extreme Park but also great for skiers.
Olympic Event: Both Freestyle sking and snowboarding events! So get ready for some air!
Jeongseong Alpine Center
---
Known for: Being a smaller resort for higher level skiers and snowboarders.
Slopes & Lifts: 4 lifts
Highly Recommended for: With 40% of the runs for advanced/ expert ski/snowboarders, it's more catering towards intermediate levels and up.
Olympic Event: Super giant slalom and Downhill alpine skiing.
Alpensia
---
Known for: Premium resort accommodation, leisure activities and facilities for handicapped wheel chair access.
Slopes & Lifts: 6 slopes and 3 lifts
Highly Recommended for: Beginners due to it's separated "learning section". Great for families since Alpensia has a Spa, tennis court, a children's play ground and a coaster ride!
Olympic Event: Big air snowboarding, Ski jumping and Nordic combined.