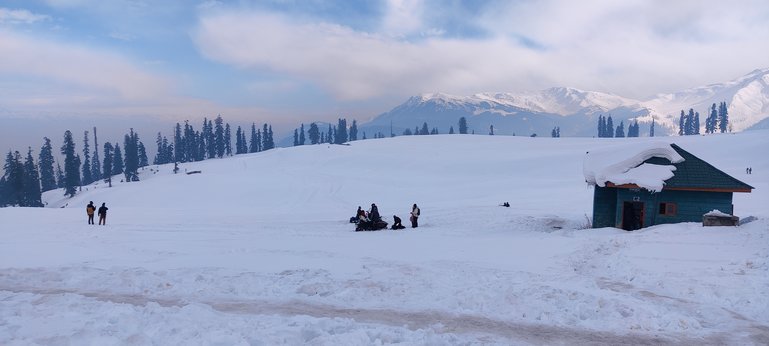 Gulmarg, Kashmir
I want to travel the world! Everyone should travel. You should travel, and feel the buzz on your own. This post is all about why you should travel.
Many people are scared to travel as they are worried and not sure about life on the road or sometimes due to the profession. We always postpone our travel plans to a later stage because of money or time crunch or some do not want to travel alone, or some do not have a reason to travel. Well, it is a journey from a backpack to a travel pack. Two years ago, when I was finding a reason to travel, I could not find one but one fine day, I decided I want to travel and see w And then, I just packed my bag, decided on a place to go, booked the tickets, and boarded the flight. And after that, I never imagined that journey would be so beautiful. I know that spontaneous decision could have landed me in the devastating wreckage of my life, but I took the risk to sail on that boat and get lost. And trust me, that was the best decision of my life because after that I was able to find the real me, I was in a place to embrace the good things, life has given me, I was in a place to restore my lost peace, I was in a happy space and a much more positive soul. I was able to discover and tackle the darkest thoughts of mine which used to make me feel sad for no reason. In a nutshell, I was able to gain courage and enrich my inner confidence to see life from a very different perspective.
In a journey of life, we all come across the chaotic and the most impossible phase where we just do not know where we are going and where it is going to lead us, and we all look for a reason to escape reality and live a different life. When I was in that phase, I was stressed, perplexed, and lost my direction. I can list billions of reasons why you should travel. Instead, I would choose to write a few.
Top 5 Reasons Why You Should Travel Alone
Jotting down some heartfelt lessons and the experiences I gained while traveling. Because that's what travel is all about. And that's why people should travel.
1. For boosting confidence, does not matter whether you are an introvert or an extrovert, traveling will help you increase your confidence. You will be in a different place, with different people, different mindset, different culture, strange food, and roads you are not familiar with. You will try to figure out things on your own and makes you see the light at the end of the tunnel.
2. For making new friends, I happen to meet some of the best people and family in my life while I was on the road. So, if you think that will not have anyone to talk to while traveling then let me tell you you will never end up lonely. Traveling is like a speed post where you are delivered from one place to another place as a gift where you will open yourself, share your experience and thoughts with someone, and where that vibe matches, you gain a friend.
3. For understanding oneself, Amidst the idea of traveling, one tries to connect within oneself, get to know more whether you are a materialistic person or a spiritual one. We all are engaged either in our business or our 9 to 5 job where we try to survive and live but somewhere, we lose touch of being connected to our soul. To revive and finding oneself, one should travel.
4. For learning New Skills, sometimes you do the things which you thought will never do because you know why, you never tried. You will gain a lot of skills like understanding the place's native language or cooking methods or dressing pattern. Whilst traveling, I have learned how to make new friends, how to drive, how to prepare food, and how you can be so down to earth and treat everyone with respect, and you know that's the legacy you leave behind.
5. Appreciating little things in life, one of my most favorite reason to travel. While traveling I realized that I should appreciate more and worry less. The more you travel, the greater your perspective will be. I met people with a simple living and a very simple existence, life looked so easy to me. The more you will understand how truly blessed you are.
Traveling is a passion, its a way to learn and experience life through different cultures. Be fearless in the pursuit of what sets your soul on fire. If you're reading this article, sitting on your couch, and still thinking to travel, believe me, just book a flight and travel. Do not think and wait for another moment whether you should travel or not. Just Pack and Travel.