Havana seems to be on the tip of every traveler's tongue these days and with good reason. Havana is a place that ignites warmth within the coldest of hearts as it is one of the sexiest cities you can visit. Havana is intoxicating to the senses. There are gorgeous men and women everywhere, and the rum is some of the strongest your lips will ever touch, and the music in the streets will make you sway your hips even if you have no rhythm.
The other part that appeals to travelers is that many people say going to Cuba is like traveling back into the '50s. The old cars, dilapidated buildings, and lack of modernization, it's as if Cuba never caught up with the rest of the world. If you are from the U.S. and you are wondering if traveling to Cuba is still a possibility, the answer is yes. Although travel has been restricted, again, it is still possible. As long as you apply for a visa through one of the visa programs that the U.S. allows, you are still able to travel to Cuba.
If you want to find what all of the hype is about Havana, the best way is to go and check it out for yourself. The following are my tips on what to do if it is your first time in Havana.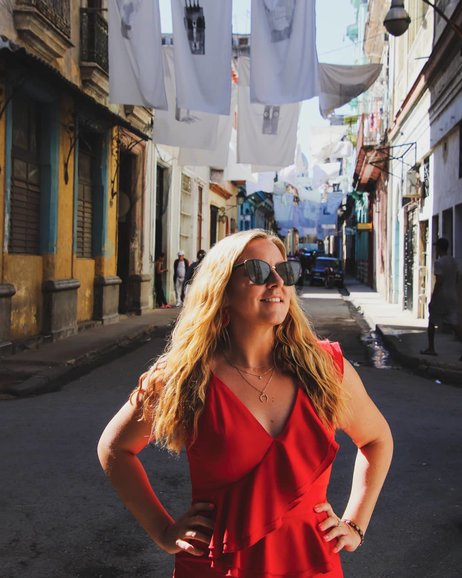 La Habana Vieja
1. Walk El Malecon
---
First and foremost, you didn't go to Havana if you don't have a photo sitting on El Malecon. El Malecon is the causeway that separates the city from the sea. When you see pictures of old cars driving against the shoreline, they are driving next to El Malecon. The best time to walk it (in my opinion) is right before sunset. Sunsets in Havana are out of this world and especially at El Malecon because you have the sea and the city as a backdrop.
2. Drink a mojito at La Bodeguita del Medio
---
Even though this is a tourist trap, it is a must for anyone who is in Habana for the first time. It is the birthplace of the original mojito and has seen a fair share of famous faces since it opened in the 1940s. It is always guaranteed to have a large crowd of tourists, so I suggest going mentally prepared to wait for your mojito. You might as well order two to make dealing with the crowd work it.
3. Visit La Fabrica de Arte Cubano (FAC)
---
Located in Vedado, La Fabrica de Arte Cubano is a contemporary art collective that allows modern Cuban artists of all types to share a common space which just so happens to be an old oil mill that they converted into their home. You can expect to see all different types of art on display here, between musicians, dancers, painters, photographers, designers, etc. They are only open Thursday until Sunday from 8 p.m. until 2 a.m. They are also home to some of the best local concerts you can find. If you are interested in the arts, this is a must-see.
4. Ride in an old convertible
---
One of the biggest attractions in Cuba is riding around Havana in an old car. Even if you don't have much background knowledge on automobiles, the old cars that filled the streets of Cuba are amazingly well maintained, considering that most of them are over 60 years old. A popular thing to do in Havana is a ride in a convertible alongside el Malecón as the driver or guide points on different buildings and historic locations in the city. The cost can range anywhere from 40 to 60 CUC.
5. Go to El Cañonazo
---
Each night at 9 p.m., a cannon is shot off at San Carlos de la Cabana. It is a tradition that goes back to the colonial times, and back then, it indicated the closing of the harbor for the night, today it is done for tradition. The guards wear traditional colonial outfits and fire off the cannon at precisely 9 p.m. The fee to see El Cañonazo is 8 CUC, which equals around 8 USD. If you don't want to pay the entrance fee, you can also hear El Cañonazo for free if you walk El Malecón at night.
6. Drink a daiquiri at El Floridita
---
Cocktail connoisseurs know that El Floridita is the birthplace to the daiquiri, the lovely frozen rum drink that is sure to give you two things, brain freeze, and a buzz. It is also one of Ernest Hemmingway's favorite spots in Havana. He was such a frequent patron that there is a statue of Hemmingway standing at the end of the bar. Just like La Bodeguita del Medio, it is a tourist trap and is almost always crowded, but since it is the birthplace of the daiquiri, it is a must-see.