As a fellow traveler, I often speak to people who have visited Scotland and they tell me how much they enjoyed Edinburgh & Glasgow. They are amazing cities and there is plenty to do in them but to really experience Scotland, you can't just stay in the big cities. Here are 5 things (in my opinion) that will help you fully appreciate Scotland.
5. Cairngorm Reindeer Herd
---
The Cairngorm reindeer herd is the United Kingdom's only wild reindeer herd. They have been roaming the area since 1952 and are there all year round! Tickets vary from £2.50-£15 depending on age and which tour you will be doing. Nearer to Christmas time, it will get a lot busier so if you want to go around then, make sure you arrive early to secure a space! Not many places offer the chance to get up-close with reindeer and even pet them, so this is definitely one you don't want to miss! Other than walking among reindeer, the hill walk tour also lets you enjoy the beauty of the Cairngorm mountains.
4. Glenfinnan Viaduct & Loch Shiel
---
The Glenfinnan Viaduct is best known for appearing in the Harry Potter films and as a result, its popularity has risen. What a lot of visitors don't realize is that if you look in the opposite direction of the viaduct, at Loch Shiel, you will see another location in the Harry Potter franchise, The Black Lake. When you're in the area, don't forget to go to the Glenfinnan Monument. It was erected to commemorate the start of the Jacobite Uprising in 1745 when 'Bonnie Prince Charlie' raised his standard at the same location. If you're a massive Harry Potter fan, if you travel a few miles further up the road to the next loch, you will come to location used as 'Dumbledore's grave' at Loch Arkaig.
3. Take A Trip To Loch Lomond
---
Loch Lomond is the largest stretch of inland water, by surface area, in Great Britain but that's not a reason to visit. You should go to experience the beauty. Whilst you're there you should climb Ben Lomond, a mountain on the eastern shore, that reaches a height of 974 metres (3196ft). On a clear day, the view you get from the summit is incredible! There are also a few quaint little villages all around the loch which are definitely worth seeing, like Balmaha and Luss. If you have the time, go for a boat ride out on the water and try visit one of the many islands on the loch.
2. Have A Day Out In Stirling
---
Much like Edinburgh, Stirling is a city that is full of rich history and culture but it is also A LOT less busy. There are so many things to see and do in Stirling and the surrounding area. There is Wallace's Monument, opened in 1869 to commemorate the Scottish hero, Sir William Wallace. Then you have 2 of the most famous battlegrounds around Stirling; The Battle of Stirling Bridge (11/09/1297) and The Battle of Bannockburn (23/06/1314 - 24/06/1314). Don't forget to visit Stirling Castle as well, one of the largest and most important castles in Scotland.
1. North Coast 500
---
A lot of travelers don't know about the North Coast 500. It's Scotland's very own Route 66 and was named in the top 5 coastal routes in the world. It starts and ends at Inverness Castle, covering 516 miles of Scotland's North Coast. The route is an excellent way to experience the North of Scotland and along the way, you will see some of the most beautiful landscapes that Scotland has to offer.
I hope you enjoyed this post!
Have you ever been to Scotland? If so, where did you go? What did you see? Let us know in the comment section below!
Alzo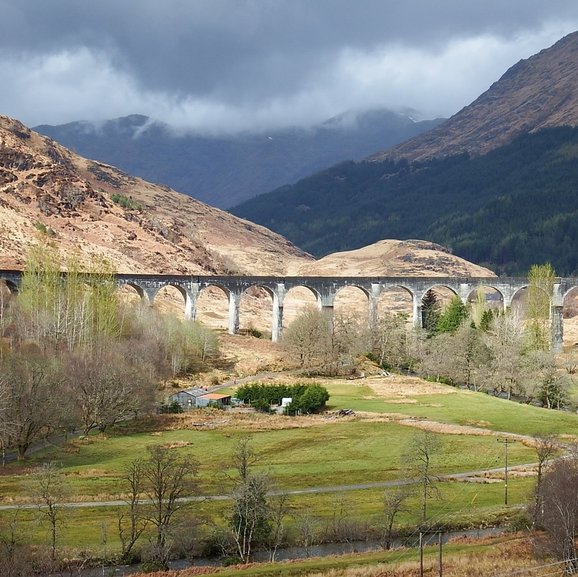 Glenfinnan Viaduct (Hogwarts Express Bridge)