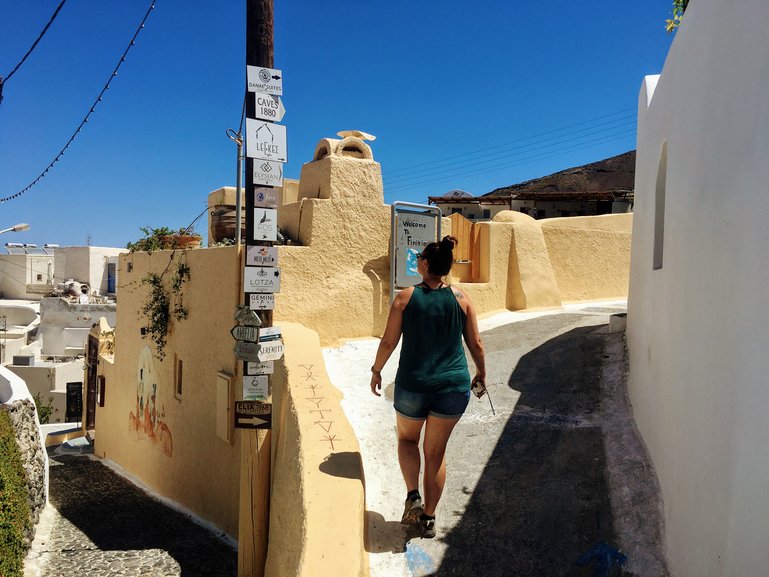 Finikia is a pedestrian village, just like Oia.
The village of Finikia is directly east of Oia on the island of Santorini, also on the caldera side of the island. This pedestrian village still maintains its well-preserved, authentic architecture. Unlike Santorini, Finikia is quiet, affordable, and feels very local. There seem to be more locals than tourists in Finikia, whereas Oia has more tourists and foreign workers than locals.
We chose to stay in Finikia because it is only about a 25-minute walk to the heart of Oia. This meant that we could enjoy Oia on our own terms, and when the crowds at sunset immersed the village in an ocean of selfie-sticks, we could leave… literally just walk away. Or when we were tired of dodging Instagram model hopefuls who were blocking entire footpaths while they obtained their perfect picture, we could leave. Or, when we became completely disgusted by tourists who were blatantly disregarding "No Trespassing" signs so that they could climb on the roofs of private homes for that perfect photo, we could take no part in that and leave.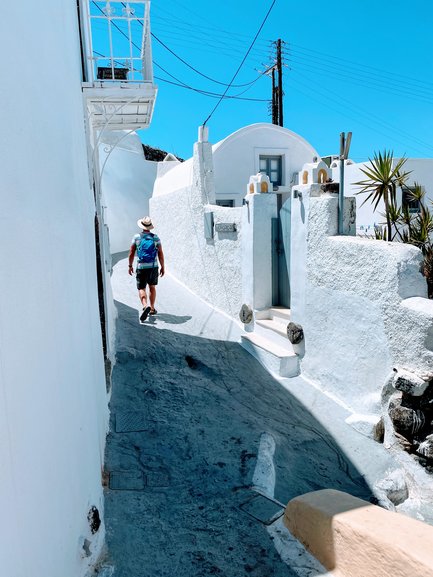 The village of Finikia does not have the crowds of tourists that Oia does.
Finikia, itself, is a quiet, sleepy village. You will find friendly locals going about their day… grocery shopping, doing laundry, and tending gardens. The pedestrian footpaths and white-washed buildings give the same appearance of Oia, just without some of the iconic blue-domed structures. The village has three tavernas for dining, a beautiful church and a supermarket. (Don't let the word "supermarket" confuse you. For Americans picturing a Super Walmart, this is actually quite the opposite. It's more like a building the size of a garage that sells food, souvenirs, clothes, toys, liquor, hardware supplies and beauty supplies, stacked up, floor to ceiling, under one small roof.)
Finikia's temperature in the summer is cooler than Oia, as well. Oia is located on the caldera cliff, so breezes are only coming from one direction. Finikia is positioned at the top of the caldera ridge, allowing for a much needed cross-breeze. The temperature when we were in Greece during early August was exceeding 100-degrees-Fahrenheit, so with the sun beating down and reflecting off the white buildings and pathways, that Finikia breeze made a real difference.
Finikia will give you that Cycladic cave house experience with a local feel, just a few minutes walk from the Instagram hub of Oia. It's the best of both worlds.