Okay! So you have finally decided to visit Gangtok, the capital of Sikkim which is situated at an altitude of 5500 feet above sea level and intricately spread over the eastern Himalayan range.
After that decision, you must be having a lot of confusion about the trip. A lot of hurdles may come in your ways like booking tickets, whether seats are available or not, how we are going to save and enjoy at the same time without compromising etc. and an impatient person like me would get way too worried about the journey and the whole trip.
This was my second trip where I was totally on my own having literally no idea about Gangtok. None of my friends have been there before and the plan was made suddenly out of nowhere just 5-6 days before the actual trip. I started googling everything but the most important question remained "How to reach there?"
Well, you can opt for reaching Gangtok depending on your convenience and the month you are visiting:
1. by train
2. by flight
3. by bus
4. by own vehicle (bike, car)
Detailed information on different routes, like how much time it will take, what is the total cost, etc. has been described so beautifully along with the map in the following link: https://www.rome2rio.com/s/Ranchi/Gangtok
We visited in the month of May (Summers) so the weather was nice, neither too hot nor too cold, but it rained every day in the evening. Thankfully we had our umbrellas with us.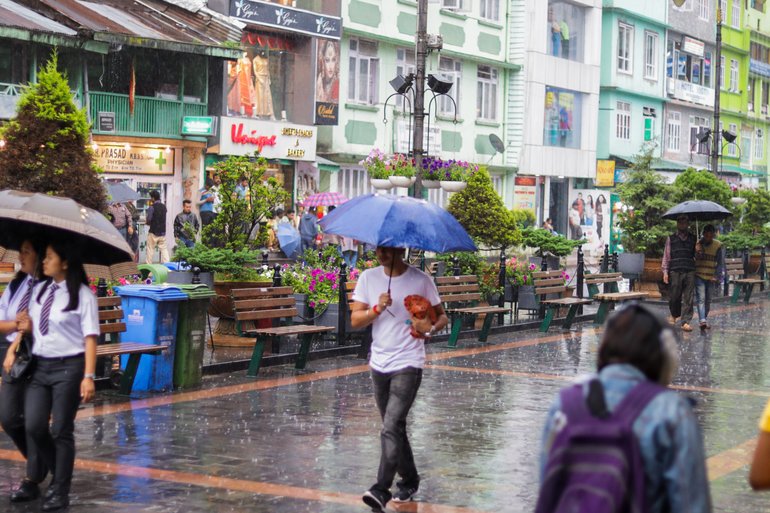 Rain pouring down on the M.G. Market, gangtok
After the rain has stopped the view of the M.G. Market streets was like this: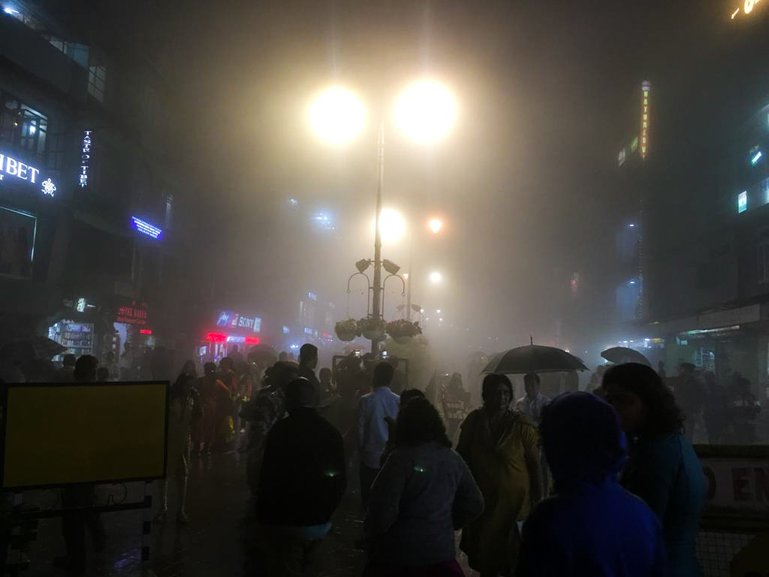 Foggy streetsof M.G.Marg after rain
How we covered the route: By train and shared Cab (cheapest and convenient according to us)
---
From-To: Ranchi (RNC) to Santragachi Jn (SRC)
Train: Kriya yoga Express (18616)
Time: 21:40 to 05:54 (8hrs 14 min.)
Cost: Rs.245 for 1 ticket in Sleeper (our preference for budget travel)
Rs.665 for 1 ticket in 3 AC
Rs.950 for 1 ticket in 2 AC
We took this route because some of our friends from IIT Kharagpur were going to join us from there. Well, you can opt for any other route also.
From-To: Santragachi Jn (SRC) to New Jalpaiguri (NJP)
Train: SRC NJP SPECIAL(08047)
Time: 10:25 to 20:55 (10hr 30 min.)
Cost: Rs. 1120 for 1 ticket in this 3 AC train
This train is also known as HUMSAFAR EXPRESS. It was mostly empty and one of the major unusual things I observed about the train was that the seats were available even 30 minutes before the arrival of the train at the station.
From-To: New Jalpaiguri to Gangtok
Cab: Shared- Rs.350 per head or Booked cab- approx. Rs. 3000 for 1 cab
Time: 3:45 to 7:00 (4.5 hrs)
Cost: we did share cab so Rs. 350
Then we reached from Gangtok Taxi Stand to our hotel Sikkim Himalayan Residency - Rs. 120 by a booked cab.
We got one room for Rs. 800 per day which is way less than other hotels charging Rs. 1500-2000 per day. But also the rooms were mostly vacant because of the season otherwise the rate would have been higher than this. The main reason for the low rate was that the hotel lies in an outer area i.e. far away from the main town area. We have to walk like 15-20 minutes from M.G. Marg to our hotel. There was an option of a cab facility also, but we preferred that way.
You can find the hotel along with directions in the following link.
A view from our hotel room: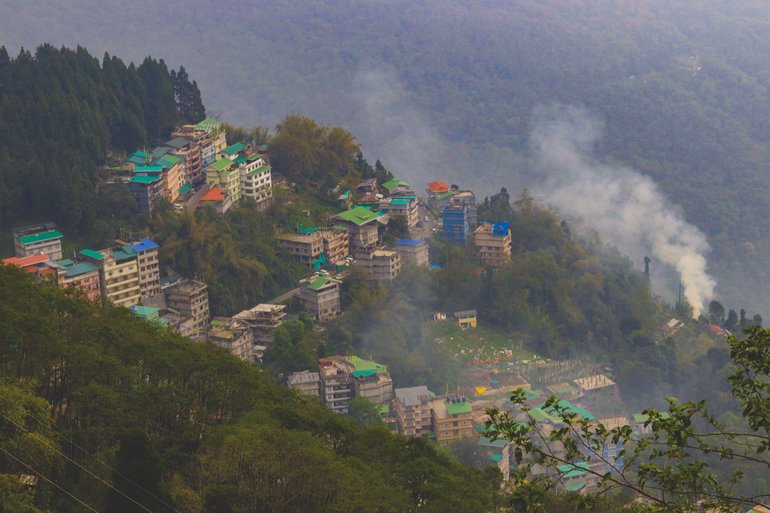 Gangtok valley
Another Direct and very convenient option from Ranchi to New Jalpaiguri is
Train: Kamakhya Express RNC-NJP (15661)
Time: 20:30 to 12:40 (16hr 10 min.)
Cost: Rs. 380 for 1 ticket in Sleeper
Rs.1040 for 1 ticket in 3 AC
So the overall cost for simply reaching Gangtok was approx. Rs. 1800 or less. We returned with a slightly different route which I'll be mentioning further here.
Return to Ranchi from Gangtok
---
In the evening we took a Non-AC Bus from the bus stand bus from Gangtok to Siliguri for Rs. 150 per head
Then from Siliguri to Gangtok, we booked an e-rickshaw for Rs. 120
We stayed near New Jalpaiguri station in a lodge and paid Rs. 500 per room as our train was in the morning and we needed to rest.
About the lodge, it was way cheaper but the rooms were in a very bad condition and the washroom was filthy enough to give you vomit feeling. So if you can pay more I advise you to take a better hotel.
From-To: New Jalpaiguri (NJP) to Sealdah (SDAH)
Train: KANCHANJUNGA EXP (13176)
Time: 07:50 to 19:25 (11hrs35 min.)
Cost: Rs.185 for 1 ticket in 2 S(seater)
Rs.320 for 1 ticket in Sleeper
Rs.875 for 1 ticket in 3 AC
From Sealdah to Howrah Jn. we took a local bus which cost us Rs. 20 rs per head
From-To: Howrah Jn. (HWH) to Ranchi (RNC)
Train: Kriya yoga Express (18615)
Time: 22:10 to 07:00 ( 8hrs 50 min)
Cost: Rs.250 for 1 ticket in Sleeper
Rs.675 for 1 ticket in 3 AC
Hence the return trip cost us way less approx. Rs. 900 or a bit more. You can always take other routes convenient for you. Like there is a direct train from New Jalpaiguri to Ranchi named Kamakhya Express (15662) which can save the hassle of changing trains, but we had train timings and other constraints so we opted for the difficult route.
Thank you for reading. I hope you get some information from the post.
Most importantly, ENJOY YOUR TRIP!!! (*Wink*)