A three-day itinerary.
While Visit Milwaukee hosted my visit, all opinions are my own.
Where to Stay: The Dubbel Dutch
---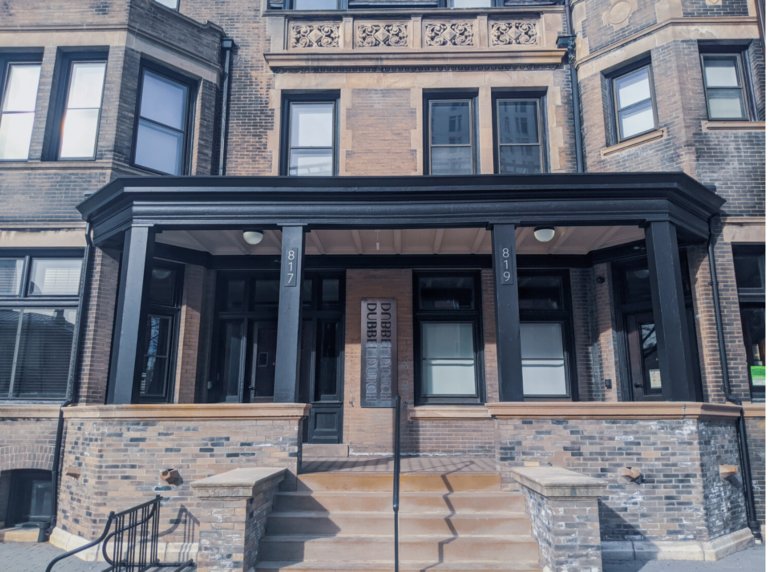 The Dubbel Dutch Hotel lives inside an 1898 English Renaissance Revival Style mansion. Located between the heart of Milwaukee and the Lake Michigan waterfront, this unique boutique hotel prides itself on its immaculate attention to detail. The 17-room architecture is divided into the North and South house and contains an elegant parlor, dining room, and tavern open Thursday-Sunday.
What to Do
---
Visit the Milwaukee Art Museum
I'm from Chicago – which means I have year-round access to the world-famous Art Institute. When I saw the Milwaukee Art Museum on my itinerary I thought it was going to be a quick sweep through an average museum. Wrong.
First – the outside of the Art Museum is an architectural feat. Every morning (weather dependant) the museum expands its giant "wings" over Lake Michigan to create the appearance of a bird. The body of the museum itself is a masterpiece.
Inside these walls is home to over 30,000 pieces of its permanent collection. One of my favorite parts of the museum was its commitment to German art. With Wisconsin's deep German roots, this came as no surprise.
But they have everything. From Ancient Egypt and Greece to Renaissance and Classical, through Warhol and modern. If you've ever been to Amsterdam's Rijksmuseum – the Milwaukee Art Museum shares a similar vibe.
City Tours MKE
Whenever I visit a city I try to include one tour to give myself some background on where I am at, get my senses on the city's layout, and quite honestly to learn something (because my former museum volunteer nerd comes out). Visit Milwaukee set me up with woman-owned City Tour's MKE Discover Iconic MKE Tour.
I enjoyed a 90-minute cruise around Milwaukee in an electric car, and our guide and founder, Meghan, was absolutely incredible. The amount of knowledge she and her team have living in their heads is unbelievable. I know to some of us tours can sound nerdy –but this was great. If you have specific interests, she can cater to whatever that is. For me, I love learning about a city's crime history so she was sure to educate me on Milwaukee's (rather thriving) Italian mob scene. By the end of the tour, I was flabbergasted at how much I learned and how engaged I was the entire time.
If you are looking for a less traditional tour, they offer ghost tours, mob tours, dive bar tours, karaoke tours and so much more. This small business is truly the way to go to learn something and have a great time.
Visit the Sherman Phoenix & Alice's Garden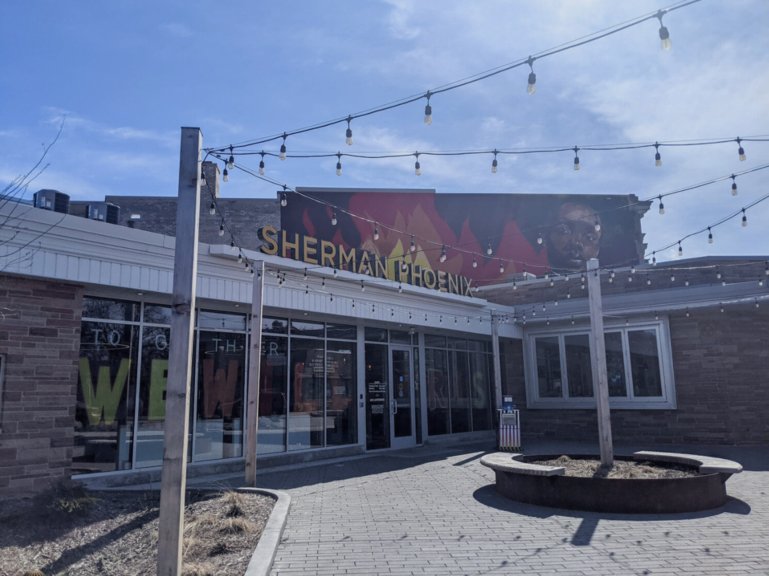 The Sherman Phoenix is one of the best-kept secrets in Milwaukee.
This community center was built from the remains of a bank that was damaged during unrest following a 2016 police-involved shooting. In the time that followed, community members recognized a need for a safe and inclusive space in the Sherman Park neighborhood. Out of these ashes, the Sherman Phoenix was born.
Today, this center serves as home to small black and brown-owned businesses, which specialize in food, wellness, salon services, and other cultural activities such as movie showings, art galleries, and more. The space is absolutely gorgeous, modern, and incredibly welcoming.
I was lucky enough to visit Venice Williams at her Sherman Phoenix store, Kujichagulia Producers Cooperative, where I picked up some naturally made candles and accessories.
Venice is the executive director of Alice's Garden. Unfortunately due to some muddy weather, I wasn't able to visit the gardens in-person, but Venice's store contains many photographs and products from the garden that gave me a taste.
Alice's Garden is a regenerative farming community, named after former Executive Director of Milwaukee County Expansion Alice Meade-Taylor, who had a mission for building neighborhoods and providing gardening programs for families.
Lead by Venice, the space offers a religious program called the Table where participants attend church services and share a meal inside the garden.
While the garden serves a practical purpose, it largely serves a healing purpose. Venice discussed with me the importance of this garden as a center for communal healing. The community has found comfort in this space and brings the community together to process events such as the police-involved shooting of George Floyd in 2020.
Explore the Historic Third Ward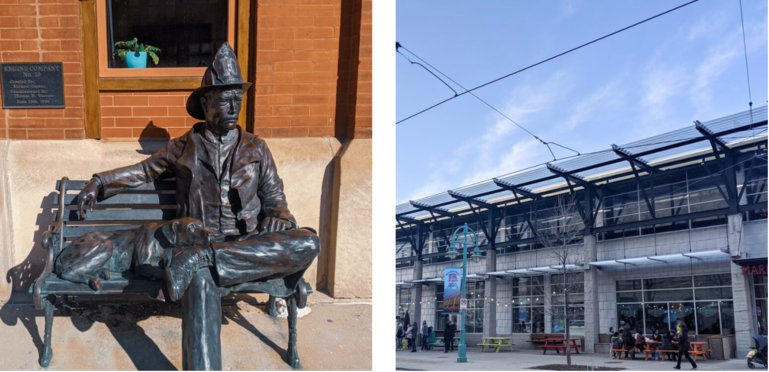 The Historic Third Ward is the heart of luxury Milwaukee shopping. Some locals even call it "Little Chicago". It's a bustling area filled with beautiful buildings and artwork. It also is home to the Milwaukee Public Market, which shares a similar vibe (and sign) to the beloved Seattle market. This is a great area to grab your souvenirs and enjoy a nice cocktail at a trendy upscale restaurant.
Visit Brady St., Bronzeville & the Martin Luther King, Jr. statue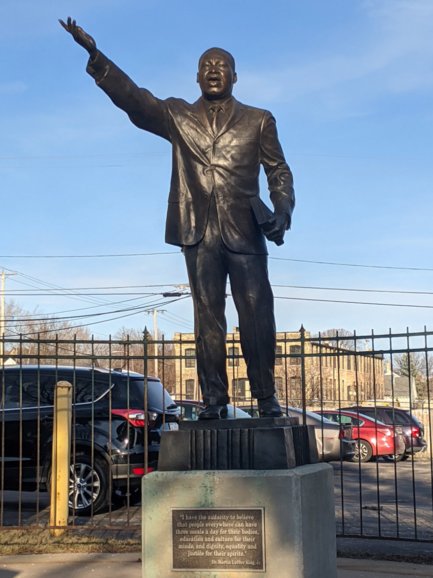 The thing that stands out about Milwaukee from other cities I've visited is its dedication to small business. When I was on the Discover Milwaukee tour our guide mentioned how there weren't a lot of brand name stores in Milwaukee. Once she said it, I realized she was right! Seemingly every direction was a small business. It's amazing, especially today, to small businesses thriving in a larger city like Milwaukee.
I would first visit the Bronzeville neighborhood, which includes the Historic King Drive Improvement District. Along Martin Luther King Jr. Drive you will find the social and economic heart of Milwaukee's African-American community. Another unique aspect of Milwaukee is their stunning bronze statues throughout the city, and in Bronzeville, you can find this brilliant bronze sculpture of the Drive's namesake (Head downtown to find a bronze statue of the Fonz!).
Afterward, it's time to head to Brady St. Business Improvement District. Brady St. is the center of Milwaukee's nightlife. Colorful restaurants and bars pour out and people, especially these days, are thrilled to be back gathering together. Visiting during the pandemic I did not get to experience the full nightlife that Brady St. has to offer – but even a quick visit showed me all of its character and fun. To give you an idea – there is even a random juggling emporium – so you know this area has character.
Where to Eat: Women-Owned Restaurants in Milwaukee
---
Buckley's Restuarant & Bar

Last, but certainly not least, is the family-owned and operated Buckley's. Located in the backyard of my boutique hotel Dubbel Dutch, Buckley's restaurant is both a nice night out and welcoming to all diners. The menu is creative. I enjoyed a vegan sweet potatoes entree, and my assistant tried a hot Nashville chicken sandwich. The flavors were unique combinations but still with a sense of familiarity. If you're someone who wants to try new things but is hesitant, Buckleys is a good fit for you. My favorite part? The carrot cake. You're served a huge slice, and it has to be the moistest, most flavorful, and tasty carrot cake I've eaten yet.
ORENDA Cafe

If you're looking for a more traditional brunch, check-out Latina-Owned ORENDA Cafe near the southside of Milwaukee. Owner Leticia Munoz moved from Mexico with her family to Milwaukee when she 10-years-old. Her breakfast joint presents a fusion of American classics with Mexican inspiration. The cafe's name, ORENDA, stems from an Iroquois belief that "you can harness powerful spiritual energy from animate and inanimate to create change." Again, the portions are huge – so put on those stretchy pants!
Bavette La Boucherie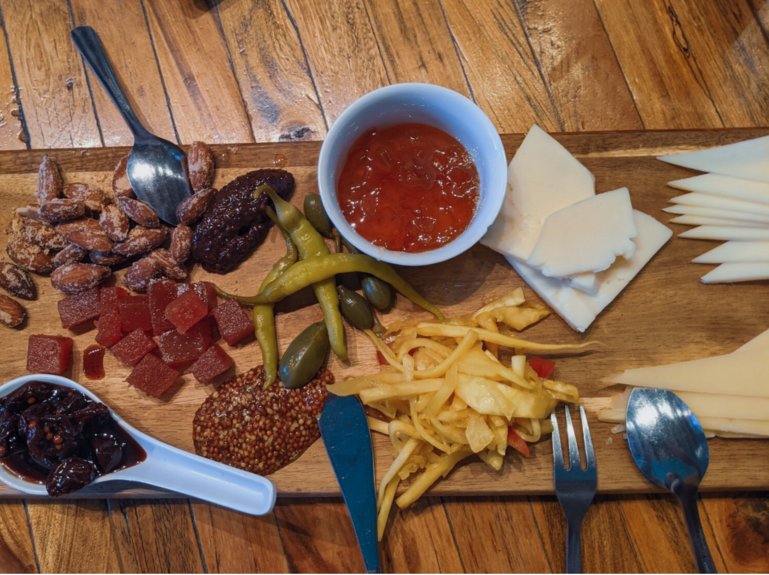 I knew I was in for something special when I learned Karen Bell's Bavette La Boucherie was a James Beard finalist (that's the Academy Awards of food for all us food peasants). Bell, a Milwaukee native, has lived and worked in the food capitals of the world – Paris, Madrid, Caracas, San Francisco, and Chicago. She began Bavette La Boucherie as a butcher shop, and it has evolved into a full-service restaurant specializing in sustainably raised meats, Wisconsin cheese, locally sourced charcuterie, and more.
Your meal at Bavette La Boucherie is an experience. You feel as if you're eating art. Every ingredient serves a purpose.
Cubanitas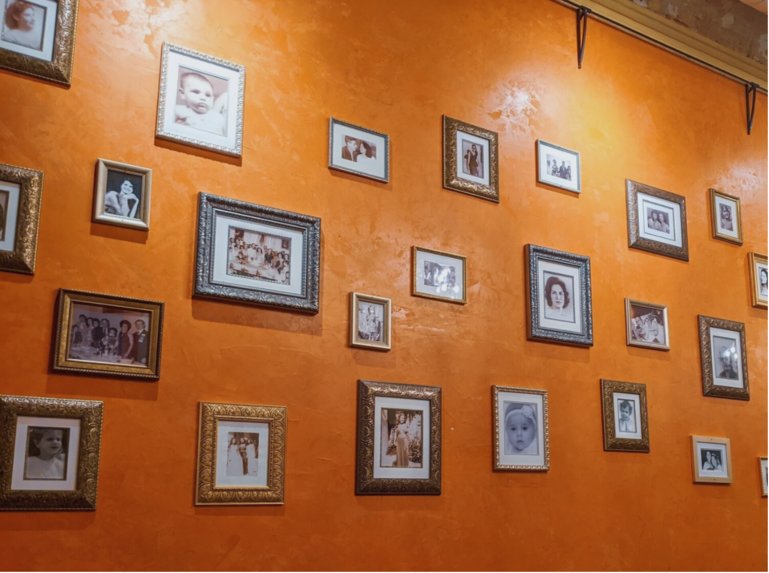 I absolutely adore this Cuban gem in the heart of downtown. I recently returned from a trip to Little Havana before visiting this spot and, well, Cubanitas can compete with Miami's Cuban food scene. Marc and Marta Bianchini are the owners of Cubanitas, the first Cuban restaurant in all of Wisconsin. It's brightly colored and filled with what appears to be old family photos in Cuba. The upbeat Cuban playlist and traditional Cuban eats can transplant you to warmer weather – even just for a meal. I enjoyed the Pollo Asado bowl and the chicken was perfectly tender. My assistant enjoyed the traditional Carne con Pappas. I was full from a weekend of eating that I didn't expect to eat much by the time I got to dinner here. But it was so good I couldn't stop eating it!
Toast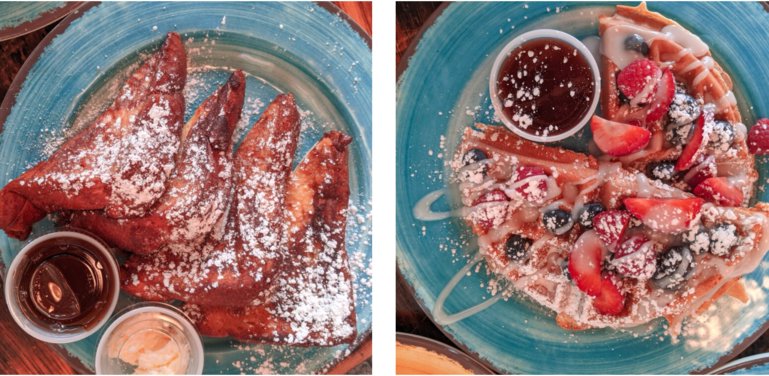 Toast is a vibrant and fun spot for a brunch with friends, family, and everyone in-between. Its space is colorful, and servers are clad in creative tie-dye and personalized uniforms. The restaurant has a certain 1960s feel to it, and you'll enjoy Elton John classics as the background noise to your bottomless mimosas. The menu is extensive and offers traditional favorites to original treats like the vanilla-icing drenched waffle above. Arrive hungry – because the portion sizes are huge and delicious!