Faster is not better.
Rushing through the process doesn't help either.
Calm down, take a breath, and find a slower tempo…. before you address that little white ball. It's about technique and letting the club do its part. Want to improve your golf game and be happier about the number on the card? Then you should try a smooth, slow southern swing.
I'm not a golf coach, but I can help you find your new swing. It's more about the where than how: A place to slow down and appreciate a day outside on manicured fairways and greens tinged with breezes from the mighty Mississippi River.
Find your way to The Bluffs at Thompson Creek in Saint Francisville, Louisiana, about 30 minutes north of Baton Rouge. The resort is tucked in a quaint forested community surrounded by sprawling historic plantations and home to my new attitude and slow southern swing. Besides your time on the picturesque Arnold Palmer designed course, relax and melt into a rocking chair on the porch at your suite at The Lodge at the Bluffs. At check-in, I mentioned we arrived driving in on winding back roads from the north. Marsha smiled, "Honey, that's the only kind of roads we have here." I returned her smile and set off on three relaxing days, letting the southern hospitality wash over me.
After a week in the bike saddle, exploring Arkansas, the Louisiana state sign signaled a shift away from adrenaline adventures. We put the bikes away, unpacked the clubs, and donned short sleeves in the 70-degree sunshine. From our upper-level suite, we walked to the practice green and clubhouse. With any new course, it takes time to adjust and learn the terrain. Our play featured some good shots, bad shots, lucky shots….a typical rusty first round. As a competitive person, I've learned golf is about managing expectations, especially when you only play sporadically. I convinced myself not to worry about the scorecard, to celebrate the views and warm temperatures….besides, it was snowing back in Michigan.
The rolling ridges give The Bluffs its personality, so be ready for undulation, uneven lies, and plenty of sand and water. With his high expectations, Josh informed his driver was in timeout while we ambled over for a beverage at the Palmer Grill. More friendly staff produced some cold beers and pointed us to the outdoor patio overlooking #9 and the pool.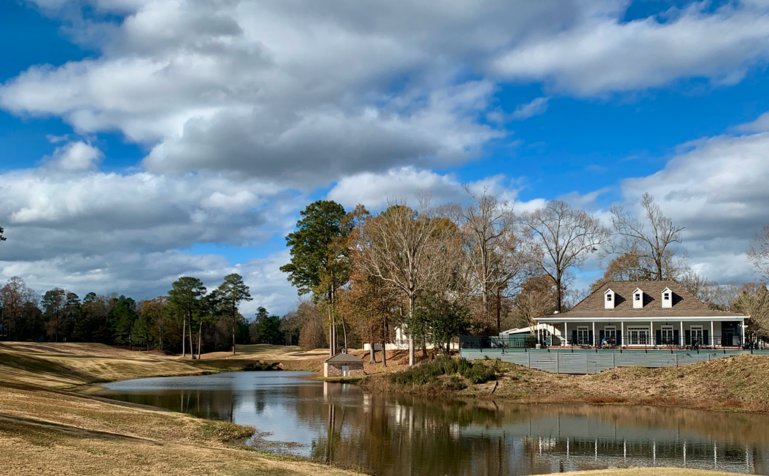 Views of the Bluffs Golf Course and the Palmer Grille
We hit repeat the next day and dodged a few raindrops while the warm temps and gorgeous views prevailed. After notching mostly bogeys, we spent time exploring the area's historic plantations and falling in love with the gigantic Live Oak trees decorated by silver/green moss alongside the magnolias with their fragrant blossoms. History oozed out of every tree and flower, and I tried to imagine colonial life in the late 1700s and early 1800s. The Oakley Plantation within the Audubon State Historic Site preserves the story of naturalist and artist James Audubon, who arrived in 1821. In the visitor center, be sure to check out his series of bird illustrations.
Just a short drive away, the Myrtles Plantation, built-in 1794, is another stunning example of period architecture. The plantation house and lush gardens have been beautifully restored. We joined a lively tour with guide, Shelly. We were mesmerized by Chloe's tale, a mischievous slave who still makes her presence known to this day. Yup, a bonafide ghost story and haunted tale await contemplation on your visit. Hold on to your earrings because Chloe may help herself to your lobes while you visit the sitting and dining rooms. Shelly explained that 100's of guests that experienced the tour discovered a missing left earring, most often hoops, the more shiny and expensive, the better. To showcase this lore, Chloe's fetish victims have donated the right side of the pair to the Myrtles' growing display case. Don't believe in ghosts? Take the tour and listen in about the refaced mirror, hear about lodge guests who sensed Chloe's presence, and study the photograph with the dark figure in the shadows and decide for yourself! I admit, upon finishing the tour, I instinctively reached for my left earring. It was still intact. Chloe apparently did not care for my taste in jewelry.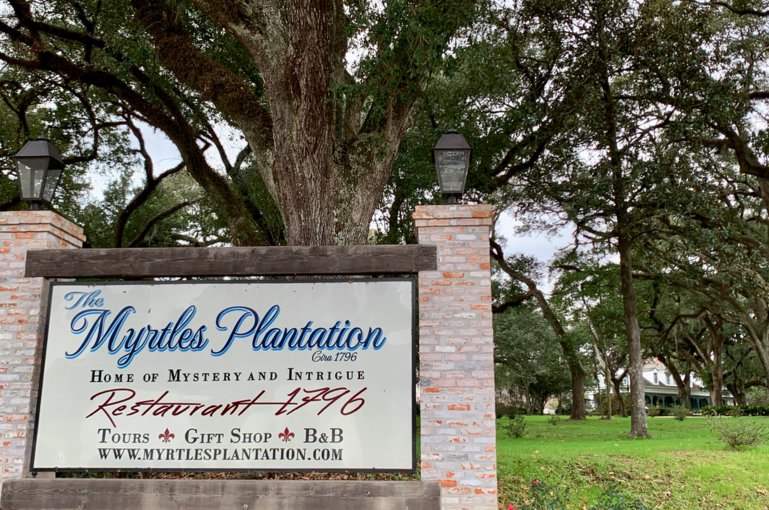 Even if you are full of history and ghost stories, save room for a fine dining experience at Restaurant 1796, on-site at the Myrtles. A trip to the south is not complete without experiencing a proper slow-cooked meal. And, yes, be patient; the slow-hearth cooking is definitely worth the wait. For other southern-inspired meals, we found local establishments for Cajun/creole flare and meaty delights. Saint Francisville is only about 10 minutes from The Bluffs Resort, so we made forays into town for dinners at The Francis Southern Table and sumptuous smoked meats at The Smokehouse. From a picnic table perch, we noshed on brisket, ordered a half-rack of ribs, and spooned in a delicious sweet/savory corn pudding.
I loved the small-town feel and was happy not to be overwhelmed by a gazillion choices. We also took some time to walk down historic Ferdinand Street and found Grace Episcopal Church, circa the 1860s. Again, huge majestic oaks surrounded the steepled structure, accentuating the weathered stonework. The attached cemetery and ornate headstones reminded us that the past had met the present in this place. A stormy, rainy front moved in on our last day, a signal for our southern swing to turn north.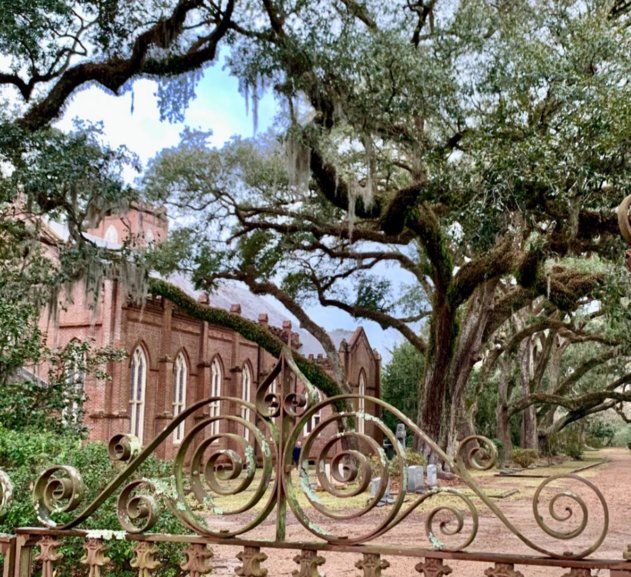 Historic St.Francisville, LA
On our last night, from our balcony at the Lodge, we watched an impressive display of festive resort fireworks. The bursts were so colorful and powerful, I was assured it represented an entry to a new and better year. The last embers of light faded in the rain-tinged night…we returned inside and drifted slowly into sleep.