Located on the east side of Phi Phi Don, Monkey Beach is a hidden gem that cannot be missed when visiting the Phi Phi Islands. The name says it all – the beach is literally overrun with monkeys waiting to greet you as your boat glides to shore!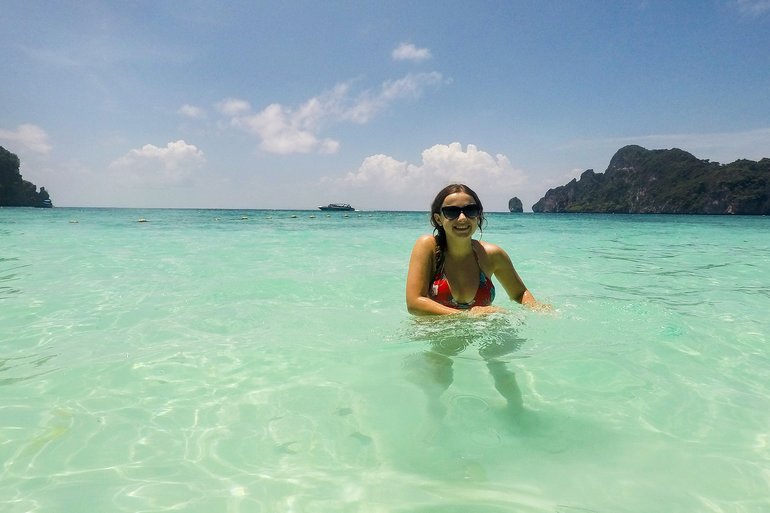 Monkey Beach, Koh Phi Phi, Thailand
The small cove can be accessed by longtail boat, kayak or a challenging trek through the jungle. We visited by kayak as it wasn't far to paddle from Loh Dalum Beach and were amazed by the number of monkeys running up and down the sand – we only expected to spot a few hiding in the trees! We also couldn't believe our eyes at the calmness or clear turquoise colour of the sea, paired with beautiful white sand and playful baby monkeys – a true hint of paradise.
Although, here are a few tips that we must share to ensure that you do not make the same mistakes as us.
Do not bring any food with you and especially do not open anything in front of the monkeys
---
Unfortunately, we had no idea and opened a packet of sweets as soon as we arrived at the beach. A swarm of monkeys ran towards us and snatched for the packet, but luckily we were unharmed. If you do get scratched or bitten by a monkey you must find a doctor immediately and receive a rabies vaccination, followed by more over the next month, even if you have already had vaccinations before travelling.
Only bring water and save it for the boat
---
One of the monkeys stole our full bottle of water when he heard it being opened and went to drink it himself. However, we found that they generally don't enjoy coming into the sea, so maybe save your snacks for the boat ride.
Use a dry bag and fasten it securely
---
A dry bag is useful for boat journeys to protect your belongings, especially on a kayak as lots of water tends to leak in. We got ours from Amazon before we left, but there are plenty of shops selling them all over Thailand. Zips are too easy for the monkeys to open, so a dry bag with a buckle fastening provides extra security and can be strapped to the boat. We recommend leaving any handbags at home, as the monkeys find these the most intriguing and we've witnessed them being stolen before.
---
If you are prepared and don't bring any food, the monkeys keep their distance and are not interested in approaching you. You can watch them from afar and enjoy the incredible surroundings and a dip in the pristine water. For your peace of mind, there are also locals on duty to keep an eye on the monkeys and make sure you are not feeding them, so relax and have fun!