Recognised as the most famous beach resort on Phuket island, Patong is a vibrant town with an impressive party atmosphere. Packed with tourists from all around the globe, it is overwhelmed with bars, restaurants and clubs which are centred around the go-to street of Bangla Road. Here, the loud music, neon lights and cheap drinks flow endlessly into the night… so make sure you are ready to hit the dance floor!
During the day, the beach is the place to be and is very popular with tourists, however we found it a little too busy for us, even in the low season! Overcrowded with vendors trying to sell you anything from coconuts to coffee tables, we found it difficult to sit back and unwind which was quite disappointing. Despite this, the chaos seemed to calm down in the evening and we would definitely recommend heading back to the beach to catch the beautiful sunsets Patong has to offer. Here, we discovered the beach at its finest!
Patong is a perfect location if you are looking to experience the bustling streets and busy atmosphere of the island, but this could become a little overwhelming after more than a few days, especially in the peak season (November to April). If a relaxing beach holiday is more suitable for you, we would suggest visiting one of the beaches further south of the island instead, such as Kata Beach. However, as this is our first time visiting Thailand, Patong provided a great place to immerse ourselves in the fast-paced culture before seeking out some of the country's more tranquil locations.
Here are some of our recommendations whilst staying in Patong: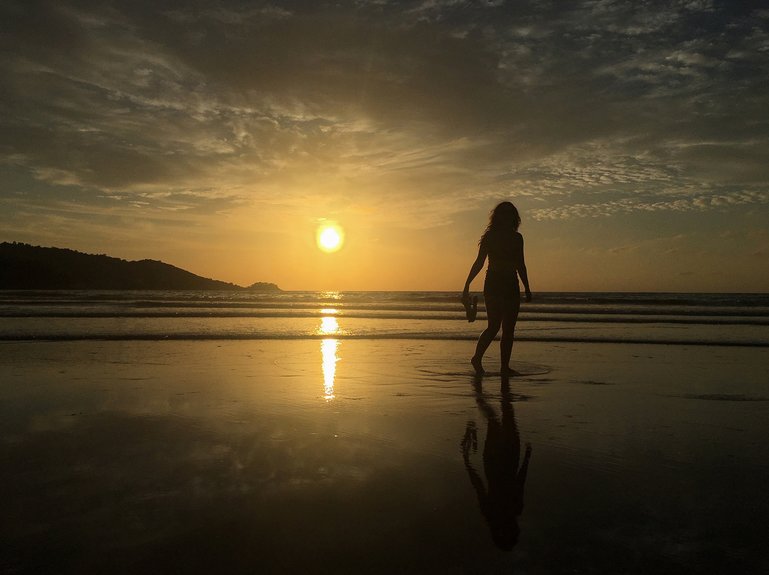 Sunset in Patong, Thailand
1. Watch a sunset
---
Head to the beach during the evening for a calmer experience and watch the sun go down with a cold beer.
2. Street food
---
Sample a tasty Thai dish at one of the many street food markets situated around every corner.
3. Tuk Tuk
---
Take a ride in a tuk tuk at night and be dazzled by the loud music and neon lights!
4. Bangla Road
---
Take a walk down Bangla Road and become immersed in the incredible party atmosphere.
---
Enjoy some retail therapy along the busy shopping streets. We recommend visiting the largest shopping mall on the island, Jungceylon. With a wide selection of well-known brands under one roof, the mall is perfect for a rainy day or to escape the heat.
6. Freedom Beach
---
Take a day trip to Freedom Beach if the hustle and bustle becomes too much. We loved visiting this private little cove and the sea was an incredible shade of blue! See our blog post for Freedom Beach here.
7. Water sports
---
Have a go at water sports along the beach, or try Surfhouse if you don't fancy riding waves in the sea.
8. Thai Boxing
---
If boxing is your thing, grab a ticket to Bangla Boxing Stadium to experience a professional Thai fight. Don't worry about missing one of the events, they are advertised loudly from locals driving up and down the streets daily.
9. Massage
---
Relax and unwind from the party atmosphere by visiting a massage parlour. There are plenty on every street and the locals aren't afraid to try and sell you one every five minutes.
10. Two Chefs Restaurant
---
Enjoy a candle-lit dinner at one of the many restaurants in Patong. We highly recommend visiting Two Chefs on one of their all you can eat special nights! We visited on a Wednesday which is 'Surf and Turf Night' and enjoyed a selection of rib eye steak, prawns and chicken with salad and potatoes. You get a generous portion and once you have finished you can order more, all for only 495 baht (price accurate September 2018). There is even a live band to entertain whilst you fill up on delicious food!