Freedom Beach is a beautiful hidden gem that lies just south of the popular party resort Patong. If you are looking for a secluded spot to relax in paradise and swim in crystal clear waters, here is the place to be!
To reach Freedom Beach, you can easily take a longtail boat if travelling in peak season. The shortest journey will be from the southern end of Patong Beach, but you can also leave from Karon or Kata for a slightly higher price. Longtail boats are not the quickest and will often splash you quite a bit, so make sure your phone and camera are in a waterproof bag and come prepared in your swimwear.
The tricky part of finding this hidden gem only really applies if you are travelling during low season (like us). Unfortunately, longtail boats do not run at this time of year, so Freedom Beach can only be reached via an off-road dirt track and then a steep climb down on foot. If you are comfortable riding a motorbike this may be the cheapest option, however once off the main road the path is extremely bumpy so we would only recommend this if you are an experienced rider. It may also be a good idea to research the route before leaving, as we didn't see any signs or directions.
We opted for a taxi to travel there and paid 500 baht for the ten minute journey from Patong. Even the 4×4 vehicle struggled up the rocky side road, so make sure that you do not get in a tuk tuk! At the top, you will reach a gate in which we had to pay 200 baht each to enter. However, we have read reviews that mentioned the gate being open and no fee to pay, so we guess it depends on your luck and what time you arrive. We assumed that the money goes towards helping to maintain the path down, but we soon found this was not the case!
You will walk through a small jungle which is steep and slippery underfoot, with no real path in parts and only a worn-down rope to keep you upright. Our main tip for this journey is to wear suitable footwear, unlike Lewis who wore flip flops! Make sure you have plenty of mosquito spray on and pack more water than you think you will need, as the climb back up is challenging and we actually ran out before half-way!
After a tough ten minute walk, the stunning turquoise sea begins to appear through the palm trees and all your exercise is made worth while. We were amazed by how quiet this little cove was and the soft white sand is unbelievable! Unfortunately, we did find quite a lot of rubbish washed up which was a real shame, but hopefully this will be cleaned up in time for peak season. We also didn't find any bars or shops open on the beach, so make sure you bring snacks if exploring at the same time of year as us.
Despite the small negatives and the tough trek, Freedom Beach really is a thing of beauty and well worth seeking out. The sea is amazingly clear making it brilliant for a swim and the tranquil backdrop is perfect for photographs.
Best beach in Phuket? We'll leave you to decide.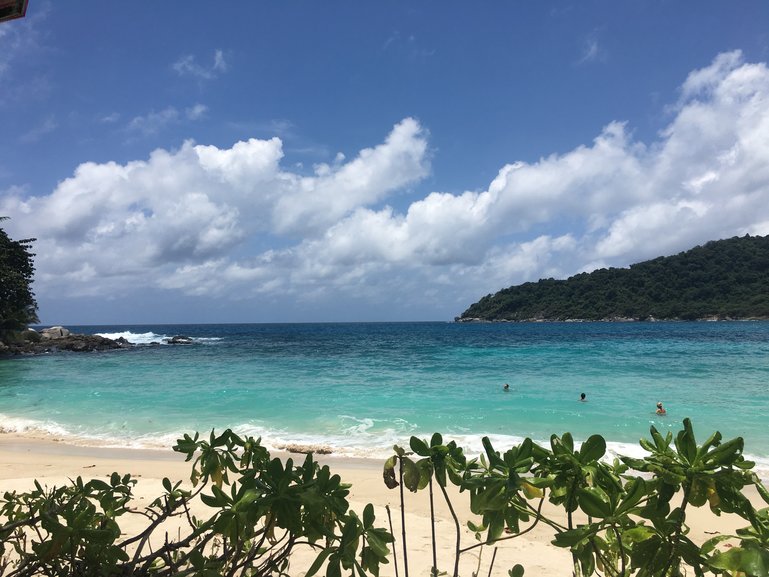 Freedom Beach, Phuket, Thailand