3 Days Pondicherry trip. Yesssss! Diwali vacations were approaching and I wanted to utilise these two weeks rather than sitting at home, getting bored by doing household chores and trying numerous ways to keep my little one engaged. When the little one is at home, I just can't do any productive work like reading a book, working on my laptop, etc. As my husband was busy with work and travelling, I decided to take a 3 days Pondicherry Trip, with my 3-year-old son. The thought of travelling with a kid is enough to make you sit at home and regret the days lost. I challenged myself to take this trip as it will be a kind of experiment with Agniv as I will know how to keep him entertained/occupied and the difficulties that come our way which will help me `in preparing for our next trip. The fear of what if will not let you travel.
Agniv has shown keen interest in travelling in whichever mode of transport we have taken. He observes his surroundings and enjoys watching what is happening around him. Kids at this age can`t be in one place even for a minute, so I keep him engaged by talking to him about everything and anything happening around us.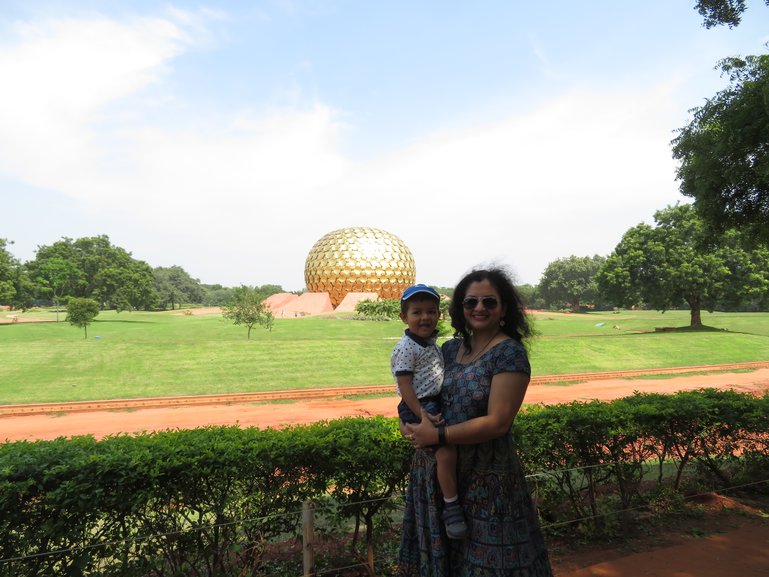 At Matrimandir- Puducherry
Pondicherry officially known as Puducherry is the capital and the most populous city of the Indian Union Territory. Though very small, it was the largest French colony in India and the city has a long and interesting history of trade and war. Did all the bookings well in advance.
Two weeks before travelling, I prepared a list of items to carry in my handbag and what to pack in the suitcase. Flying with kids could be disastrous if you dont plan and prepare in advance and you cant travel light with kids. The handbag mostly had Agniv`s stuff like a water bottle, a colouring book with crayon colours, a few toys (1 or 2 new toys), a cloth towel, an extra set of clothes, hand sanitizer, old newspaper, snacks in different small containers, tissue paper, paper bag, spoon, straw, stole, etc. (I prefer a backpack over shoulder bag) Planning and making a checklist of items to carry has always helped me in taking a trip.
Tourist Places to Visit in Pondicherry in 3 Days:
---
Day 1:
Sunday bazaar
Day 2:
Aruimigu Manakula Vinayagar Temple
Aurobindo Ashram
Matrimandir
Paradise Beach
The Basilica of the Sacred Heart of Jesus
Eglise de Notre Dame des Anges
Immaculate Conception Cathedral.
Day 3:
Museum
Bharti Park
Indian coffee house
Rocky beach
White town
And this is what our 3 Days Pondicherry Trip (My 1st Solo Mom Trip) look like:
---
Day 1 of our 3 Days Pondicherry Trip:
Our flight was at 7.25 in the morning from Mumbai to Chennai which would take around 2 hours. The day before travelling I didn't let Agniv sleep in the afternoon (he sleeps in the afternoon after coming from school for about 1.5 -2 hours). As he didn't sleep in the afternoon he went to sleep at around 7 in the evening. On the day of our journey, I got up early, took bath, made breakfast, and packed some snacks.
Took some effort to wake up Agniv. His father had to wake up also who had just come at night from Guwahati.
I have been telling this Agniv for quite a few days that we will be travelling on a plane soon. Agniv already had the experience of flying and was excited to get into a plane. A few minutes after takeoff he went off to sleep and got up just before landing. And I was sooo…..happy, what else do u need? After reaching Chennai airport we took a cab to PMBT(bus station)and from there we took a bus to Pondicherry. The bus ride took almost 4 hours. Agniv enjoyed his bus ride, looking out of the window, and munching on some snacks. He slept for an hour also then he kept popping through the window and would ask me every 15 minutes if the bus ride over.
We reached Chennai at around 3.30 in the afternoon, checked into the hotel, freshened up, had our food, and after that, we stepped out to explore the nearby places. Google map was our constant companion. Our first visit was to a nearby cafe called ZUKA CakeShop.
Before commencing this journey, I checked where is the hotel located, which are the nearby cafes and restaurants, and how far are the tourist places from the hotel with reviews online. I ordered one Hot-chocolate after reading the reviews online. They are served in a tiny cup of coffee with 2 pieces of chocolate block and one spoon made from chocolate. Never seen or had a chocolate spoon before. Agniv was looking at me with amazement when I took a bite of the spoon.
From there we went to the Sunday bazaar, which was within walking distance. It is flocked by locals and tourists who come here to buy the wide range of products which are available at very affordable rates. Didnt spend much time here as there was nothing of interest and the market was very crowded. We hardly spent around 30 minutes and from there we headed towards Xtasi cafe. Heard so much about this place online. Can't afford to miss visiting this place. Ordered one wood-fired pizza. After a long time, I had an amazing pizza. Agniv also enjoyed his share of Pizza. It was an early dinner for us as I was tired and sleepy and I wanted Agniv to get proper sleep and rest so that he wont get cranky the next day. It is very important to get proper rest for children and better to sleep early and set out early the next day. Walked down to the hotel and went to sleep at 8 o`clock.
Day 2 of our 3 Days Pondicherry Trip:
I got up before Agniv, had some tea, took bath, and packed the bag for the day, which had some snacks like biscuits, dry fruits, cake, 2 water bottles, 2 stainless straws, one empty tiffin(to pack any leftovers), cash & card, sunscreen, a set of clothes for Agniv, tissue/towels, antiseptic cream for minor bruises.
After Agniv got up, took him for a bath, got dressed, and we were all set for the day. Agniv was very excited and I was praying everything to move smoothly. After breakfast at a local roadside restaurant, we took an Auto for the day, which was waiting outside the tourist information centre.
Our first stop was at Aruimigu Manakula Vinayagar Temple, a traditional Hindu temple dedicated to Lord Ganapati. My auto rickshawala Mr.Murugan guided me through the temple, explaining to me about all the deities placed there.
From there I went to Aurobindo Ashram which was nearby only, the favourite tourist destination. Though Agniv was about to turn 3 they didn`t allow him inside as kids below 3 years are not allowed. I left Agniv with Mr Murugan (I took a risk here) and quickly finished off. I wanted to spend more time here but, maybe next time. I was worried for Agniv and came out in 10 mins. And there he was with Mr Murugan, such a relief.
From there we headed towards Auroville. The main attraction here is the "Matrimandir". After reaching Matrimandir a shaded 10-12 minute walk leads from the Visitors' Center to the Viewing Point. A free electric shuttle service is available for those who may find it difficult to walk the approx. 1 km distance each way. Free bus service is available for the return journey from the Viewing Point to the Visitors Center for all those who wish to avail of it. We took the shuttle services. We spent about 45 minutes there looking at the dome covered by golden discs, reflecting sunlight. Clicked some pics, went to the washroom and refilled our water bottles.
From here we went to a local restaurant for lunch and then to paradise beach. Agniv went off to sleep after lunch and I had to carry him to the booking counter for a boat ride. He woke up before getting on the boat.
Paradise Beach is situated in Chunnambar, close to Pondicherry town. The beach is very clean with a beautiful view. The boathouse Is the entry point to the beach. The tourism department runs the cruise with a capacity of about 15-20 passengers with an interval of 30 minutes. It takes about 15-20 minutes to reach the beach from the boathouse. The cost per person both ways is Rs 300. Agniv was enjoying this ride with beautiful backwater all along.
Ended the day`s tour after visiting The Basilica of the Sacred Heart of Jesus, Eglise de Notre Dame des Anges, and Immaculate Conception Cathedral. Mr.Murugan dropped us near Rock beach. Did some shopping at Handicraft Emporium.
For some quick snacks, we stopped at Lecafe which is located overlooking the beach. Great location with options to sit outside and inside. After spending an hour around rock beach we headed back to our hotel.
What an eventful day it was and I am surprised to see that Agniv enjoyed it more than me and he didn`t trouble me at all.
Day 3 of our Pondicherry Trip:
After having breakfast at a local restaurant, we went to see the museum which was closed yesterday. The museum is especially noted for its collection of fine lost-wax bronzes from the period of the Chola Empire.
The Museum's collection includes 81 Chola bronze sculptures, ranking as one of the largest collections of Chola bronzes. We spent around 15 minutes there and from there went to Bharti park. Bharti govt. park is within walking distance from the museum in White town. A good place to sit and relax in the midst of mother nature. This park is surrounded by Government Hospital, Pondicherry Private Club, the Legislative Assembly, and Lt. Governor's Palace. From there we walked down, exploring the by-lanes of the white town, visited 2-3 shops, enjoying a stroll.
We slept for some time then in the evening I decided to visit the Indian coffee house for some quick snacks. The place was packed, but we managed to find one table in a corner. It's a restaurant chain in India, run by a series of worker co-operative societies. It has a strong presence across India with nearly 400 coffee houses. Our day ended with an evening stroll along the wide pavement of Rocky beach, followed by dinner at Cafe Xtchi.
The next day we took a bus back to Chennai and from Chennai to Mumbai we flew down and with that our 3 days in Puducherry came to end and I am so glad I took this trip with Agniv.
What I learned from this Pondicherry Trip is that the key ingredients to a smooth vacation when travelling with your little ones are to pay attention to their needs. Kids can adjust to any situation very easily provided there is the right balance between rest time and activities. Now I am very confident to take up any trip with just two of us.