New York City is the well-known and most populous city of America. It is the largest metropolitan city of United States. It has numerous places which are popular as tourist attractions.
If someone is planning a tour to New York City with family, then they can explore various places in the city. The city is visited by the tourists from all over the world and the visitors from the country itself. The famous and well-known top 10 things to do in New York with family are mentioned below:
Statue of Liberty National monument
---
It is the well-known sculpture of the country which is located on the Liberty Island in New York City of United States.
Empire State building
---
It is a 102-story building situated in Midtown Manhattan of New York City. It is an Art deco skyscraper building.
Brooklyn Bridge
---
It is a famous bridge which is cable stayed in New York. It connects Manhattan and Brooklyn over the East river.
Theater District
---
This district is the heart of Midtown. It is the pedestrian street near Times Square where costumed characters can be seen in the lighting of the towers. The famous things here are restaurants and chain stores.
Times Square
---
It is visited by most of the tourists as it is a great place of entertainment and near the Midtown Manhattan.
9/11 memorial
---
It is a memorial building and a museum which was made to pay tribute to the people killed in 11 September 2011 attack.
One World Trade Center
---
It is the rebuilt of World Trade Center and is the tallest building in United States. It has café, bar etc.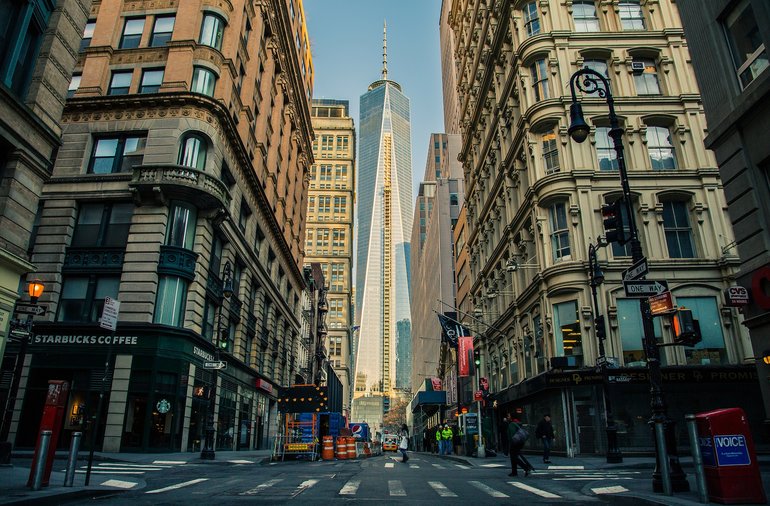 One World Trade Center, New York
Broadway
---
It is a famous road in United States. It has musical theatre, lion king, opera, etc.
UN headquarters
---
It is a well-known complex which has served as official headquarters of United Nations.
Chinatown
---
It is a place which is meant for tourists and foodies visiting the city. It has road side shops and market.