I'm a self-proclaimed water baby. I've dived into the deep ends of the oceans and even am a certified diver. But even so, one thing that has always scared me is heights. In fact, I went to Kamshet to overcome that very fear. With many adventure things waiting to be checked off my bucket list, I knew I had to get over it. So, I thought, let's take this giant down once and for all and booked a Kamshet paragliding trip as soon as I got the chance.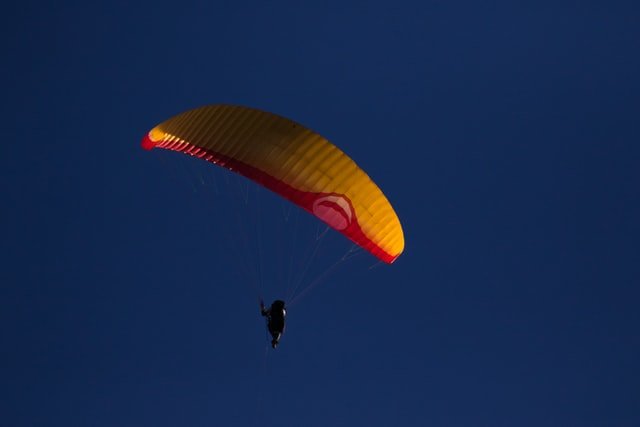 Paragliding in Kamshet
I did a bunch of research and found out the Kamshet paragliding cost, best operators, safety measures and whatnot. I knew I would be given a thorough training before my flight, but my nerves forced me to watch paragliding videos well into the night before I had to leave for Kamshet. A few of my closest friends agreed to offer their moral support while indulging in an enthralling adventure as I attempted to change my life. We drove down in a car from Mumbai, and a few hours and a pitstop for breakfast later, we were at the take off point.
I looked around at the hilly landscapes, fresh green from the recently departed monsoons, and the clear blue skies speckled with dozens of paragliders in the air. Just watching them for a few seconds had my knees shaking and palms sweaty!
The pilot accompanying me briefed me about what my Kamshet paragliding experience would be like – how we'd take off, where I'd to position my legs, which strap he would pull to go in which direction, and, of course, some safety guidelines. Then, we attached our harnesses and I secured my GoPro on mine.
I was halfway through taking the deepest breaths possible when the pilot said, "Run!" and I followed. Within seconds, our wing caught the wind and we were up in the air! As we began to float higher and higher the paddy fields, houses, trees, and roads below me grew smaller and smaller, and the people waiting their turns at the take-off spot now resembling ants. We were gliding over the verdant Sahyadris and I finally knew what it was like to touch the clouds.
The pilot chimed in with a few words here and there to help calm my nerves as I was visibly jittery. He asked me to simply forget my worries and let the wind carry them away. Within a few minutes, I was calm enough to finally soak in the serenity around me. I was soaring through the air, with all my problems seeming as small as the ground far below me. I felt at peace.
When the time came for our descent, I could feel the pilot directing the paraglider toward the designated landing spot. He asked me to keep my legs up as we slowly neared the ground and he ran to keep the momentum before coming to a complete halt. I put my legs down and laughed as they wobbled from my reeling experience. It was hard for me to believe that those 10 minutes of Kamshet paragliding were real. I was soon joined by my friends and we hooted as we regrouped. We soon had to head back to Mumbai, but as I went through my GoPro footage and saw my fear turning into pure bliss right before my eyes, I promised myself that this wouldn't be the last that I saw of this place or paragliding!