After a 10 hour flight we landed in Colombo in the early hours of the morning, having lost our luggage on the connecting flight. As the first destination in our travel plan, we thought it best to ease ourselves in to the travelling experience by volunteering at PMGY for a few weeks in rural Sri Lanka. We met up with the other volunteers in the airport, and took a 3 hour bus to Ambalangoda, a small town on the west coast of Sri Lanka. Our home for the next few weeks was London House – a three story volunteer accommodation on the outskirts of Ambalangoda that housed around 40 of us. London House is fantastic, and has everything you could want from a basic volunteer house. The hub of the house is a large, air-conditioned central room with 4 dorm rooms branching off from it. From there, you could venture upstairs to the roof which acted as the social centre of the house, where there'd usually be a game of cards or conversations taking place. We would get three meals every day, usually some kind of native, spicy Sri Lankan dish. As Tom quickly discovered, if you don't like spicy curry, then you will not enjoy the food. Having spent the best part of two months in 3 different volunteer houses, I can say without hesitation that the best thing about them is the people you meet. PMGY, as an international organisation, attracts people form all over the world, so we met Australians, South Africans, Swiss, French, Austrians, Scots, Americans, Arabs, etc. There would always be an interesting conversation going on about experiences from home, and so it became so easy to learn about other peoples' cultures and lives. The actual experience of living in such close proximity to other people meant that you bonded very quickly, and so we established many great friendships bases that we still maintain to this day.
Daily Routine
---
After an induction day, we quickly settled into a routine. Each day, we would wake at around 7:30, have a cold roof shower, and grab some breakfast. We would then get a tuktuk to a local Buddhist temple, where we would teach a class to child Buddhist monks for a couple of hours, usually ending with games in the courtyard. At midday, we would return to London house, have lunch, and prepare for the afternoon's school lesson. We taught the afternoon lessons in a local temple to 20-30 school children per pair. After a two hour lesson we would order a tuktuk to the beach and have a swim to cool off as the sun set, eventually returning to London house to dinner. In the evenings we would play cards, talk, or go to a local restaurant/bar for a drink. This routine was exhausting, but extremely rewarding. Teaching monks in the morning was great fun, as the small groups made for ideal teaching conditions. The afternoon teaching sessions were more challenging because of the larger groups and so needed more detailed plans, however, it was definitely a fulfilling experience to manage and lead a class of 20+ in an English lesson. As the weeks passed, we became more confident with our teaching and grew closer to the children, so much so that on the last day of teaching, we had a water balloon fight with the monks, and brought cake for everyone.
Weekend Trip 1: Ella and Nine Arch Bridge
---
The first weekend, we ventured an hour south to Galle, a Portuguese-Colonial town near the Southern Peninsula of the island. This town is incredible and a must-see if you're in the south of Sri Lanka. Within the original walls of the naval fort now lies a historic town, with loads of vibey shops and restaurants. If you climb up the wall, you can get a panoramic view of the Indian Ocean. However, I'd massively advise that you avoid Galle in the heat of the day, as the midday sun on the stone decor quickly transforms the town into an oven with limited shade and ventilation.
On the outskirts of Galle you can check out traditional Sri Lankan stilt fishing, a custom which involves balancing on a pole (or "stilt") in the middle of the sea until you get a bite.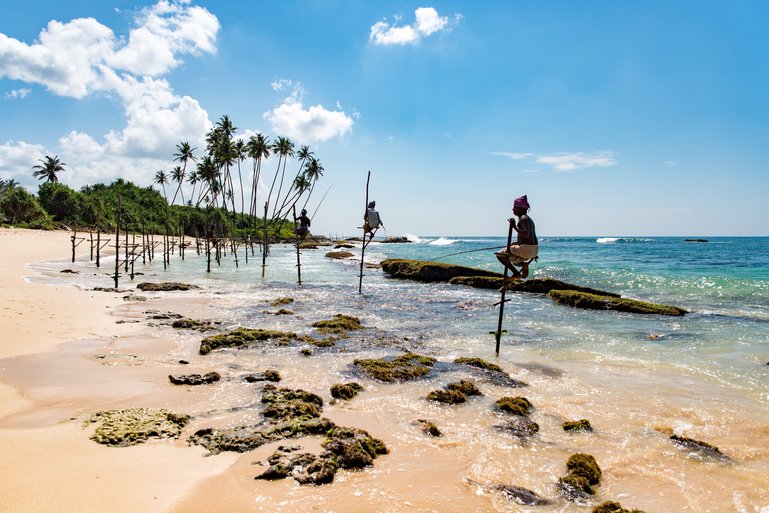 Traditional Stilt Fisherman of Galle
We then headed inland to Yala national park, which cover 1000 square kilometres of Sri Lanka populated by Elephants, leopards and crocodiles. We stayed in a lakeside hotel and got destroyed by mosquitoes. Massive tip for anywhere humid, invest in a mosquito bite shocker for £6.50. For each mozzie bite you press the end on the swelling and press the button to release a 13kV zap that localises the spread of poison and stops the itching. Its an absolute game changer and I would have had so many more irritating bites if it weren't for this God send.
Next day we went on an elephant safari. Truth be told, we didn't really see any elephants. But we saw a load of peacocks so again if you're into that sort of thing then this is the safari for you. However, if you want to see elephants, I'd highly recommend the safari of next week's weekend trip.
4-5 hours later we drove deeper into the mountain range and came across Devon Falls Waterfall which was decent. It's not a million miles from Colombo so would recommend it in you're in the area, however its probably not worth its own trip, so I would pair it with a trip to the nine arch bridge and Ella. The Nine Arch Bridge is exactly what it sounds like- a train bridge across a 100m valley, 25 metres in the air. Trains still use this bridge though, so while you're getting pictures be sure to keep an ear out for oncoming trains as you'll have to run to the end or stand to the side if a train comes along. Although we didn't get the chance to, we've heard that the train from Kandy to Ella is absolutely incredible and is a definite must to get an insight into the size and beauty of the Sri Lankan mountain range. Ella is this amazing little town in the Sri Lankan mountains in Yala. It has a serious backpackers vibe and offers backpack repairs and local souvenirs. Would definitely recommend Cafe One Love which had great drinks and a really relaxed vibe.
An advantage of Ella is that its very close to Adam's peak and little Adam's peak. Climbing either peak is a must to sea the sunrise. It does require a 4:30 wake up, but the views make up for it, especially if you catch it on a clear day.
If you're in the area and you have time, also check out a tour of the Damro tea factory and plantation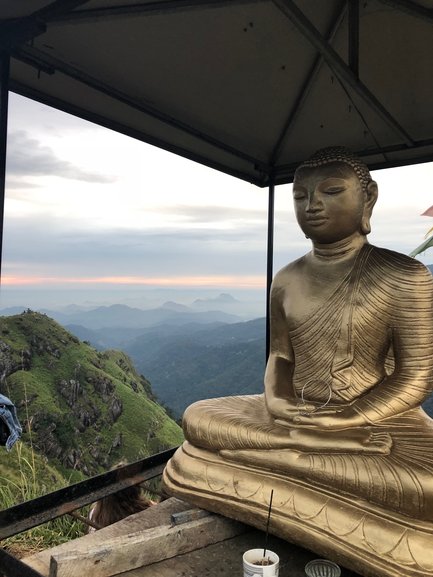 The sunrise view from Adam's Peak
Weekend Trip 2: Galle
---
The next weekend we hired an airbnb in Galle (Summer Belle Villa hosted by Nadee), and stayed there for a couple of nights. The bus from Ambalangoda to Unawatuna/Galle is extremely stressful on a Friday night, and we thought we were lucky to get seats. I say that we "thought" we were lucky, because in actual fact, when we had to eventually get off the bus after 90 minutes or so, we had to clamber over peoples' seats and heads to get out of the back. The bus waits for no one in Sri Lanka.
The Airbnb was nice enough aside from the odd cockroach in the bathroom. There was an armed guard stood outside all night and we weren't sure if that made us feel safe or not… We spent the night at a beachbar in Unawatuna but it was way more expensive (£4 a cocktail?!) there due to the more up-market nature and touristy vibe of Galle/Unawatuna. Stay late at your own risk as some locals ended up getting uncomfortably friendly with some of the female members of our groups… The next day we walked to the Japanese pagoda (great views of Galle) and then to Jungle Beach. Jungle beach itself is a small and secluded beach surrounded by rainforest and only accessible by foot. There was also a great restaurant there right on the beach that made for a great afternoon. The next day, we re explored Galle, relaxed on the beach there, checked out the shops, before getting a bus back to Ambalangoda.
I'd definitely recommend spending at least a couple of days in Galle and its surroundings. The city itself is amazing to look round and the beaches in the south of Sri Lanka are generally sandier and calmer than those on the west coast. However, if you're on a tight budget, try to avoid the commercialised beach bars on the coast of Unawatuna, as there are off licences scattered around Galle's suburbs.
Weekend Trip 3 : Yala and Sigiriya
---
Our final weekend trip took us back into Yala national park, and Kandy. The Elephant sanctuary/reserve in Kandy has so many elephants compared to the Yala national park safari, so much so that at one point our jeep was surrounded by 30 odd Sri Lankan Elephants.
Sri Lankan Elephants in the Kandi
The next day we climbed Sigiriya aka Lion Rock. Lion Rock comes at the top of many lists of "top things to do in Sri Lanka" and it is 100% justified. Built in the 5th century, the remains of an ancient palace lies at the top of this huge monolithic rock pillar. Surrounding the rock are ancient water gardens and irrigation systems, and we saw a couple of snakes so beware if they're not really your thing. The rock itself takes the best part of an hour to climb, dependent on queues and heat. We climbed the rock early in the morning before it became unbearably hot and busy, but we saw as we were leaving the queues were getting longer, and the sun stronger, so I'd definitely recommend this as an early morning or late afternoon trip. The view on top of the rock are incredible, and stretch for miles across the flat plains of Yala.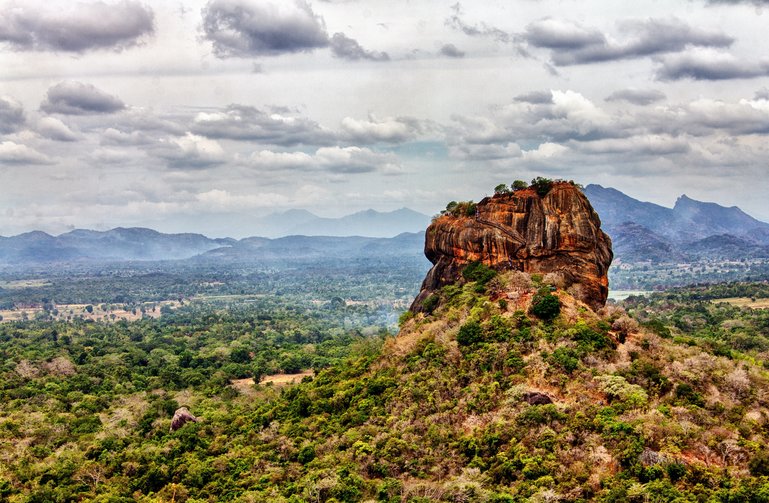 Sigiriya aka Lions Rock
After that we went to the New Rewali Spice Garden/plantation on the outskirts of Kandi. A man there offered to diagnose each of us after just holding our wrists or feeling our feet which seemed a bit suspect. He recommended a suspiciously expensive herbal remedy to permanently cure hay fever, so take from that what you like.
Next day we went to temple of the tooth in Kandy. Kandy is meant to be the cultural epicentre of Sri Lanka, and the temple of the tooth is the cultural hub of the city. It is said to house the relic of the tooth of Buddha. It may have been that we took this tour on a holy festival day, but the whole temple was rammed full, and didn't really have any shade. We didn't really get to see the tooth itself, and were ushered through the temple by attendants who wanted to get us out as quickly as possible. On a quieter, cooler day, this could have been a great experience, but I'd definitely recommend that you don't visit this temple on a holy day otherwise you won't get a chance of seeing anything.
Also, not that if you go to The Temple, they won't let you in unless you're covering your shoulders and knees. Generally, if you're a guy, temples in Sri Lanka are pretty relaxed with you wearing shorts and a shirt. However, Temple of the Tooth, because of its religious important, are less lax with their rules and won't let you in unless you're strictly following the dress code. After the temple, there's a large market in Kandi that's busiest on weekends, and sells herbs, souvenirs, and Sri Lankan clothes.
Summary
---
All in all, Sri Lanka was an incredible experience. Staying in a volunteer house allowed us to meet some amazing people, whilst the volunteering itself was very rewarding and fun. I've spoken with many people who started their travelling experience with a brief volunteering stint, and all have agreed that its a great way to get used to living out of a backpack, without the danger of having no safety net. Socially, don't come to Sri Lanka expecting to get a Vietnam experience with easy to access gap year travel facilities and established hostels on every corner, instead, the country is more authentic, and requires some improvisation and perseverance to get around. Likewise, there isn't a massive clubbing scene or fully stocked off licences on every corner. However, the country makes up for this with an incredible cultural scene, and insane natural beauty.
Sri Lankan people were laid back, friendly, and useful, although in touristy areas it's always good practise to be alert for people trying to get you to pay too much for tuktuks or other basic services. When you speak to older people who took gap-years 30 years ago or so, they often talk about how back then backpacking in Vietnam was raw, authentic, difficult, and new. In many ways, I think that Sri Lanka today offers a similar kind of experience to Vietnam 30 years ago. Instead of huge mad monkeys hostels on every other corner, you instead see local home-stays and small independent hotels. It's not yet a fully established commercialised backpacking trail, but if anything that is its most special element.