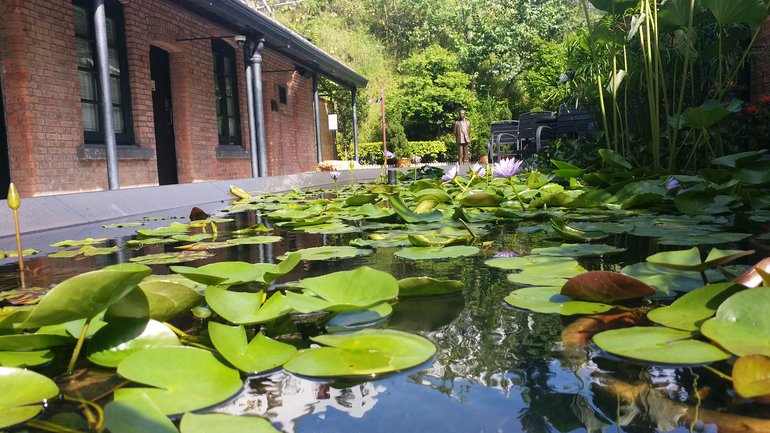 I discovered that the photo I took is pretty similar to the one on the brochure
What is it all about?
---
Jao Tsung I Academy is a historical site located at Lychee Corner (Lai Chi Kok) which is a quite dense residential area. The historical sites was used in public service by the local government in Hong Kong i.e. hospital, customs station, dwelling for Chinese labourers, quarantine station, prison, an infectious diseases hospital, and a psychiatric rehabilitation centre (Reference: Jao Tsung I Academy).
What to expect during your visit?
---
This place has permanent exhibition, special exhibition, eatery and sourvenir store. Please check their official website for the opening hours and what's on for their exhibitions as their opening hours and things may change by time to time. Since this academy showcases stuff rich in Chinese culture, they won't miss out having a Chinese tea place. In my opinion, the main role of this academy is the story of Chinese characters. If you are really interested in the development of Chinese characters, the exhibition hall next to the restaurant is the place. Vendor machines are also found around the corner. There are plenty of seats available to reward for your exercise by walking the stairs!
What is the opening hours?
---
Literally, you can visit there any day you wanna at a specified time frame. This structure is opened in between 8 a.m. and 10 p.m. However, opening hours of the exhibition halls may vary. So, it is better to check out their official website or contact them directly by either email or landline on (852) 2100 2828 to find out more.
How to reach there?
---
There are three best options: (1) Bus (2) MTR (3) Taxi. the best possible way I found is to reach there is MTR. However, it may be convenient for you riding a bus (31B / 32 / 35A / 36B / 40 / 240X / 270B / 272E / 286C / 286X / N237) but depend on your current location. Actually the bus stop is just located opposite to the academy. If your current location offer you the close proximity to the bus number you are on, you hit the jackpot! The problem of walking from Mei Foo MTR Station Exit A to this place needs approximately 20 minutes walk. When you walk from Mei Foo MTR Station, a crossroad to the bus terminus on your left is our first checkpoint. The next checkpoint will be on your left again where you can locate the entrance of a bridge. Afterwards, we won't get lost as the direction signs on the bridge is provided. Just to mention that there is an interesting relics of the academy you are going to visit. It is situated opposite to the bus stop. Once you cross the road to the opposite side and you will find the entrance of the academy!