After attending my first destination wedding as a guest, I realized there were many things I didn't consider before leaving! I was traveling from New Jersey, all the way to Nosara, Costa Rica. Nosara is a small surf town, made up of dirt roads that lead to boutique hotels and homes. It is such an amazing place, but because of how different the culture is from my home, there was no option to run to the store to quickly pick up a the things I forgot! So much more goes into a destination wedding than a wedding at home, so I hope these tips help you when you're prepping to travel for a wedding!
Sunset in Nosara, Costa Rica. Seeing this view each evening made me forget about anything I may have forgotten to bring with me! Destination weddings are a time to enjoy your family and friends in a beautiful place. Don't stress too much!
1.
Leave the gift at home!
- Send a card in the mail when you get home! This way, that valuable gift won't get lost during travel and your newlywed family and friends will have less to carry home!
2.
Consider the weather of where you're going!
- I didn't consider that Nosara would be such a hot & humid climate, so my dress of choice may not have been the best! I wore a stunning convertible maxi dress that would have been perfect... if it wasn't so hot! The dress was made with a lot of extra material that made it quite heavy, and extra hot! For the next tropical wedding, I'll choose a dress with a short cute, or one that's made of thinner material!
3.
Bring an extra dress option, and pack it in a second suitcase!
- It's always nice to have an extra dress option when you wake up the day of the wedding. Pro-tip: Pack two dress options in two different suitcases/bags. This is a great way to make sure that your wedding attire will make it to your destination, even if one of your bags is misplaced during travel!
4.
Don't forget a purse/clutch to carry with you to the wedding!
- While packing my bags for a wedding in Costa Rica, I brought a beach bag and a bag to carry around with me during day trips, but I forgot to bring something a little bit nicer to carry to the wedding! I ended up borrowing one from the bride herself, LOL! This is definitely on my packing list for my next destination wedding!
5.
Clothing steamer!
- It's never a good feeling to put on a wrinkly dress or suit while getting ready for a loved one's wedding! And at many destination weddings, running to the store to grab a cheap steamer isn't an option. I recommend bringing a small, packable streamer or calling the hotel prior to your trip to see if they have one for you to borrow! If you're traveling with a small group, chat with them about bringing just one for everyone to use! Take turns using it to prep your clothes in the days leading up to the wedding. This way, everyone won't be looking for it on the wedding morning!
6.
Consider the other events happening during the wedding weekend!
- Typically at destination weddings, there are other fun events going on throughout the weekend! Remember to pack extra cute outfits for any rehearsal dinners, welcome parties or post-wedding brunches!
I hope these tips will help you prep for your wedding travels and be prepared when you arrive at your destination! Most importantly, try not to stress! In every group, someone is bound to forget something. Don't worry! Check in with other guests to see if it's something you can borrow... ps, aunts are great at having everything you'll need and then some!
Weddings are meant to be fun, stress-free and happy! Although prepping and having all your accessories is great, you'll have an amazing trip with your family and friends even if you forget your evening bag or if your dress is a little wrinkled.
Safe Travels!
xx Kelee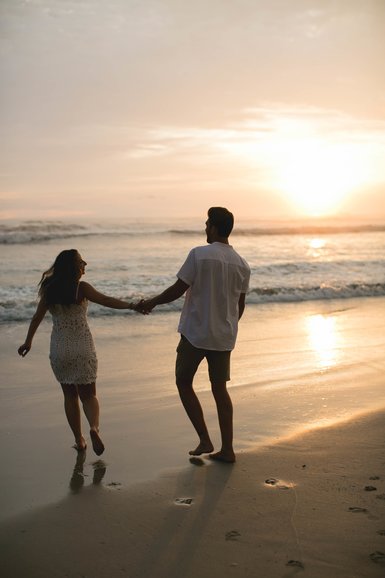 The happy couple on the beach in Nosara! This is what destination weddings are all about!