If you are traveling thru Serbia, don't miss to visit and explore Subotica City. This is the place where I was born and raised. Very charming and welcoming, with a lot of history. In the beginning of the 90's, Serbia ( the former Yugoslavia ) went thru a lot. I really don't want to get in to details about the war. I would like to introduce my Country beautiful as it is.
So many places to explore in the City and around it.
You will find cafes, pastry shops, museums, and Lake Palic, which is just 10km from Subotica City. Also, the World famous Palic Zoo. This Zoo has the most prettiest landscape: Ponds, Fountains, and more than 270 species of trees.
Summer time and early Fall is the best to visit Subotica. So many activities and festivals to choose from. Palic Film Festival is a very popular among the visitors. Then there is the Etnofest a multicultural project which brings together very talented musicians and artists from all around Europe. I had a chance to attend the festival and it was an unforgettable experience. At the end of August, their will be a huge and significant celebration; the Harvest Festival called Duzianca. It is a very old tradition, when farmers will bless the wheat. Locals will wear national attire and walk around the City. This is a whole day ceremony.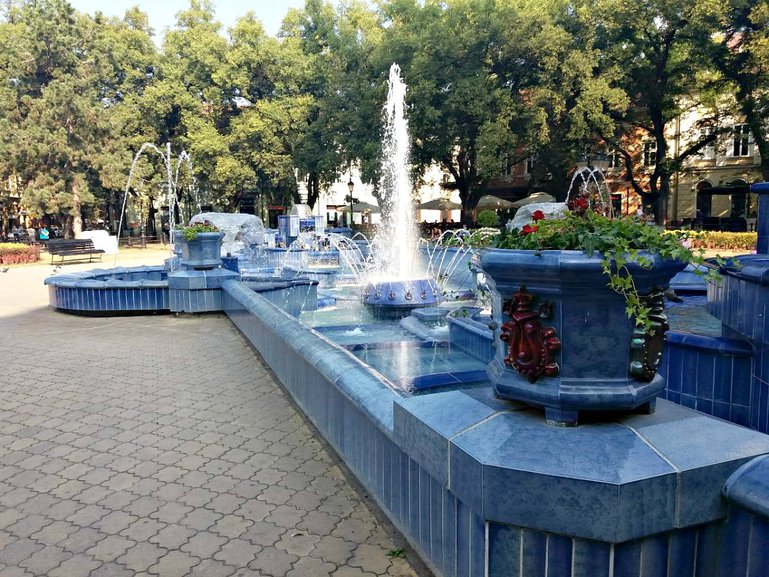 Blue Fountain in Subotica
If you arrive with only one back pack, no problem. With my last visit, I found out that you don't really need to bring 3 luggage. I found bargains all over the City. Small bazaars and markets offer everything. Also the food and to dine out is very cheap. Delicious food all over. Don't miss out on the famous Burek for breakfast. Local bakeries offer this amazing treat. It is a baked filled (cottage cheese, cherry, apple, meat filling) pastry. Actually you should try all the goodies what bakeries offer.
Lets go to the the Cafes! You are going to find all kinds of coffees and delicious cakes, cookies and ice cream. As for dining out, pizzerias' are very popular among tourists.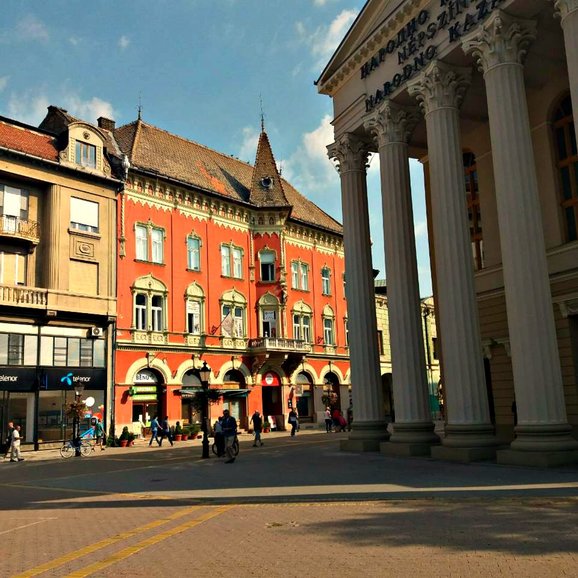 Downtown Subotica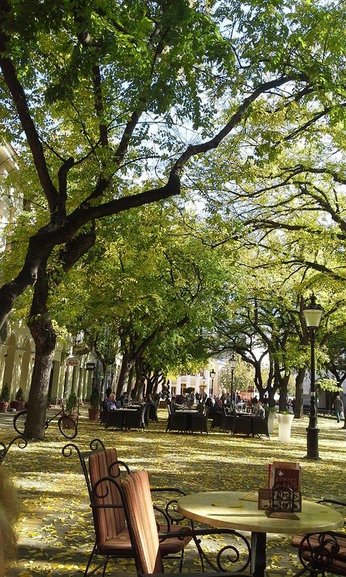 Cafes in Subotica
If you are looking for accommodations in the City, there are few hotels to choose from. Hotel Patria is the most famous. If you want to stay at the lake, they offer rooms for rent or you can stay at Hotel Park. I hope you enjoyed my brief introduction and will find some useful tips when traveling to Serbia.