Socializing
---
If people already know each other, they shake hands or kiss, often three times on alternate cheeks.
A Short List Of Useful Serbian Phrases
Zdravo - Hello
Da - Yes
Ne - no
Dobar dan - Good afernoon
Dobro veče - Good evening
Dobro jutro - Good morning
Hvala - Thank you
Doviđenja - Goodbye
Laku noć - Good night
Drago mi je - I am pleased
Izvinite - Excuse me
Gde je? - Where is?
Kako ste? - How are you?
Gospodin - Mister
Gospoda - Misses
When people are introduced, they shake hands and say their first name or first and last names, followed by Drago mi je ("I am pleased"). If people already know each other, they shake hands or kiss (often three times on alternate cheeks) and say Zdravo ("Hello") or Dobar dan ("Good day"). In greeting an older person, a younger one must stand. Men always stand when greeting women.
Adults are addressed by titles and their last names. Gospodin ("Mr."), Gospodja ("Mrs."), and Komšija ("Neighbor") have reemerged to replace "Comrade." Tetka ("Auntie") and Cika ("Uncle") are reserved for older people who are not family but for whom Gospodin and Gospodja are too formal. Except among close friends and family, people are never referred to by their first name.
Serbs Are Quite Open In Public About Their Emotions And Views That They Hold Passionately
People spend a lot of time visiting and entertaining. Sitting for hours over cigarettes and a cup of coffee or some rakija (an alcoholic drink usually made from plums) is common. Serbs are quite open in public about their emotions and views that they hold passionately. Most visits are informal and unannounced or prearranged only a short time in advance. Guests often bring small gifts, such as coffee, wine, or a bottle of hard liquor. If you are visiting a Serbian friend the first time, such a gift is usually expected.
If You Are Invited To Lunch Or Dinner In Serbian Family, Be Ready To Eat More Than You Can 😊
For Serbian hosts, it is important to offer more food to guests that they can eat. This is a sign of hospitality and wealth. You will be offered food consistently during the meal, and it is a custom to decline before accepting. If you decline once or twice, many hosts will not press you further. But they will expect you to finish all of the food on your plate. Meals are times for conversation and social interaction.
Serbs Like To Watch Tv With Friends And Family. The Most Popular Sport Is Soccer.
Socializing with family and friends and watching television occupy a large part of people's leisure time. In small towns, many people take an evening stroll along the main streets.
Music is popular, with folk music (narodna muzika) being especially favored in rural areas. Urban cultural events are relatively inexpensive and well attended.
Soccer is the most popular sport, followed by basketball, volleyball, swimming, and skiing. Some people enjoy boating and fishing on lakes and rivers.
Musical Tradition
---
Because Of The Turbulent History Of The Balkans, Serbian Music Reflects The Merging Influences Of Surrounding Cultures
Throughout history, Serbia has been exposed to shifting patterns of migration. Its distinctive music, therefore, reflects the merging influences of surrounding cultures. This example features a Serbian brass band playing a kolo — a lively folk dance performed in a semi-circle. The dance is related to other line dances found throughout the Balkans.
Kolo – Traditional Folk Dance Was Inscribed In 2017 On The Unesco's Representative List Of The Intangible Cultural Heritage Of Humanity
Throughout Serbia, music is crucial for the celebration of public and private rituals. Weddings are particularly important family events where each stage of the celebration is commemorated by a special kind of music. Kolo is an important dance at every Serbian wedding. It has been dancing as an upbeat circle dance characterized by intricate footwork.
It is a traditional, collective folk dance performed by dancers who are interlinked to form a chain, usually moving in a circular line holding hands with their arms down. It is performed to the accompaniment of music at private and public gatherings and involves all members of the local community. Kolo has an important integrative social function, fostering collective identities at different levels in the communities. It is a symbol of national identity and bears the hallmark of local and regional communal identities. Bearers and local communities ensure its visibility by organizing local, regional and national fairs, festivals and competitions, and the sustainability of the practice is also ensured by cultural and artistic societies. You can find more about kolo on UNESCO'S website.
Trumpet Is Very Popular Across Serbia. It Is Reflecting The Passion And Strong Feelings Of Serbian People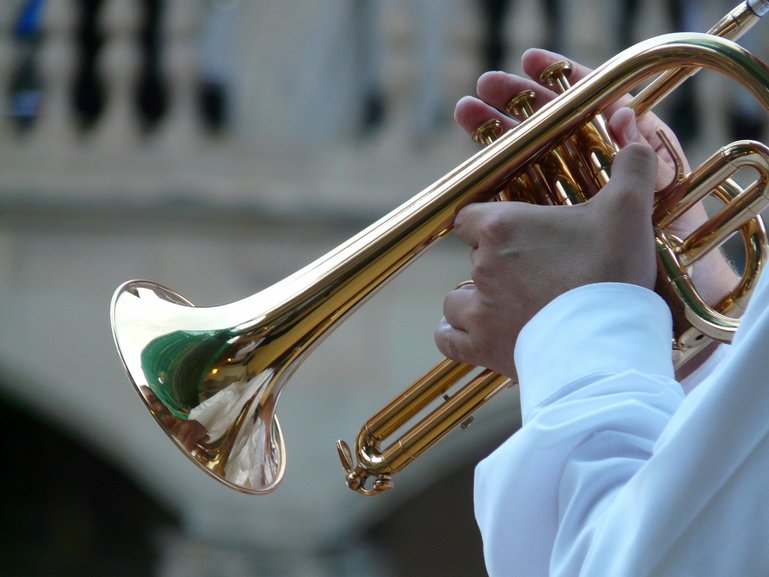 Serbian trumpet
Brass bands originating in western and northeastern Serbia have become nationally popular, largely supplanting traditional instrumental ensembles. These brass bands typically play a mixture of contemporary pop tunes and regional favorites such as the kolo.
The trumpet is in the blood of Serbian people. It truly reflects the wealth of our wide Slavic soul, which is as wide as the sea; the passion, strong feelings which inspire and torture, enchanting ethno music that the Serbs were born with, get married and die.
The biggest brass band event in the world the Guca Trumpet Festival is a 5-day annual festival that held every August with 300.000 visitors in small town Guca, in Western Serbia. Besides trumpeters, there are folklore ensembles and singing bands.
During the trumpeters' competition, people sing, dance in wild rhythm, perspiring as if they were born again! While red wine is drunk under multi-colored tents, all night long, roast meat is turning on the barbecue, restless trumpeters play magic rhythms from the bottom of their hearts, in the delirium of music that makes you get on your feet and lose your mind.
Music In The Northern Part Of The Country Is Characterized By The Popularity Of The Tamburitza
While the contexts for music-making are similar throughout Serbia, regional styles of Serbian folk music sound quite different—a reflection of complex and divergent social and cultural histories. Music in the northern region of the country (Vojvodina) is characterized by the popularity of the tamburitza, a string instrument similar to a lute but with a flat back and long neck.
Tambura orchestras frequently accompany dancing, a role formerly fulfilled by the traditional Balkan bagpipe known as gajde.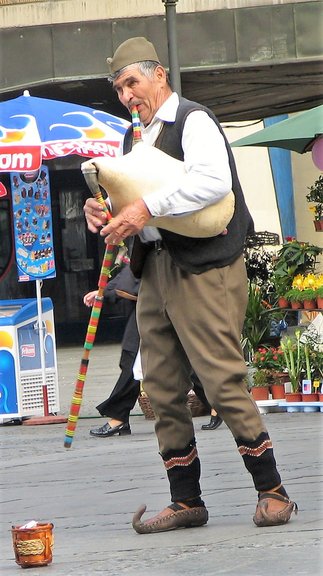 Gajde
Gusle – The Traditional String Instrument Was Inscribed On The Unesco's Representative List Of The Intangible Cultural Heritage Of Humanity In 2018
Music of Western Serbia includes two-part singing with a distinctive style of harmony in which two notes that sound very close to each other in pitch are sung simultaneously. Singers take turns pausing for breath so that long melodies sound uninterrupted. The singing of epic tales, accompanied by the gusle, a single-string fiddle, is also popular in this region. The long melodic lines and elaborate ornamentation of love songs in Kosovo and southern Serbia reflect the influence of Muslim vocal styles introduced by the Turks, who ruled from the 14th to the 19th century.
Singing to the accompaniment of the Gusle – a simple string instrument – is an ancient art of performing primarily heroic epics practiced for centuries as a form of historical memory and an expression of cultural identity. Performances involve a complex form of interaction between the audience and performer and are based on the skills and creativity of soloist artists (guslars): the guslars' ability to dramatize poetic content, body language and charisma are key for successful performances. The repertoire includes songs predominantly about mythical and historical heroes, events from the legendary past, ancient or recent history, and, less commonly, ballads and humorous songs. Stage performances take place locally, at festivals, and as part of commemoration practices. You can find more about gusle at the UNESCO'S website.