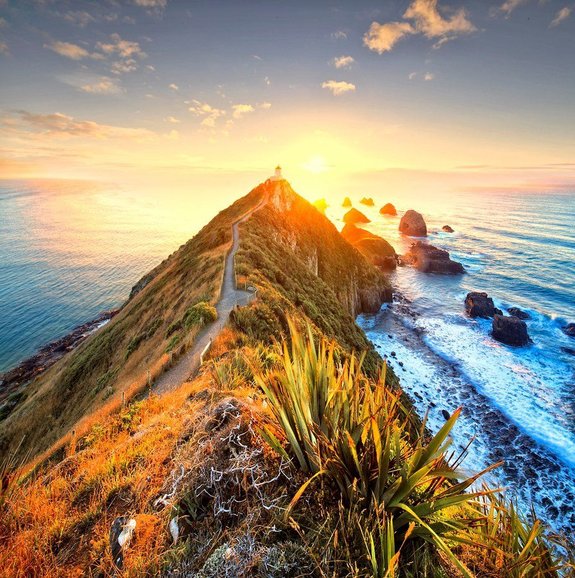 Nugget Point Lighthouse
New Zealand has been one of the world's leading tourism destinations for several decades now; we have sold ourselves on our beauty, our 100% Pure brand, our exhilarating and world-leading adventure activities and in more recent years, our award-winning wine and food industries. We've mastered the art of reinvention, continually finding new and innovative ways to pull the crowds, but what's next? It's a question everyone in the local tourism industry is often asking themselves and I've also been giving it a bit of thought. Let's consider why so many people flock to our little piece of paradise every year and that's basically it – it's a little piece of paradise! It feels a world away from the trouble and strife which seems to dominate global headlines; couple that with our usual USPs (Unique Selling Points) – natural wide-open, peaceful landscapes and our renowned outdoorsy and healthy lifestyles then we might be onto something!
Known for breathtaking scenery
---
Of course our stunning natural scenery has been a big selling point for years, long before Sauvignon Blanc and AJ Hackett hit the global headlines, and with a little help from our wonderful film-making friends those seeking the great outdoors will always continue to flock here but it's also interesting to assess how these unique qualities could draw in a whole new market. Health and wellness and yoga retreats have long been the domain of our Asian neighbours with renowned centres in Thailand, Indonesia and India but New Zealand certainly has all the qualities to compete in this market and one could argue we have more of the 'get away from it all' environment than any of our competitors.
Surrounded by natural resources and a carefree environment
---
I appreciate it's something we have been dabbling in for a while. We have long extolled the virtues and health benefits of our thermal springs and volcanic mud pools and at least one NZ yoga retreat has made it into Conde Nast's Top 10 but there is certainly an opportunity to do more than simply dabble. New Zealand is an isolated country whose wildlife developed over millions of years, and fortunately, it did not develop any plants or animals that pose a danger to humans. This means there are no lethally poisonous snakes, scorpions, or spiders—or any other dangerous animals or plants—on the island. It makes the outdoors that much more appealing to our visitors.
World leader in fitness trends and outdoor activities
---
So let's dig a little deeper. New Zealand also has a reputation as a world leader in health and fitness techniques (think Les Mills). Our fitness industry leaders have been talking for some time about the growing trend of integrating mind-body techniques into everyday fitness activities and if you start to piece all of these things together it's easy to see how New Zealand could easily become one of the world's best health and wellness tourist destinations. A mindfulness program to teach our children at school how to Pause, Breathe, Smile is being introduced by the government. One of the other great things about incorporating yoga and other mindfulness activities into a holiday is that it can be done just about anywhere and, with New Zealand's growing multi-cultural make-up, more and more yoga and wellness instructors are descending on our shores ready to share their techniques and knowledge.
Amazing luxury wellness and eco retreats
---
Located high on a cliff face overlooking a golden beach, Split Apple Retreat has mastered the art of wellness – a fitting accolade that sees them bestowed with awards from Condé Nast Johansen and the Spafinder Wellness Travel Awards. Aro Hā Wellness Retreat is a purpose-built luxury health and wellness resort located near Glenorchy on the beautiful Lake Wakatipu (a Lord of the Rings film location), winning the 2017 Golden Panther award. Resurgence Luxury Eco Lodge is an ideal place to escape for nature lovers. The lodge was voted one of the world's 25 best eco-lodges by National Geographic Traveler.
Wellness and food go hand in hand
---
Fresh food and fine wine are essential ingredients in a New Zealand experience. The country's rolling pastures, ample rainfall and isolation have always produced plenty of seasonal produce and the traditional food culture – and with ethical chefs and organic retailers who have changed the way the country thinks about food, we are embracing clean eating.
New Zealand has the perfect environment for those wishing to get away from it all, to unwind and be mindful. We've already covered the wide-open and peaceful landscapes which are ideal for moments of reflection and mindfulness, if we then couple that with luxurious places to stay, many of which are nestled deep within these stunning landscapes; an abundance of fresh, natural produce; and any number of other outdoor-based fitness activities, and it lends itself to the perfect health and wellness holiday.