There are people who travel for adventure. We don't. Nevertheless, when you travel, adventures may find you. Here are some of our adventures.
Flying home from Nairobi to NYC, one engine on our 747 airplane exploded over the middle of Lake Victoria. We made an emergency landing in Dakar, whose runway was to short for a 747. Being as how 747s never stop at Dakar, the air plane held more people than the terminal. This was a problem because a Visa was needed to enter Dakar and nobody had a Visa to enter the country because we were on a 747 and 747s never stop at Dakar.
In making the emergency landing at Dakar, our 747. in order to stop on a runway that was too short for a 747, the pilot slammed on the brakes which blew out the over heated emergency relief value on half the landing gear tires. After the maintenance crew reinstalled the emergency relief plugs in the tires, they had to inflate the flattened tires. The only air pump in the country powerful enough to inflate a 747 tire was bolted down to the port dock in Dakar.
Two weeks after Arab Terrorists shot up the El Al desk of FRA, we were leaving FRA for home when the captain announced, "there is a bomb threat. Evacuate the plane immediately" The emergency chutes exploded. Passengers side down them." We mere in seats A1 and A2. The jet way was still connected, so we strolled into the airport.
I locked the keys to our rental car in the car (always ask for two sets of keys at the counter) in Jerome, AZ. Jerome is a Ghost Town. Nobody lived there.
I met Soviet Premier Gorbachev one night on a dark street in Austria. He was polite and friendly, speaking excellent English. His two body guards were hulking, silent brutes dressed all in black.
A real life James Bond offered to buy me a drink of Scotland's best Scotch if I promised I would drink it. Of course I did. Try Bell's Original.
A Soviet spy shared a KGB military secret with me-- Americans, can fly fighter jets across the ocean by refueling them in the air!! Who knew? The KGB did.
We traveled a lot in the Alps where we quickly learned that real bargains existed by staying at ski resorts in the off season (spring, fall , summer), especially at smaller family owned and operated hotel restaurants, often called pensions. Staying in one such in Austria, went down for dinner, and the dinning room was empty. except for one table where the proprietor and his family were gathered around a pile of birthday presents and wearing party hats. The proprietor hurried over and explained, as we were the only overnight guests, they were really operating the restaurant, but he had provided for us to join the family in the celebration of a daughters 16th Birthday. It was fun, with a good home cooked Austrian meal from Mom.
Same setting high in the Swiss Alps. Bunch of rowdy noises from below our room at 1:00am. I called the desk. Many apologies and promises it would be over soon-- it was wedding reception. A few minuets later, the phone rang. It was the desk. The desk said the party apologized and invited us to join them. So we did. Pulled sweater on over our pajamas and went down to join the party for a couple hours. Again, much unexpected fun with the natives. Can't remember the bride's name.
Hotel on the beach in Africa and flight home on Pan Am. A few hours out of Dakar, she said, "I'm cold. Get my sweater down (out of the overhead storage bin). I looked. No sweater. She cursed, and said "I left it in the hotel." Why not? I called the stewardess, told her spouse left her sweater in the hotel. The stewardess said, "give me your home address". Two, there weeks later, the sweater arrived in the mail. From Africa. And that kiddies, is what air travel was like before the Republicans ruined it with deregulation.
I wandered into a local dive one weekend in Germany where the locals were packed in drinking beer and lustily singing German Folk songs. One of the locals spotted me and invited me in to share their table. With careful, astute observation of what the natives sang when singing native folk songs, most of whose melody was familiar, I quickly mastered the skill of singing German Folk Songs-- all the words are la-la-la-la-duh-la.
How I met a Soviet spy, and its strange consequences. It was known in the crowd I was in that I was the only American. At one point, a guy came up to me and said, in impeccable English, "Excuse me. Are you really an American?"
I showed him my passport. He said, I'm a Soviet Military intelligence officer, but you are the first American I have ever met. May I touch you?"
The Abu Simbel Temple is one of the great sights of ancient Egypt. Its isolated, in the desert near the souther boarder of Egypt. Our tour flew us to the Abu Simbel airport where we got on jeeps to cross the desert and descend the cliff down to the west bank of the Nile to se the temple. Returning to the airport, we learned the air plane that was supposed to come from Cairo to pick us up for the return had mechanical problems and would be at least four hours late. I'm no dummy when it comes to dealing with travel problems, so I immediately headed for the terminal building, which was about the size of our living room and its only contents was bar, bought 4 beers, and found a spot for two to sit on the floor in the shade. Good thing. The delay turned out to be six hours and it took only a half an hour for beer to sell out at the bar. Sitting on the floor of the bar nursing our beers, our only entertainment was watching scorpions scurry across the floor and trying to predict if they mould sting anybody or not-- not was the answer.
You want a real adventure? Take a taxi in Cairo.
Took a Vantage River cruise. Did my own air since it was more than $1,000 cheaper than Vantage air was. So I had to pay Vantage an extra $120 for airport pickup and delivery to the ship. On landing at FRA, I wont to the designated spot where I was supposed to be met by Vantage. Nobody there. I waited 45 minutes. Nobody showed up. I had the EU phone number for the ship and cell phone that was supposed to work in the EU. It didn't call the ship. It didn't work I got creative. I called Latvia and through Latvia called Vantage in Boston, MA, USA, and Vantage in Boston connected me to the ship. Ship said, "You are not on our list to pick up at FRA. Its up to you to get here. If we made a mistake (which they did) we will reimburse you for what you spend to get here (which they did).
To understand what came next, a little back ground is needed. Travel companies lie. They lie a lot. Sooner or later they lie about everything. An example: Oceania said they stop at Ephesus in Turkey Ephesus is 6 miles inland. The closest port is about an hour drive away. That's where the ship actually stops.
Viking said they dock in Trier. They didn't. They docked near a little town (45 minutes walk to get from the dock to the little town) which was 8 miles away from Trier.
AMA Waterways said they docked in Vienna. They didn't. They docked in a far suburb with no decent pubic transportation connections to Vienna. AMA Waterways did run a shuttle bus every two hours to one spot in Vienna.
With that background, I realized I made a mistake. If forget to ask FRA-Latvia-Boston- ship in Germany where exactly the ship was. I tried FRA-Latvia-Boston- ship in Germany again. No luck. I tried Germany to Germany-- FRA to the ship. No luck. Then I spotted a young lady in a Lufthansa outfit by a sign that said, INFORMATION. I told her my problem. She got out her German cell phone, called the ship and their best effort was to say they were docked near the Kennedy Bridge. Lufthansa lady told me how to use the train at the FRA train station to get to Bonn. I took the 180 mph train. Got in a taxi and the Bonn train station, and told the taxi driver, "I need to find a river cruise ship docked near the Kennedy Bridge. I'll know it when I see its name, and that's all I know." Had great chat with the driver and without too much trouble, we found the ship.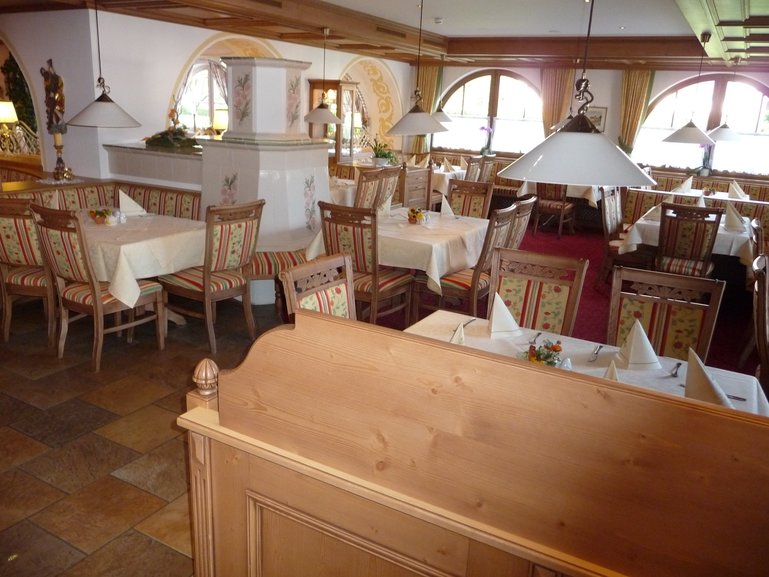 Family owned restaaurant/ hotel in a ski resort village of 7 buildings