Often called the "world's most dangerous road", the North Yungas road, or Death Road, was once the only way to reach Bolivia's capital, La Paz, from the surrounding cloud forest villages. What makes it so treacherous? Well, have a look for yourself: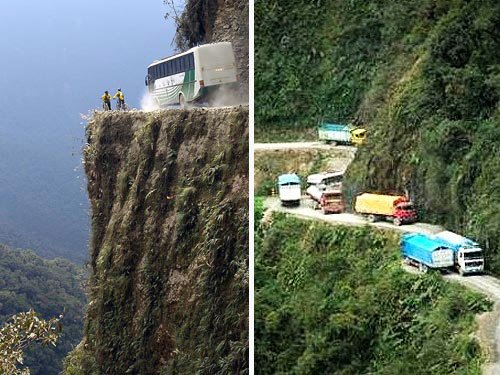 Death Road, La Paz, Bolivia
The road first climbs up to around 4650 metres (almost as high as the highest mountain in Europe), before plummeting a staggering 3km downwards into the jungle to the town of Coroico. And all of this goes on the tiniest sliver of single-track road jutting out from a sheer cliff face. Lorries, chunky 4x4s and minibusses all throw themseleves down here in a way that wouldn't suggest this road takes the lives of 200-300 people every year.
A mixture of danger and jaw-dropping scenery has made cycling this road a must do adrenaline rush for thrill-seekers. Many tour companies in La Paz, such as Barracuda and Gravity offer travelers the chance to tackle the 64km downhill bike ride down the mountain pass (yes, along with the lorries, commuters etc. although since an alternative road has opened up these are less frequent).
Having spent 6 weeks volunteering at an animal refuge at the bottom of the Death Road, I'd heard a lot of horror stories from the Death Road tour guides, as well as seen the refuge vets patch up a few broken bones. It seemed like the road really did live up to its reputation. I had to give it a go.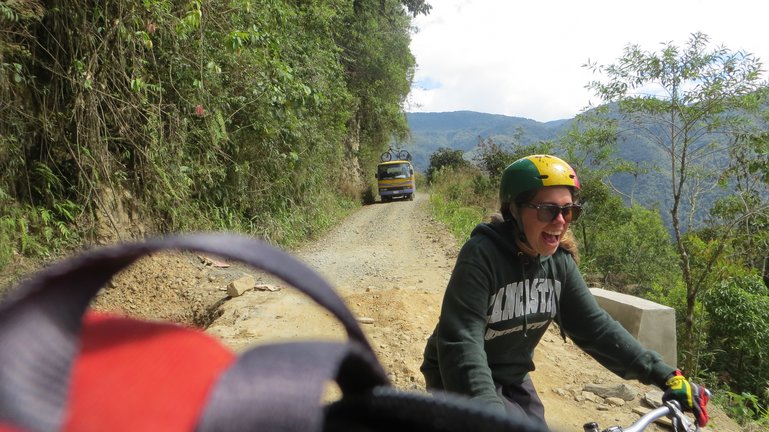 Me, cycling into Coroico, Bolivia, along the Death Road
One of the best bits of the Death Road cycle actually occurs before you reach the "Death Road-y" bit. You get dropped off at altitude sickness-inducing heights and get the chance to cycle as fast as you can down winding, perfectly tarmacked mountain roads. For me, this section of the adventure was more of an adrenaline rush than the classic Death Road cycle, but maybe that's because I wasn't expecting it.
In terms of the cycle itself, it's beautiful in a "how have i ended up here doing this?" kind of way. You're in this amazing place and your body's alive with a mixture of awe, concentration and fear. What's not to love? After the cycle, you can have a quick dip and some lunch before you drive back up the Death Road (or the other road, if you prefer, although it's only marginally better).
If you do the tour with the tour operator, Gravity, you get the chance to visit the animal refuge I mentioned, La Senda Verde, and have a tour of the monkey enclosure (which I highly recommend). If you're not heading to Bolivia anytime soon, I suggest you check out the road featured on the BBC TV show Top gear: Bolivia special.