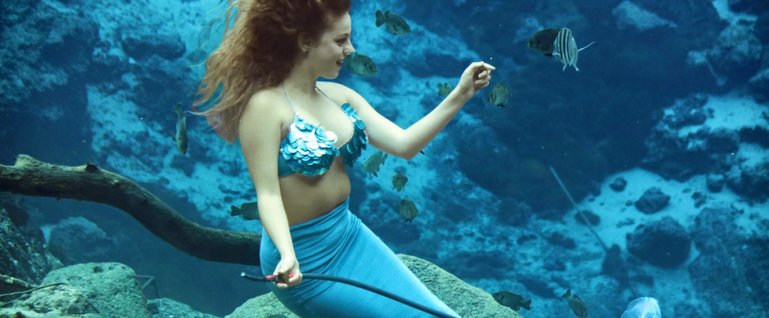 Visiting the Sunshine State is a fantastic experience.
From natural wonders to magical adventures, there is plenty to see and do in the Florida.
But I want to tell you about most exciting diving sites there:
1. Devil's Den
---
Scuba diving instruction and leisure are provided by this privately owned and operated facility near Williston.
There are 54 feet of depth and 120 feet of width in the cave.
Karst window allow the sun to shine directly through the opening above the cave, making it perhaps the most captivating view of all. Moss dangles down from the cave's roof, giving the cave an overgrown menacing appearance, but it fits the cave's character.
2. Dry Tortugas National Park
---
Snorkel in crystal clear waters with amazing marine life at a 19th century fort.
The secluded Dry Tortugas National Park is located nearly 70 miles (113 kilometers) west of Key West. With seven small islands, this 100-square-mile park is primarily open water. The park, which is only accessible by boat or seaplane, is famous around the world for its magnificent Fort Jefferson, beautiful blue waters, world-class coral reefs and marine life, and a diverse array of bird species.
3. Ginnie Springs
---
Ginnie Springs' water is incredibly clean, and the region is large enough that you can go camping and do other things when you're not on the water! Every day, it pumps out 80 million gallons of water.
Ginnie Springs is a popular spot for diving, but you will definitely need a wetsuit as the water is 72 degrees, which is very cold!
This place is a great place for scuba diving or exploring the caverns if you're an experienced cave diver.
Dive sites include Devil's Ear, Devi's Eye, and Devil's Spring here.
4. Neptune Memorial Reef
---
The Neptune Memorial Reef is located 3.25 miles off the coast of Key Biscayne, Florida, and will encompass 16 acres of ocean floor when completed.
Certified divers will be able to descend 45 feet below the ocean's surface to visit the final resting place of their loved ones among the structures of this one-of-a-kind artistic rendition of the Lost City of Atlantis. Non-divers can enjoy their journey over the serene waters of the Memorial Reef by snorkeling, swimming or scattering flowers in memory of their loved ones.
A expanding ecology of sea creatures unique to the Florida coast can be found on the Neptune Memorial Reef. Two of the reasons why Neptune Memorial Coral is the ultimate 'Green Burial' potential are the natural processes made possible by this reef and the minimum influence on the earth that placing here has. The structures of the Neptune Memorial Reef perform a crucial role as an anchor for coral growth at a time when reefs all around the world are dying. Coral is an important part of a healthy ocean since it provides not only biodiversity but also coastline protection, food and other resources for humans and marine creatures, as well as recreational opportunities.
5. Manatee Springs State Park
---
The first-magnitude spring produces 100 million gallons of water each day. This makes it a popular area to cool off and stare into the water's depths while strolling along the park's boardwalk.
Manatees, according to their name, can be observed in the cooler months, while birds, animals, and fish can be seen all year.
Manatee Springs is a great place to do scuba diving or snorkeling. The state owns this beautiful park, and if you want to scuba dive, you must present your C-Card at the entry. Without cave certification, no dive lights are permitted. A steep limestone slope lowers down to a cavern entrance at 40 feet in this huge basin, swiftly turning into a cave dive. Catfish Hotel Sink is 200 yards distant. Duckweed covers this sink, which contains a cave system that has been linked to Manatee Spring. The depths are usually approximately 35 feet.
6. John Pennekamp Coral Reef State Park
---
Pennekamp, John The United States' first underwater park, Coral Reef State Park, was established in 1963. The state park is 25 miles long and 3 miles wide, and it is home to a variety of aquatic plant and animal species, as well as mangroves and a variety of bird species.
The park can be enjoyed in a variety of ways. On snorkeling and scuba diving tours, visitors can see the brilliant coral reef and the popular Christ of the Deep underwater statue.