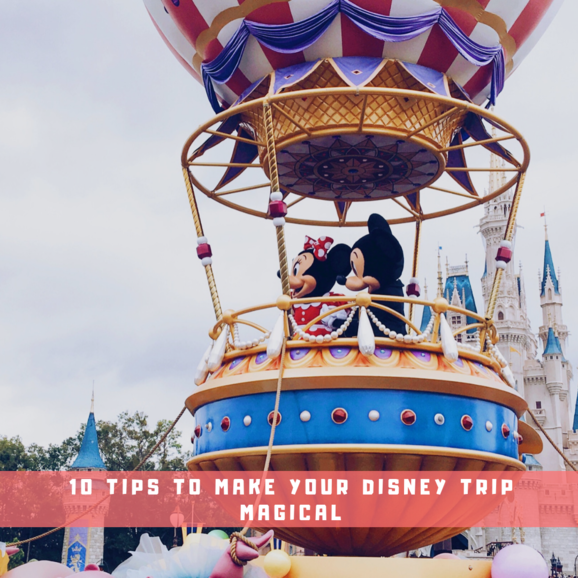 Visiting Disney World can be a stressful trip. It feels like there aren't enough hours in the day to go on every ride, see every show, and meet your favorite characters. When you're paying a lot of money for something, you want to make the most out of it. Here are some tips to make your Disney experience magical.
Download the Disney Experience App: This app will give you access to fast passes, dinner reservations, wait times, and maps of the parks.
Don't go during the summer: Standing in line and waiting in crowds isn't the best thing in the world. Adding hot weather can make it even worse. I've been to Disney in June and December. Going in December was the best decision I ever made. It was cooler and there were less people. Also, they had the Christmas decorations up!
Fireworks: Usually at the end of the night they will have a firework show. You will want to find a spot 45 minutes to an hour before the show starts. Once you find a spot, don't move from it. This is a good tip if you are in the park with smaller kids.
Purchase your tickets in advance: Purchasing your tickets before your trip can save you the hassle of waiting in line to buy tickets at the park. You will also be able to set up your fast passes in advance.
Get a Churro: This isn't really a tip. I just love them.
Plan: When you're going to Disney in a group, you'll want to make a plan for rides, shows, and meet & greets. You can get more done if you have a plan.
Portable charger: This is something I think everyone needs to have with them when going to the parks. It is VERY hard to find a plug. When you have a portable charger, you won't have to pause your day to charge your phone.
Get to the park when it opens: My family tried this when we went to Disney this year and we had more time to do more activities because we were getting on the rides so fast.
Go to the shows: This will give you time to sit and get some air conditioning. Also, all the shows are entertaining. (I recommend the "Bugs Life" show)
Day Bag: Now this item is going to be different for everyone. But it is a necessity. Do not tell yourself "Oh I'll just get it at the park." Items sold in the park are very expensive and you could save tons of money just by packing essentials into your day bag.
Do you have any amusement park tips and tricks? Leave a comment