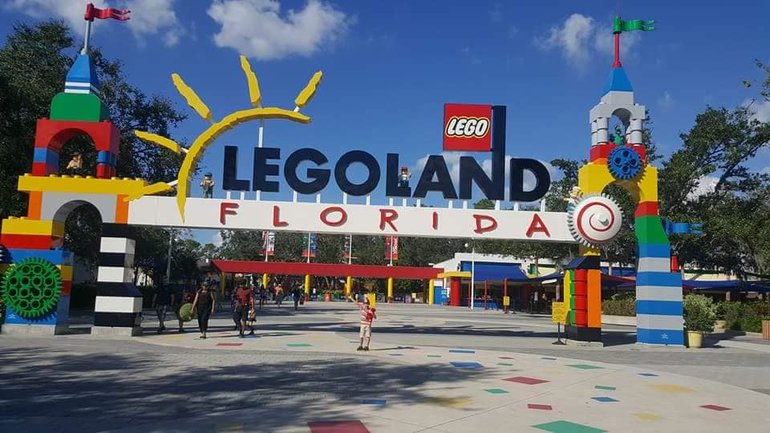 Florida Family Fun Travel visits Legoland Florida!
Having been to several other bigger theme parks here in Orlando previously, I was pleasantly surprised to find that all of the LEGOLAND Florida Resort from beginning to end was truly made with kids in mind! For example, in the event of long lines at some of the more popular rides, Lego tables and blocks sat waiting for eager children to play with while their parents waited nearby in line.
I also was thrilled to see an air-conditioned building that had a peaceful, LEGO DUPLO farm-themed indoor play area. There were many bench seats available around the play area so parents could take a few moments to rest or mothers could quietly breastfeed their infants while their older children played nearby.
My son enjoyed every minute of every ride and activity we tried and he excitedly participated in every activity he could. Walking through the resort was especially fun for him because knew the characters and their stories so it made each themed portion of the park even more interesting for his young imagination.
One of our favorites was a family relay race at the Lego firehouse. During the relay race, three or four families race each other to "drive" their fire trucks to the fire, pump water to the fire hose and spray the flames and then race back to the finish line for the win. We may not have won the race but we laughed so hard and had so much fun it didn't matter!
My son particularly enjoyed the Egyptian-themed area of the park called Land of Adventure (it was my favorite too!) We rode the ride The Lost Kingdom Adventure so many times I lost count. My son also played a rope-climbing game and won a red dinosaur which he proudly carried with him the whole day.
In addition to the rides, we were happy to see many other activities available for kids such as rock climbing walls, botanical gardens, LEGO building zones & creation stations, arcade games, playgrounds, snack stations and of course lots of rest areas for tired little legs too.
We saw families with children of all ages on many of the rides or participating in various activities throughout the park and everyone seemed to be having a fantastic experience.
At the end of the day we feasted on delicious mile-high ice cream cones and slowly made our way back to the park entrance. A free LEGOLAND firefighter hat was given to my son as well as all of the other children leaving the park that day and it was a precious sight to see so many little smiling faces happily walking with their families.
If you are planning on taking a family trip to Orlando, be sure to add LEGOLAND Florida Resort to your list of must-sees. You will find plenty to do at LEGOLAND Florida Resort and your day will fly by with more than fifty rides, shows and attractions designed for ages 2 to 12 to choose from. It's a great park for families and your little ones will have the time of their lives!