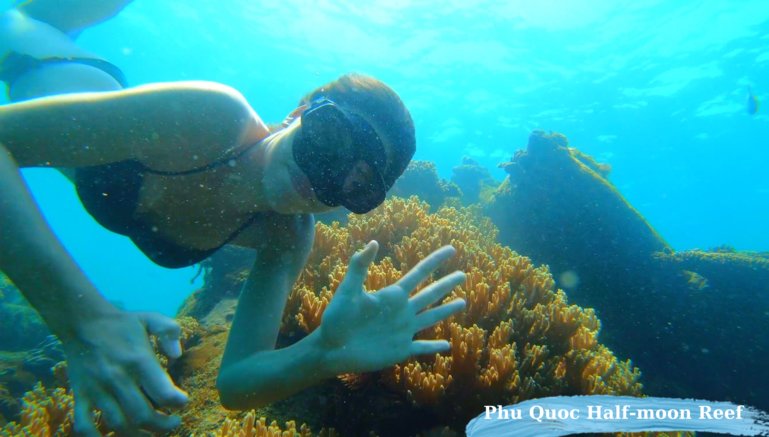 Half-moon Reef, Phu Quoc island snorkeling spot
Dăm Trong Island
---
Depth range: 0.5 m - 3 m
The coral reef closest to the An Thoi port, fringed Dam Trong Island (the location of Hon Dam Island Hideaway – a small private resort). The coral reef is shallow (0.5 – 3m) and large with many bushy and stony corals but not soft corals. Google Map
Roi Island (Hòn Rỏi)
---
Depth range: 0.5 m - 3 m
A small coral reef fringed the West-side of the Island next to on-sea Ngoc Hien Pearl Farm, there are big Pore corals and small anemone with Pink Skunk clownish there. The water in the dry season is very clear make good underwater visibility, but with very small area this coral reef is not so impressive.
Dragon Cape (Mũi Kỳ Lân), Hon Thom (Pineapple Island)
---
Depth range: 0.5 m - 6 m
Mui Ky Lan or Phu Quoc Dragon Cape is located in the Northern cape of Hon Thom which is the largest island among 21 small islands around Phu Quoc Island, the corals area is small with Pore corals and some Cactus Corals (Pavona corals), due to facing the East, the water is not so clear and wavy in the Dry season for Snorkeling.
Dam Ngang or Gam Ghi Island or Crystal Reef
---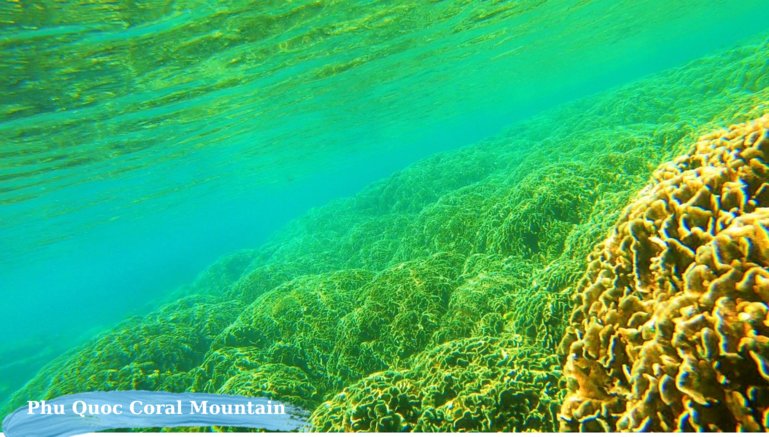 Coral Mountain, Best Snorkeling spots in Phu Quoc Island
Depth range: 0.5 m - 3 m
This fringing coral reef was praised as Coral Kingdom in South Phu Quoc Island, thanks to the shallow water (0.5 m – 3 m) and clarity, the coral reef has growth strongly but due to the impact by big wooden boats of overloaded tourists up to hundreds of peoples daily and the lack of preservation by the local government thereby Bushy corals (Accorpora Corals), Branching and Mushroom Corals are almost dead and damaged. There is a large grove of Pavona Corals known as Phu Quoc Coral Mountain which remains in good state of health.
May Rut Trong (Hon Vong) or Shallow Reef
---
Depth range: 0.5 m - 4 m
A large area of big Bushy corals and Pore corals and some Genus Stichodactyla (Anemone) and Octopus corals have growth along the the East side of the island. There are big groves of Bushy Corals with diameter of 3 – 4 m and some colonies of carpet corals.
May Rut Ngoai (4-Season Reef)
---
Depth range: 0.5 m - 4 m
At the North side of the island is 4-season Reef, because you can visit the coral reef at any time in year. The coral reef is about 1 – 4 m deep, with a lot big Pore corals and big bushy corals growing along the island along with Porites rus coral. No soft-coral here. Fortunately, you don't find too serious damage on coral here.
Kim Quy Island (Golden Turtle Island or Tortoise Island or U-Turn)
---
Depth range: 1 m - 12 m
Recommend activity: Snorkeling & Scuba Diving & Free-diving
With the depth of 1 – 12 m U-Turn is one of the most beautiful coral reefs in Phu Quoc Island, with both soft and hard corals with a medium-size fish schools. You find here Big brain corals, Big bushy coral, Fringer coral-covered rocks, Mushroom corals Large carpet corals, Montipora corals, large anemone capes, Porites rus coral with blue fish, sea-urchin…A world of corals. Its not always easy to explore U-Turn, you need a professional guide and good operator to know which is the best time to explore U-Turn. You could do both snorkeling & scuba diving and free-diving here. Please check out here
Half-moon Reef (one of the Best snorkeling spots in Phu Quoc)
---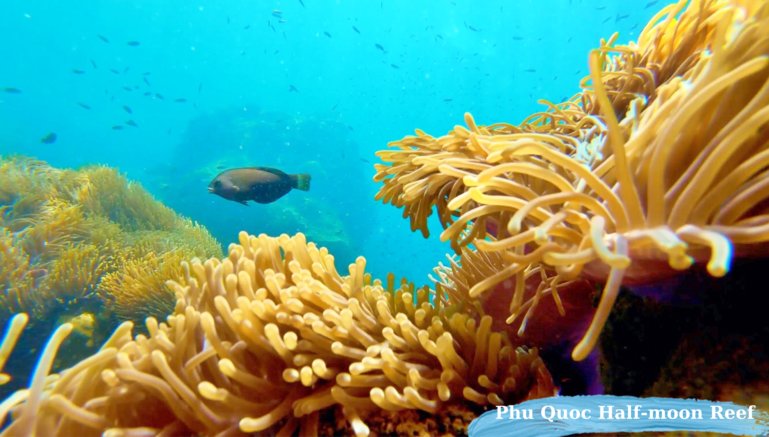 Anemone colony at Half-moon Reef, Phu Quoc Island
Depth range: 0.5 m - 8 m
Another beautiful coral reefs with the depth of 1 – 8 m. Possess a great diversity of coral species, protected in a clam water, you find here an amazing underwater terrain to explore: coral-covered cliffs, coral-covered canyon with Anemone ground and super big helmet-shaped stony corals. On beautiful days in the dry season, underwater visibility is about 6 – 7 m. An ideal place for free-diving.
Kho Islet (Hòn Khô)
---
Depth range: 0.5 m - 5 m
Very rare time to explore here, the islet is surrounded by hard corals, without any protection from the current, the spot is not recommended for amateur.