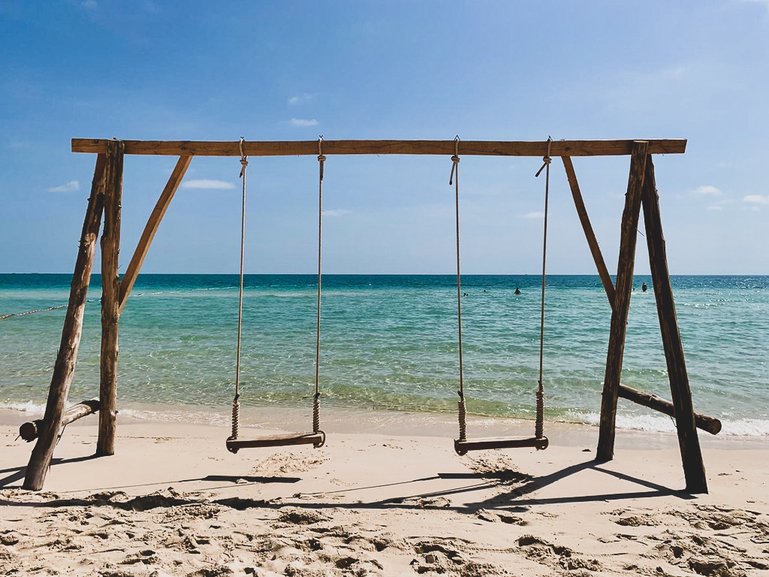 Bai Sao beach, Phu Quoc, Vietnam
Traveling can be addictive and honestly, I go crazy about almost every place I visit but this island blew my mind!
I suspect there are a few reasons to it - It is small, yet super lively; it has a very chilled and relaxing, yet vibrant atmosphere; serves mouth-watering food and has a captivating tropical charm.
As soon as you get to Duong Dong (the main town of the island), you notice that constant stray of scooters that are very typical for Vietnam, stalls selling fruits, and many local cafes offering those refreshingly spicy dishes seasoned with lemongrass, ginger, and basil.
Another huge plus would be that Phu Quoc is still a relatively unpopular or even unknown destination – not like Bali or Langkawi. So once the Covid-19 problem has been solved, why not pack your swimsuit and go to the place of sun, fun and yum?!
How to reach
---
Phu Quoc doesn't really have direct international flights connections, except for one from Bangkok, thus a change in Hanoi or Ho Chi Minh is required. Aim for at least 2 hours layover so you have time to pass through customs, get your luggage, and change to a domestic terminal.
As soon as you land in a recently renovated airport of the Phu Quoc, you immediately dive into a big bowl of people holding hotel name-tags, tourists looking for their hotel mini-buses, humid air spiced with black pepper, added touch of noise and all flavored with sunshine and the smell of the sea.
Once you arrived, you can take a cab or ask a hotel you will be staying in to send a shuttle bus for you. The price for a hotel service is about VDN110.000 per person (€5) and therefore, probably the most convenient way to get to your final destination.
Where to stay
---
The island is buzzing with all types of accommodation.
We chose LaHana Resort and it was fantastic! Highly recommended!
A couple of things that particularly stood out were:
It has a huge green territory full of flowers, banana trees, palms, and even ponds with fishes. It is right in the center of the main town, yet far enough to hide you from the traffic noises.
Their eco-friendly approach to hotel management, such as locally sourced building materials was an absolute win for me.
Pros: Bungalows are spacious, comfortable, and minimal with full tranquility of your personal space as well as proximity to the swimming pool and the restaurant.
Cons: an outdoor bathroom means mosquitoes in the evening while you shower and occasional visits from geckos if you keep the light on for a longer time.
Where to eat
---
You won't go hungry in this place, I promise you that!
Crab House
Book ahead, order a bucket combo, and try their homemade sauce! Repeat every second day (so you can have some time for other food, you know?) That's it!
The Spice House
A restaurant in the Cassia Cottage offers one of the best Pho ever! An important thing - no MSG that many places usually add in their Pho.
Saigonese Eatery
A must-visit for refreshing salads, fresh smoothies, homemade bread, and very friendly and smiling staff. Don't forget to buy their eco-friendly bags to remind you about that place!
The Embassy
Avo toasts, açai bowls, sandwiches, banana bread…whatever you usually eat for brunch. Oh, and their coffee is good!
GooFoo Gelato
You should come for their coconut ice-cream with fresh slices of coconut, mango, and sweet sticky rice pudding! You will be remembering this place even if you are an Italian who is used to an authentic gelato.
Where to shop and what to buy
---
Phu Quoc is famous for its huge pepper plantations and pretty much every hotel or agency offers a trip to visit pepper farms. I usually sneeze every time I add pepper to my food at home, so the idea of going there did not really attract me. Here I must add that I am not sure if pepper plantation can worsen allergies, I just didn't go as a precaution. But you should definitely buy pepper to bring home.
Leaf Store - a great place for buying gifts to your family, friends, and yourself. All products are made of green, organic, and environment-friendly materials with a strong Vietnamese touch. Try hand-made soaps, coasters with local prints, zero-waste cups, and cosmetic bags.
Organic, freshly roasted Vietnamese coffee is an absolute must! Head to the One Up Store located on the main road of the Night Market and a friendly seller will explain to you differences in tastes among many options and might even treat you to a cup of freshly brewed coffee.
Tip: bring cash, cards are not accepted.
What to do
---
Phu Quoc has plenty to offer despite its small territory.
You can head to the Ong Lang beach and enjoy a warm sunset while listening to the waves gently caressing the rocks and looking at a little boat under the golden light. You can lay down on the soft sand or go into the turquoise water of the Bai Sao beach that is sometimes called the Maldives of East Asia.
In the evening, Phu Quoc's life is concentrated at the Night Market. It is loud and full of seafood and its smell mixes with that of fried peanuts. To tell the truth, I don't suggest eating here even though many guides call it an "authentic" experience. We had dinner in one of the restaurants but honestly, it felt more of a tourist trap with "nothing special" dishes on greasy tables.
Tip: Get yourself a scooter - that is if you have a valid driving license and not afraid of the Vietnamese traffic - it will make your life on the island so much easier! Prices are about 250.000 VND (€10) per day + gas.
Have you been? Let me know what you think about this island 🙂
If not, would you go?