If you are visiting San Diego this summer, here are 8 FREE THINGS that you and your family can participate in: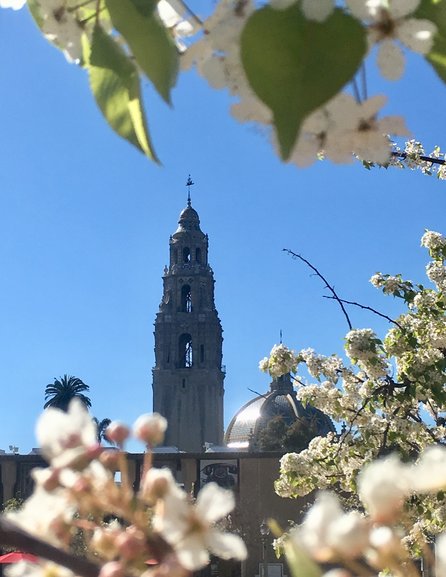 Balboa Park, San Diego
Summer Movies in the Park
---
This is one of my favorites to do in any city. You bring your chairs, some snacks, and a few blankets and then get to watch your favorite films under the stars. It is like a drive in and movie theater combined! To make it extra special, parks are not always the only venues for these movies—the beaches sometimes host them as well, the well-known Coronado included.
Hit the beach
---
Most beaches get very crowded in late morning and into the afternoon, so prepare by arriving early (by 9 am should be okay) and carpooling when you can since parking becomes filled to capacity in lots quickly. Also make sure that you have sunscreen, and a big blanket/sheet/towel to mark your area off so you can have adequate space to relax. Bring some lunch, too! Just make sure not to litter, and be prepared for seagulls to try to eat anything not enclosed.
Visit Balboa Park
---
Balboa Park is filled with trails and museums, as well as bustling with culture and beautiful architecture. The Timkin art museum and botanical building are free every single day to enter, while the other museums rotate being free to residents on Tuesday. There is also a rose garden and cactus garden that are beautiful and unique to the area, so there is a lot to explore without breaking your bank.
Walk around Seaport Village
---
This entire region of San Diego is so much fun to explore. Seaport Village is a quaint shopping center nestled right on the coastline of the city of San Diego overlooking the harbor. It is not too far from the San Diego Convention Center and is next to the USS Midway. It shouldn't be a surprise that the views are consequently beautiful! There are gorgeous walkways to stroll on, a carousal for the kids, and unique shops that hold treasures for pirates and luxurious hammocks. It isn't uncommon to find street performers in the area, and one of our favorite "store fronts" is actually an art gallery featuring ocean life.
Thursday concert series at Santee's Trolley Square
---
Once summertime hits, the city of Santee hosts Thursday evening concerts at their trolley center. There is a small outdoor amphitheater, and the bands who play vary in genre. There is a Starbucks, Cold Stone, and plenty of other food venues right next to it if you want to make a cheap night of it (though little cups of whipped cream at Starbucks are free and delicious right?! And water!), but even just the music alone creates a community vibe that is enough.
Play in the interactive fountain @ Viejas outlet center in Alpine, California
---
So many splash parks these days cost money to get in to, but thankfully there are still some free ways to cool enough. In the mountains of the east county, the Viejas Outlet Center in Alpine has an interactive fountain that children (and adults) can play in. Usually it isn't too busy, and you just have to make sure anyone in the water has shoes on.
Pay a visit to San Diego Central Library
---
This public library in the heart of San Diego is still relatively new, only opening in September of 2013. It is nine stories, and over 300,000 square feet! The architecture boasts a lattice dome and holds a two-story reading room for rare books inside. There is also a charter school inside! I love libraries, and something about them during the summer brings me back to some of my most fond memories of childhood.
Go for a hike at Mission Trails, or UCSD
---
Personally, we would rather hike in the cooler months like fall or winter, but in San Diego it seems people thrive in hiking once summer hits! We have found quite a liking to walking around the region of the University of California, San Diego. The campus is beautiful, and there are plenty of areas to hike in the surrounding regions.