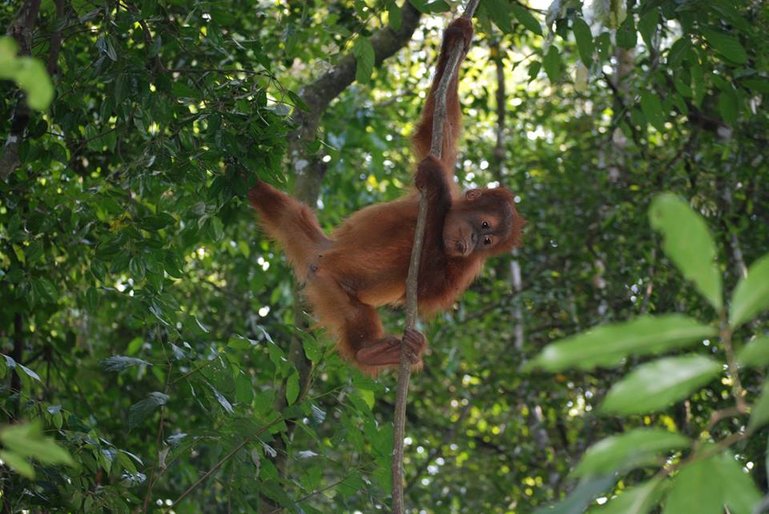 Baby orangutan in the North Sumatra jungle
The only home to the critically endangered Sumatran Orangutan, Sumatra should be at the top of your list if you want to see these incredible "people of the forest," in the wild.
Pushed to the brink of extinction by habitat loss and the rapid expansion of palm oil plantations, there are an estimated 7,500 left. Many of them live in the Leuser Ecosystem, where the Gunung Leuser National Park is located.
Although Bukit Lawang in North Sumatra is the most famous place to see orangutans, there are many lesser-known jungle-side villages where you can visit for an authentic cultural and natural experience in the region.
Here's a brief guide to our favourite spots to see Sumatran Orangutans!
Tangkahan
---
Around four hours drive from Medan (home to a great international airport), Tangkahan is a small village on the border of the jungle. Featuring a range of guesthouses bordering the river, this is a peaceful location that has enough basic infrastructure to be comfortable, but fewer tourists. Spending time here means lazy days drifting down the river, trekking through the jungle, bathing in secret waterfalls and hot springs, and meeting the friendliest people on the planet.
The wildlife is truly wild here, so there's no guarantee you'll see orangutans, but they do hang out in the area, so if you spend enough time exploring the jungle, you should catch a glimpse of one! All the wildlife here is truly wild born and wild living: no feeding or interaction allowed.
Batu Katak
---
Not far from the popular tourist destination of Bukit Lawang (about 30 minutes by car or scooter), Batu Katak is a developing eco tourism destination that care greatly for their jungle and forest areas. There are only a handful of guesthouses, and no bars or restaurants (other than local warungs) to hang out at. Instead, you get pristine jungle and rivers, with the wildlife literally on your doorstep.
The terrain is different here; opposite the national park, you've got a karst forest which is teeming with gibbons, orangutans, sun bears and more. Batu Katak is prime tiger territory too, but your chances of coming across one are very very minimal (luckily!)
Although the wildlife is not conditioned to humans (meaning there's no guarantee you'll come face to face with an orangutan here), they do enjoy this neighbourhood. Every time I've been to Batu katak and stayed at Orchid Bungalow, I've seen Orangutans hanging out in the karst forest directly behind the property - along with Siamangs, White-handed Gibbons, Macaques and more.
Batu Rong Ring
---
Even more off the beaten path, Batu Rong Ring doesn't see many tourists. But they are working on changing that! Halfway between Bukit Lawang and Tangkahan, this very authentic village lies between palm oil plantations and national park. There are no guesthouses or lodges, only one small area that houses 5 jungle huts on the border of the forest. But don't despair - these jungle huts are comfortable, and the guides that work there will spoil you rotten with traditional cooked food, cold bintangs, and entertainment.
Trek here for a day or two in search of the majestic red ape. You'll come out feeling refreshed and rejuvenated by mother nature at her best.
Bukit Lawang
---
If you're absolutely desperate to see an orangutan and will be devastated if you go home without doing so, head to Bukit Lawang. Once a rehab and release centre, there is a population of semi wild orangutans living in the jungle here.
Bukit Lawang is well developed. There are endless options for accommodation - from budget to higher-end. There's also loads of bars, restaurants and shops.
Do bear in mind that although you can find some responsible and ethical guides and businesses here, this place has a reputation for interacting incorrectly with the orangutans by feeding and touching them.
This is exceptionally dangerous for both animals and humans. Orangutans and their babies can catch diseases or even the flu from us, which could kill them. And one or two of the orangutans here have become aggressive in their attempts to get food from visitors!
Ask your guide to be responsible when trekking here: never approach or feed any animals.
The paths are well-trodden here and it can be hard to escape the hordes of tourists traipsing through the jungles. But choose the right guides, and you can head deeper into the jungle, away from the busy areas to see truly wild orangutans.
Ketambe and Kedah
---
We haven't been lucky enough to head here yet. It's a long drive away and rather remote. But those who have describe pristine forests, friendly people, lovely guides, and a high chance of bumping into wild Sumatran orangutans!
Sumatra is a giant island paradise. There's so much more to it than apes and jungles (although this is one of its biggest attractions!) Make sure to check out some of the other incredible attractions in this delightful destination.